The change is mainly due to a "worse than earlier anticipated" start to 2021 as governments have tightened travel restrictions in response to new COVID-19 variants. Forward bookings for summer (Jul-2021 and Aug-2021) are currently -78% below levels in Feb-2019, while and estimates for cash burn for the current calendar year "have ballooned to the USD75 billion to USD95 billion range" in IATA's expectations from a previously anticipated USD48 billion.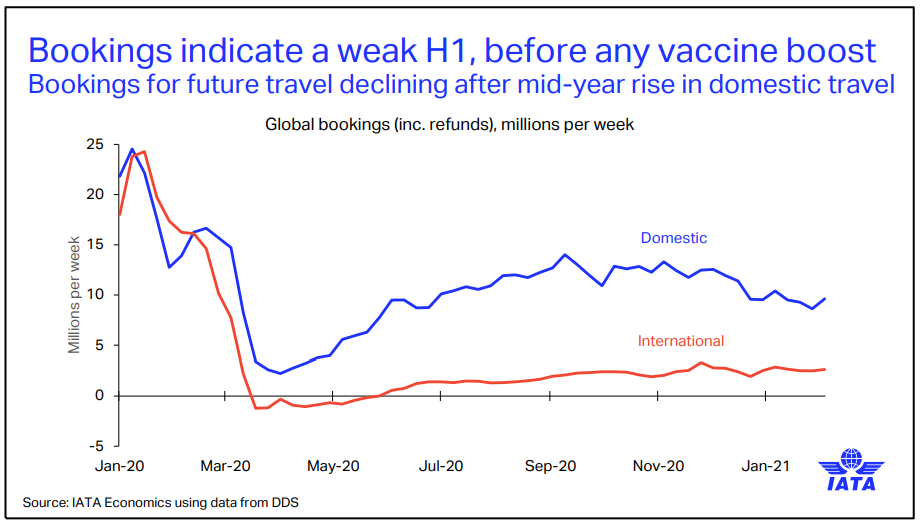 From this lower starting point for the year, an optimistic scenario would see travel restrictions gradually lifted once the vulnerable populations in developed economies have been vaccinated, but only in time to facilitate "tepid demand over the peak summer travel season in the northern hemisphere," according to IATA.
In this case 2021 demand would at best reach just over a third (38%) of 2019 levels, projects IATA, and airlines would burn through USD75 billion of cash over the year in its estimations. However, cash burn of USD7 billion in the fourth quarter would be significantly improved from an anticipated USD33 billion cash burn in the first quarter, under this optimistic viewpoint.
But, things could be different. A pessimistic scenario from IATA would see airlines burn through USD95 billion over the year. There would be an improving trend from a USD33 billion cash burn in the first quarter reducing to USD16 billion in the fourth quarter. The driver of this scenario would be governments retaining significant travel restrictions through the peak northern summer travel season and as such demand levels for the full year would only hit a third (33%) of 2019 levels.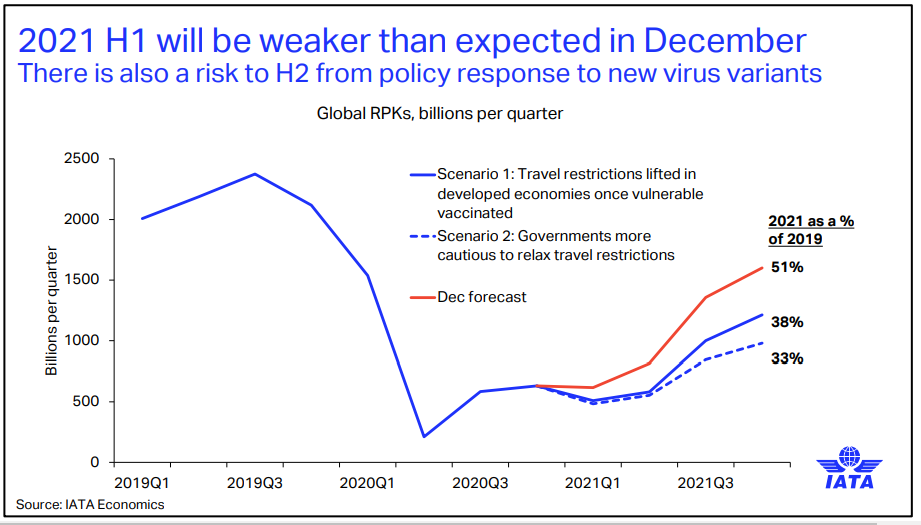 "With governments having tightening border restrictions, 2021 is shaping up to be a much tougher year than previously expected," says Alexandre de Juniac, IATA's director general and CEO, who warns that if governments are unable to open their borders, the airline industry "will need them to open their wallets with financial relief to keep airlines viable".
With airlines now expected to burn cash throughout 2021, IATA says it is "vital" that governments and the industry are fully prepared to restart the moment governments agree that it is safe to re-open borders. "A functioning airline industry can eventually energise the economic recovery from COVID-19. But that won't happen if there are massive failures before the crisis ends," says Mr de Juniac.
Preparing the industry to safely restart after a year or more of disruption will take careful planning and months of preparation though. IATA urges governments to work with industry to develop the benchmarks and plans that would enable an orderly and timely restart that can ensure that airlines are prepared to reconnect people and economies.
"The UK has set a good example" here, according to the IATA DS and CEO. Earlier this week it laid out a structure for re-opening based on an improvement in the COVID-19 situation. "This gives airlines a framework to plan the restart, even if it needs to be adjusted along the way. Other governments should take note as a best practice for working with industry," explains Mr de Juniac.
The UK strategy has been based on what appears to be an expedited vaccine strategy. This supports the notion that vaccines and testing will play a role as the pandemic comes under control and economies ramp up, including the travel sector.
"Efficient digital management of health credentials is vital to restart," says Mr de Juniac. IATA's own Travel Pass enables travellers to securely control their health data and share it with relevant authorities and a growing list of airlines—including Air New Zealand, Copa Airlines, Etihad Airways, Emirates, Qatar Airways, Malaysia Airlines, RwandAir, and Singapore Airlines—have done or are committed to doing trials with the platform.
As vaccination programmes and testing capacity expand, two developments have become critical – global standards to record tests and vaccines; and a plan to retrospectively record those who have already been vaccinated.
"Speed is critical," says Mr de Juniac. In fact, fraudulent COVID-19 test results are already proving to be an issue for the industry, and as vaccine programs ramp up governments are using paper processes and differing digital standards to record who has been vaccinated. "These are not the conditions needed to support a successful restart at scale when governments open borders," explains the IATA boss.
Right now governments rightly continue to focus on managing the COVID-19 crisis, but in order to provide the best conditions to allow business to recover we really need to be looking ahead and planning to ensure tools, standards and resources are in place for as soon as that day arrives.