Following the merger of AMR Corporation and US Airways Group in 2013, and the subsequent integration of the two carriers under the single Air Operators Certificate (AOC) of American Airlines, the US major is now the world's largest operator by capacity, available seat kilometres (ASKs) and frequencies. It has hubs spread across the United States in Charlotte, Chicago, Dallas/Fort Worth, Los Angeles, Miami, New York, Philadelphia, Phoenix and Washington DC and with its regional partners has an extensive network including domestic and regional services within North America and international services to Europe, Asia Pacific, Central America and South America.
NETWORK: According to flight schedules from OAG for the week commencing 08-Jan-2018, American Airlines serves 339 global destinations, with exactly two thirds part of an extensive domestic route map (226 destinations; 66.7% share) that spreads across all of the United States. This supports point-to-point demand and provides feed both domestically and into an international network with particularly strong flows into Latin America and the Caribbean as well as further afield into Asia Pacific and Europe, and where seasonal demand sees its network grow between the schedule seasons. New international markets launching this year include Bonaire, Netherlands Antilles; Budapest, Hungary; Prague, Czech Republic; and Reykjavik, Iceland. Its largest operation at Dallas/Fort Worth International which accounts for 13.2% of its system capacity this week ahead of the former US Airways Charlotte-Douglas International hub (9.9% share) and Miami International Airport (7.1% share). In terms of just international capacity, Miami International Airport is by far its largest market (20.2%) ahead of Dallas/Fort Worth International (9.9% share). Interestingly, and highlighting the importance of trans Atlantic operations and its joint business with British Airways, London Heathrow is its third largest destination by international capacity with a 4.4% capacity share and over 66,000 weekly seats. Its biggest domestic markets in terms of seat offering this week link Dallas and New York to Los Angeles, while Miami - San Juan, Puerto Rico and New York JFK - London Heathrow top its international network.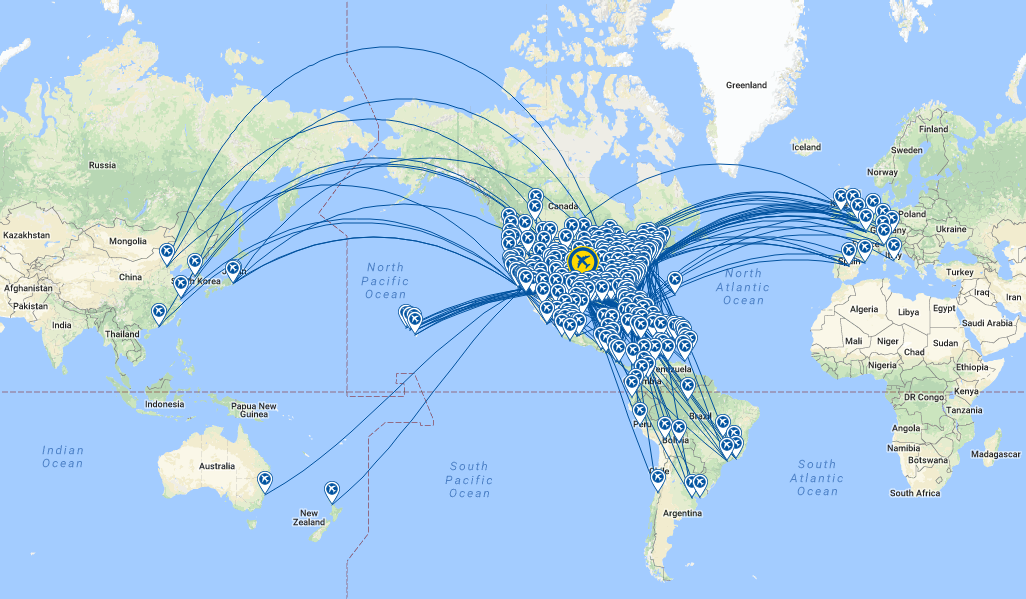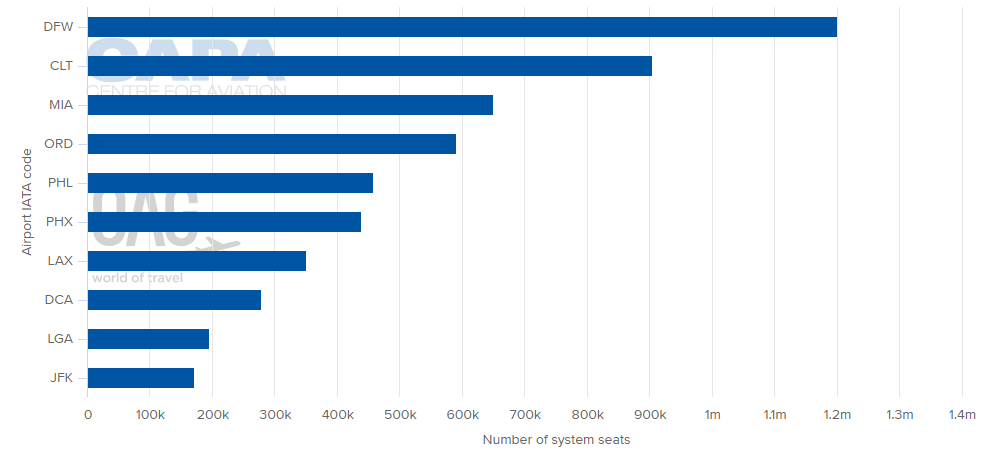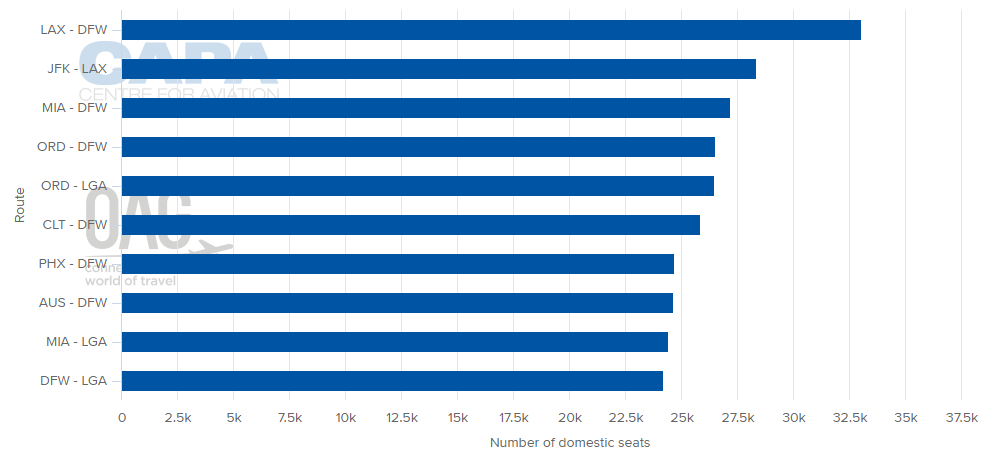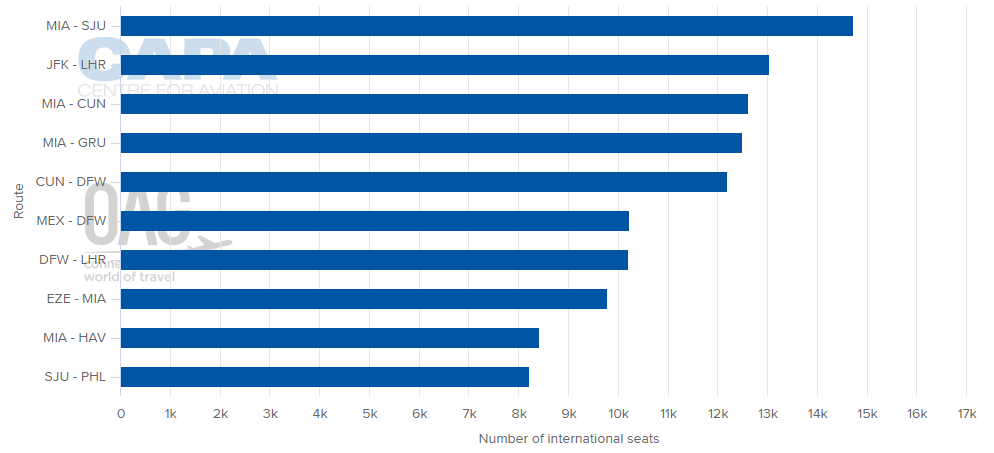 FLEET: The merger of American Airlines and US Airways has delivered a mixed fleet of Airbus and Boeing single-aisle and widebodied equipment, but with such a wide network and multiple hubs across the United States the carrier has the scale to be able to manage this diversity of types. According to the CAPA Fleet Database its total fleet numbers more than 1,000 aircraft, but with a number of older aircraft in storage the 'In service' fleet currently comprises 946 aircraft. A further 200+ aircraft on firm order, including 100 A321neos and 96 737MAX-8 with the first four aircraft recently entering service over the past couple of months. This orderbook also includes 22 A350-900XWBs but a decision will be made in a matter of months over the future of the aircraft as the airline continues to deal with the varied orderbook it gained through its merger with US Airways. The suggestion from airline executives is that a 22 strong fleet is not sufficient for a single aircraft type in its fleet. Ahead of the arrival of the new generation single aisle airliners, the fleet has an average age is 10.2 years, pushed up by its older 757, 767 and MD-80 fleets, and the majority of the aircraft (56.7%) are owned outright.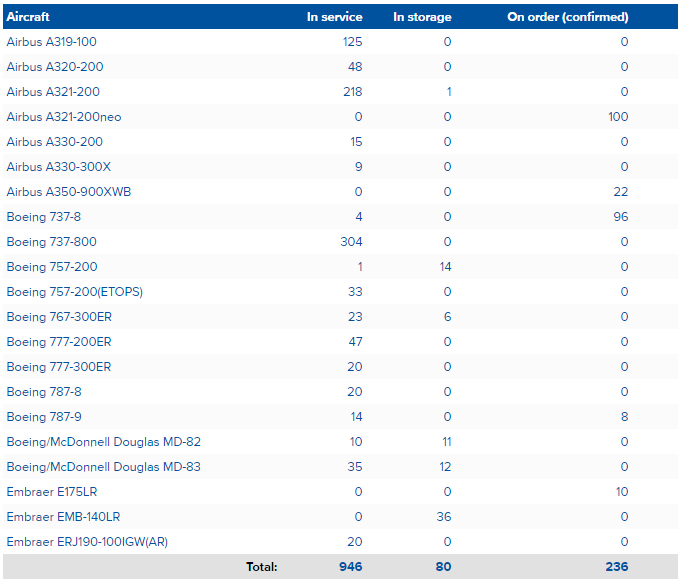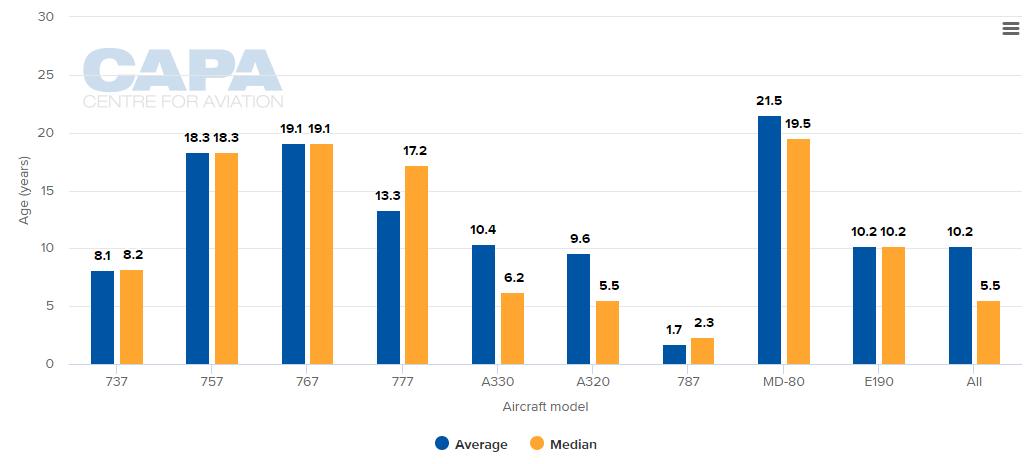 CAPACITY: American Airlines has boosted its annual system seats beyond 250 million following its merger with US Airways and this inventory has remained similar over the past two years (up around +0.1% in 2017 with the addition of around 270,000 additional seats). It is difficult to make year over year comparisons to earlier years due to the amalgamation of the US Airways network into the American Airlines operation, the impact of which can be clearly seen on the below graphics. A look at the airline's published schedules for the first half of 2018 sees capacity roughly in line with last year, but a small growth is visible at the start of May-2018 as new seasonal routes are launched.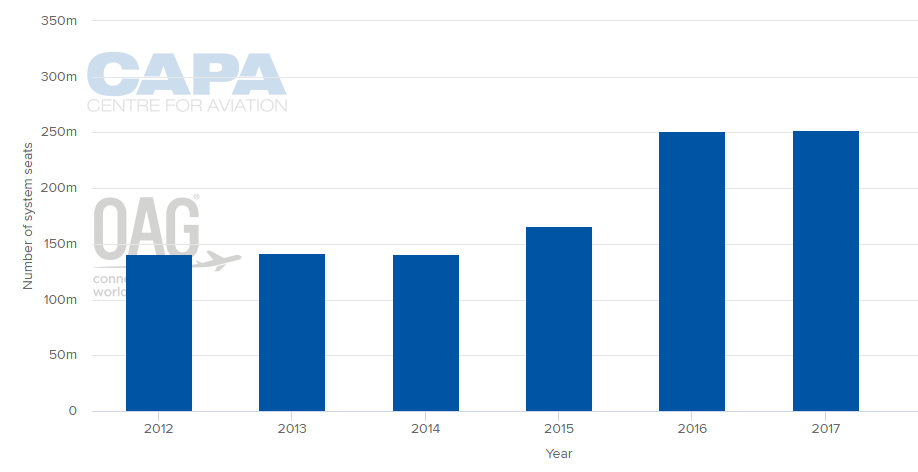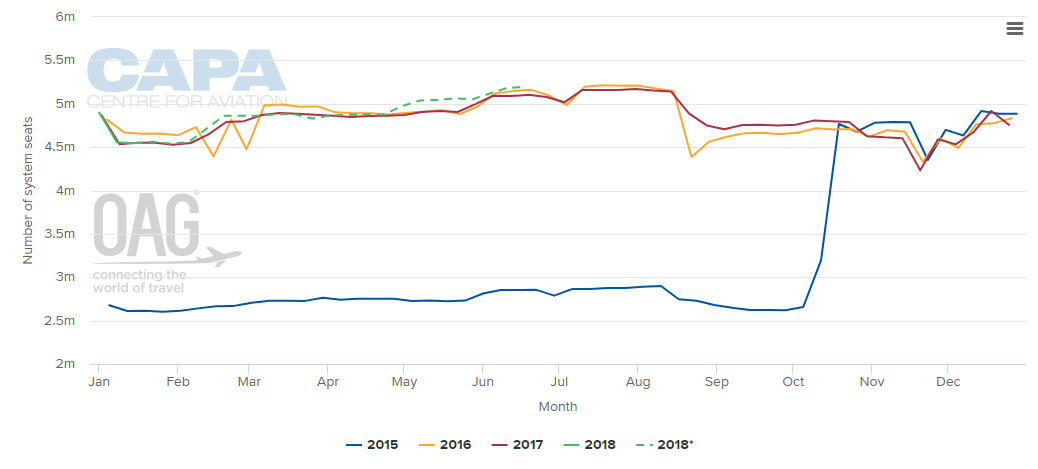 TRAFFIC: American Airlines says 2017 was its "best operational year" handling nearly 210 million passengers. Its last formal statement on its traffic performance in Sep-2017 said that as a group American Airlines' mainline-operated flights, wholly owned regional subsidiaries and capacity purchase agreements carried 134.4 million passengers in the first eight months of 2017, down -0.4% on the same period in 2016. This included a 98 million passenger contribution from the mainline operation, down -0.5% on 2016.
VISIT CAPA – Centre for Aviation to find out how you can access all this information and discover more about the benefits of a CAPA Membership.