The flag carrier of Ethiopia, Addis Ababa-based Ethiopian Airlines is the exception to the rule and one of the few profitable airlines on the African continent, a market that the International Air Transport Association (IATA) predicts will post collective annual losses of over USD100 million last year, with a similar predicted deficit in 2018 because of high operating costs and restrictive aviation policies of most African countries.
Having established its Bole International Airport base as a regional hub in East Africa, and successfully expanded into West Africa through its Togo-based ASKY venture, the airline is now working to establish itself as a true pan-African operator offering networks out of Malawi and Zambia, with plans to also establish a Central African hub covering Chad, the Democratic Republic of Congo and the Republic of Congo.
"We are not entering a joint venture with these African countries just for the sake of making money. By expanding the hubs, we will be contributing significantly to intra- Africa connectivity," explained the airline's CEO Tewolde GebreMariam earlier this month.
NETWORK: According to flight schedules from OAG for the week commencing 08-Jan-2018, Ethiopian Airlines serves 112 global destinations, including 52 points across 37 African countries. It's network spreads from Tokyo in the east, one of 13 points it serves across the Asia Pacific region, to Los Angeles in the west, one of five points it serves across the Americas. A further eleven markets across Europe and eleven more across the Middle East highlight the increasing connectivity offered by the airline. Its main base at Addis Ababa's Bole International Airport accounts for 43.9% of its system seats, with Dubai International Airport in the United Arab Emirates (UAE) actually its second largest network point. The Addis Ababa - Dubai route is its largest by capacity ahead of the Addis Ababa - Nairobi the domestic Addis Ababa - Makale link and the Addis Ababa - Mumbai routes, while outside of its home environment, India is its largest market by departures and China its largest market by capacity.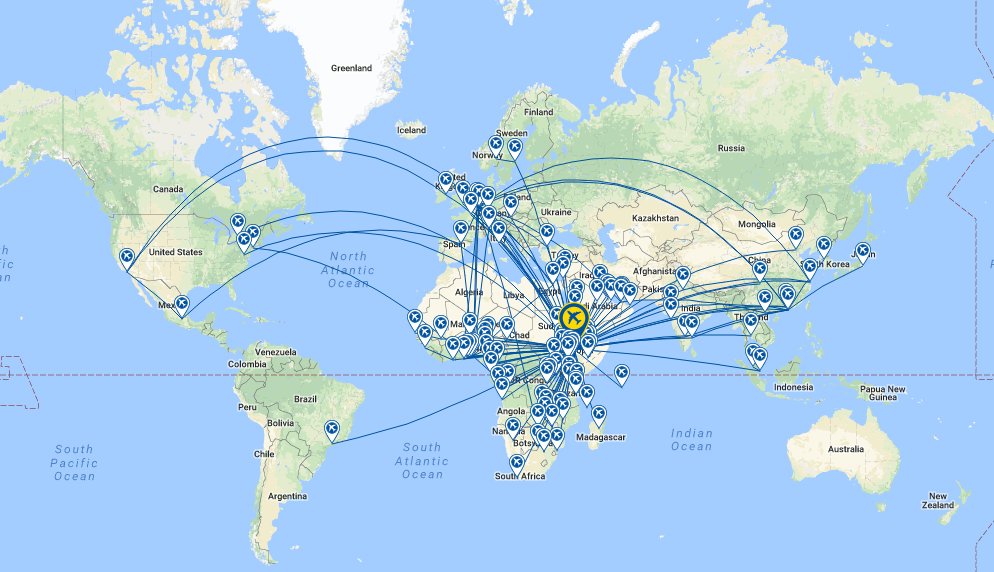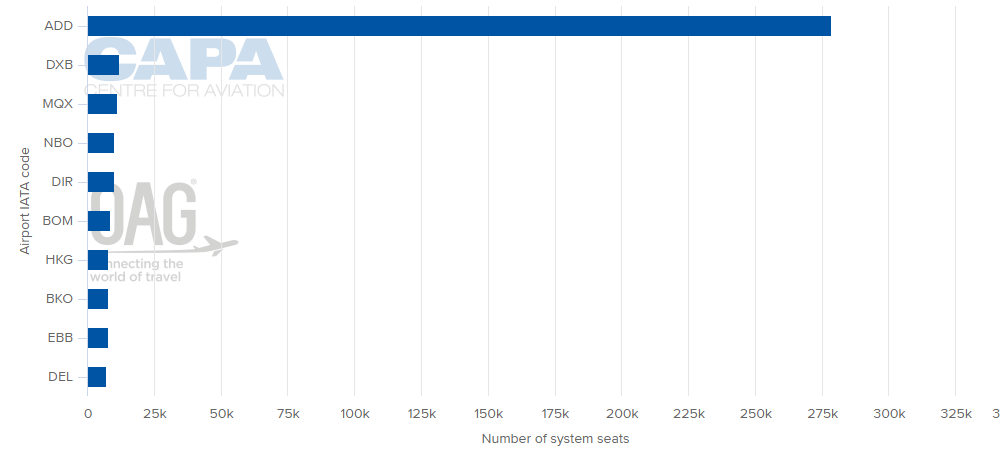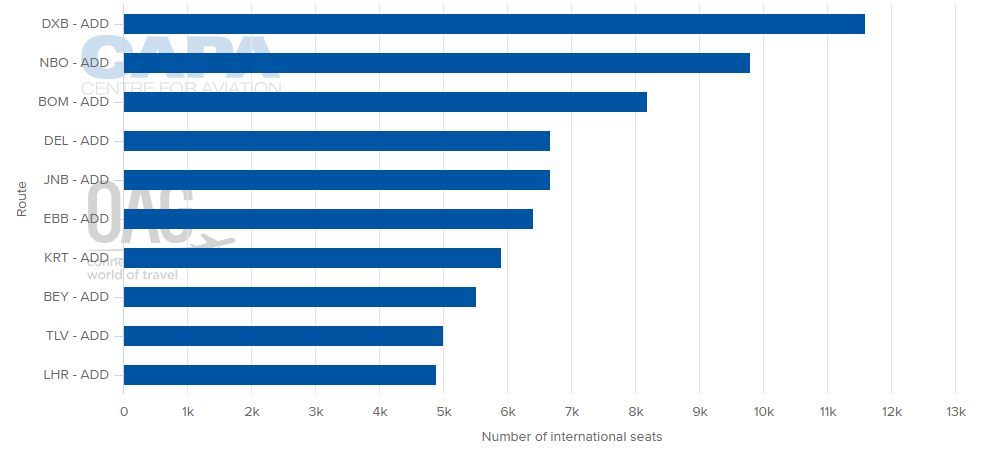 FLEET: Ethiopian Airlines is in the middle of a major fleet renewal that has already seen the arrival of Airbus A350-900s, Boeing 777s - both 200LR and 300ER variants - and Boeing 787 Dreamliners to support its international operations. In recent months it has welcomed its first 787-9s to complement the smaller 787-8s that have served with the airline since Aug-2012. It is also one of only two airlines in the world to currently operate both the A350 and 787. In the short haul market it will replace its Next-Generation 737 fleet with modern MAX-8 versions, while a Bombardier Dash 8-Q400 turboprop fleet is used on both domestic and some international routes. According to the CAPA Fleet Database its fleet currently comprises 87 aircraft with a further 50 on firm order including 30 737-8s and 18 more A350-900s. The fleet has an average age is 6.4 years and the majority of the fleet (51.7%) is leased.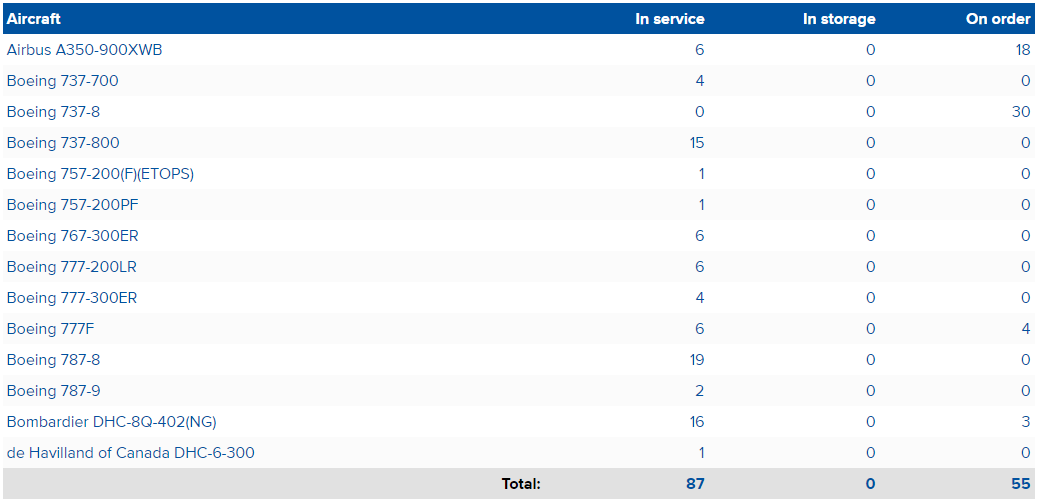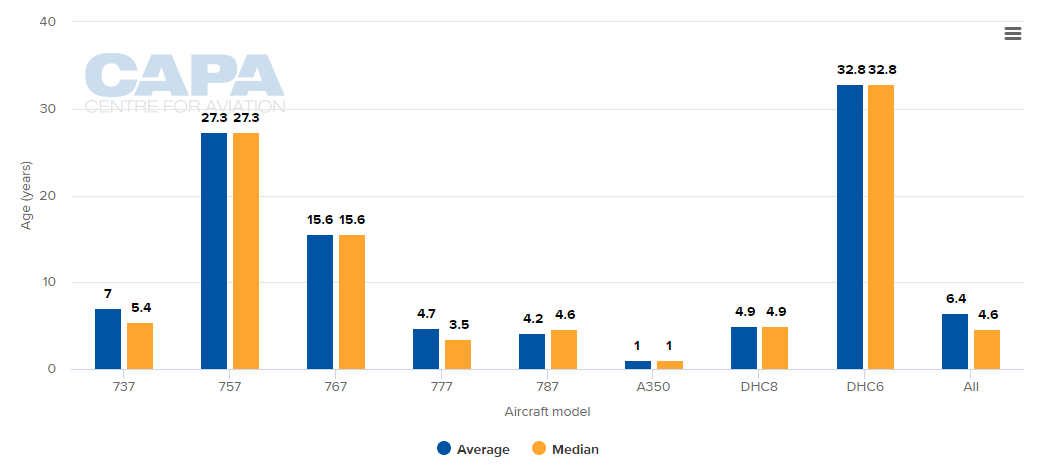 CAPACITY: Ethiopian Airlines boosted its system capacity to 14.9 million annual seats in 2017 following a year over year rise of +14.5% versus 2016. It has almost doubled (+95.6%) its inventory since 2012 and reported annual gains throughout this period. Its rate of growth in 2017 was up on 2016 (+12.1%) but down on the levels enjoyed in 2014 (+19.2%) and 2015 (+16.2%).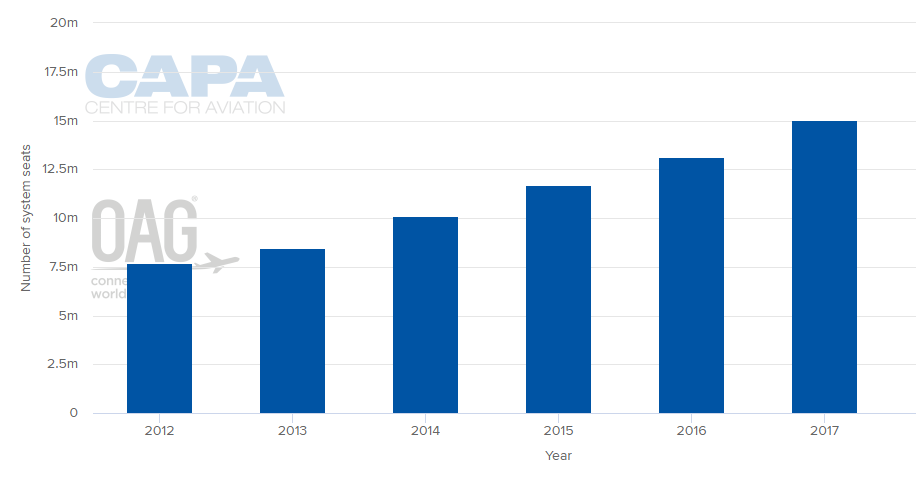 TRAFFIC: Annual reports from Ethiopian Airlines show the carrier has more than quadrupled its passenger numbers over the past ten years from 1.76 million in 2005/2006 (the airline's year runs to 30-Jun) to 7.6 million in 2015/2016. It now plans to almost treble that again over the next ten years with a forecast to hit 22 million by 2025. This will be achieved through growing frequencies to existing destinations and adding new markets. It has already confirmed it will commence flights to Barcelona, Geneva and Buenos Aires this year, linked to existing routes to Madrid, Milan and Sao Paulo, respectively, while Shenzhen and Chongqing in China are under consideration as well as Istanbul and Jakarta among others.
VISIT CAPA - Centre for Aviation to find out more about the benefits of a CAPA Membership.