The often forgotten carrier when LCCs are discussed in Europe, the almost 30 year old Pegasus Airlines has successfully made the transition from a charter airline to a LCC, now operating a fleet of over 70 short haul aircraft, with a similar number also on order. Originally established in partnership with Aer Lingus, the now fully Turkish-owned independent airline has built a strong operation out of Istanbul's other airport, Sabiha Gökçen International on the Asian side of the city and was among the pioneers of LCC flight connections, complementing its point-to-point model with transfer options via Istanbul.
NETWORK: According to flight schedules from OAG for the week commencing 08-Jan-2018, Pegasus Airlines serves 99 global destinations, with just over a third of those (36 destinations; 36.4% share) being in its home Turkish market. Its main focus is on the European market where it currently serves 49 destinations across 25 countries, with a slight bias towards western European locations over Central and Eastern Europe. Its activity also spreads into Central Asia (Kazakhstan and Kyrgyzstan), North Africa (Egypt) and the Middle East, where it serves Bahrain, Iran, Iraq, Israel, Jordan, Kuwait, Lebanon, Qatar and the United Arab Emirates (UAE). Its main base at Istanbul's Sabiha Gökçen International Airport accounts for 37.3% of its system seats with its largest other domestic points being Ankara Esenboğa (8.2% share), Izmir Adnan Menderes (7.9% share) and Adana Şakirpaşa (4.3% share) airports. Outside of its home nation, its main market in Cyprus, where it serves the self-declared Northern Cyprus state that comprises the northeastern portion of the Mediterranean island, and Germany, meeting the strong leisure flows into Turkey.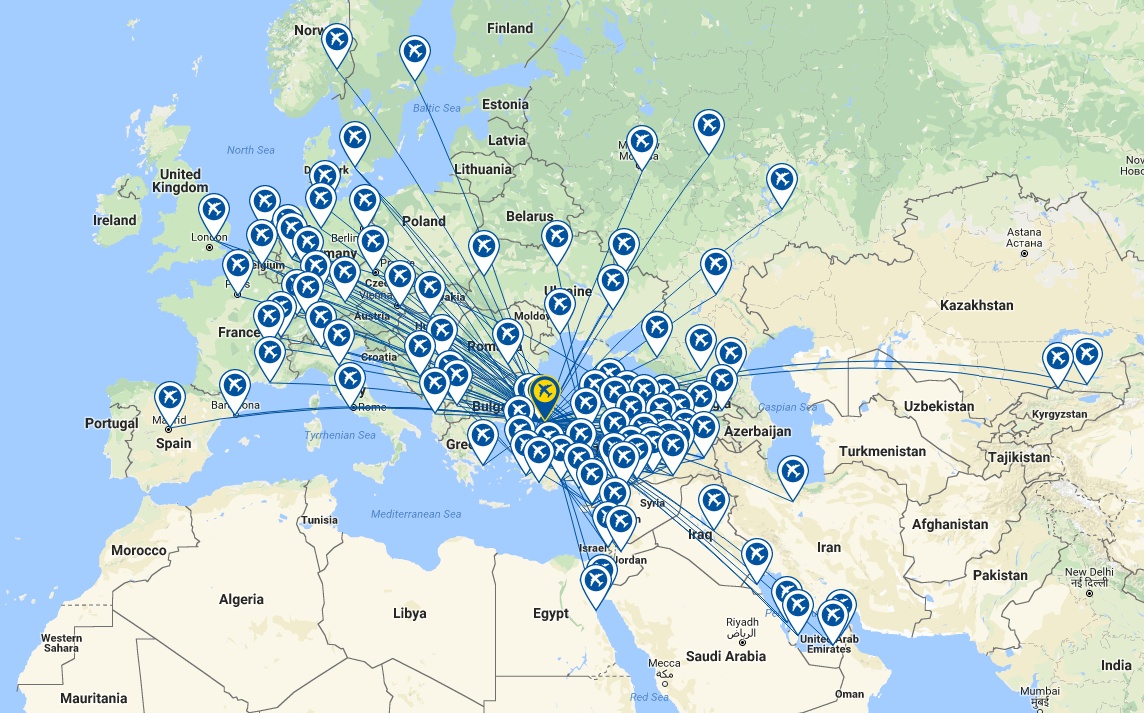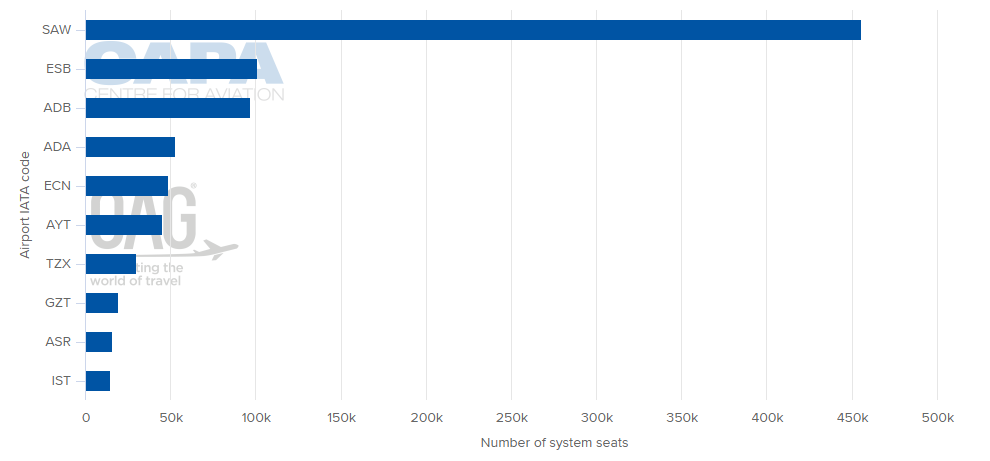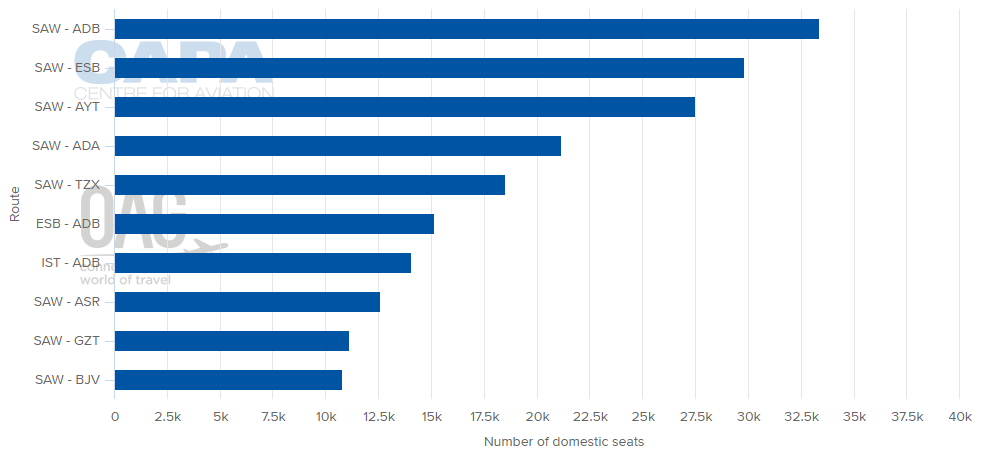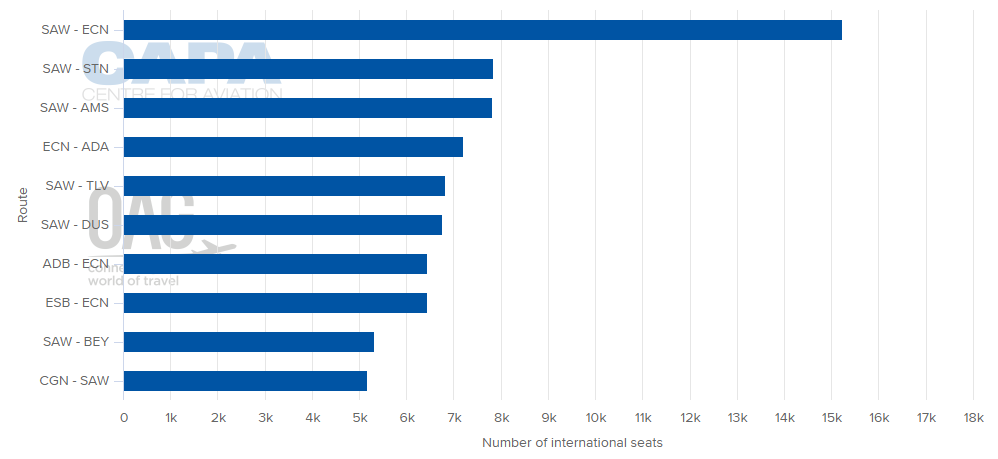 FLEET: Pegasus Airlines is following some other well-known LCCs in transitioning from a Boeing to an Airbus fleet. Originally an operator of the 737-400 it has built up a large fleet of Next-Generation 737-800 aircraft. However, recently it selected the A320neo Family to support its future needs and is now in the process of moving across to the new type, currently operating both families simultaneously. According to the CAPA Fleet Database its 'In service' fleet currently comprises 71 aircraft with a further 88 on firm order, including 42 A320neos and 43 A321neos, plus three remaining 737-800s due this year. This orderbook includes 25 A321neo ACFs (Airbus Cabin Flex configuration) which were ordered in Dec-2017 and represent the conversion of an former option. This aircraft forms the basis for the A321neoLR which can permit longer-distance single-aisle deployment. The fleet has an average age of 5.4 years and the majority of the aircraft (54.9%) are leased.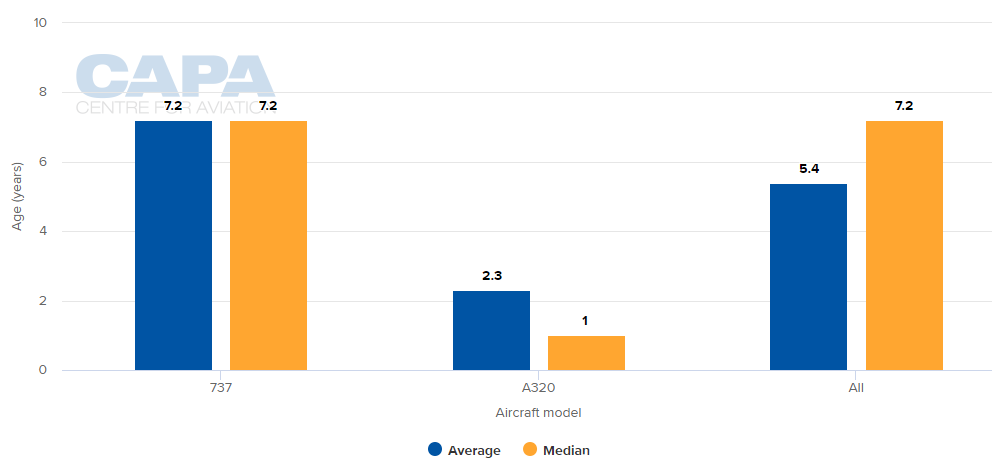 CAPACITY: Pegasus Airlines boosted its system capacity to beyond 30 million annual seats in 2017 following a year over year rise of +6.7% versus 2016. It has almost doubled (+92.7%) its inventory since 2012 and reported annual gains throughout this period. Last year was actually its slowest rate of growth over the last five years, a period where rapid expansion had a negative impact on the airline's financial position. The growth rate appears much more sustainable than the levels recorded in previous years (+21.3% in 2013, +19.8% in 2014, 14.9% in 2015 and +8.2% in 2016), but could still be adventurous given it has occurred while Turkey has suffered a notable market downturn.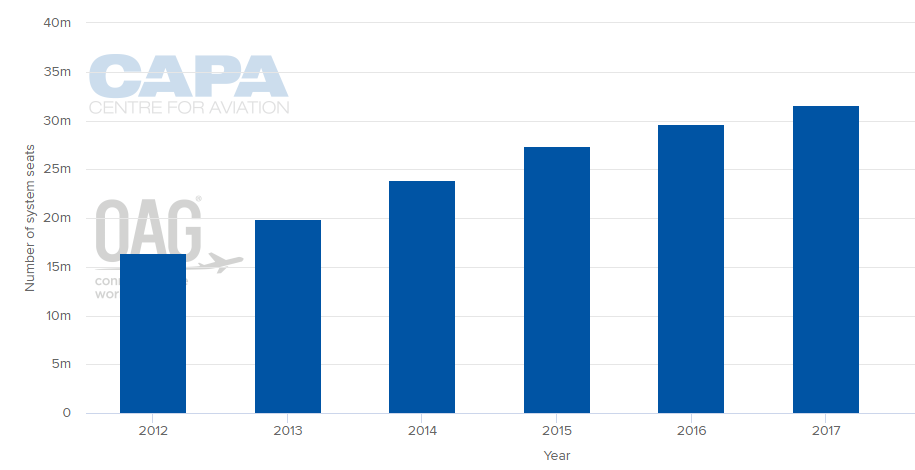 TRAFFIC: Pegasus Airlines was expected to end 2017 having handled more than 27 million passengers and it expects that level to surpass 30 million in 2018 so it shows no signs of slowing its strong growth. "A strong domestic market in Turkey and growing traffic from all the regions we connect via our hub and spoke model - including Europe, the Middle East, Russia and Ukraine - has meant we're on track to meet and exceed the targets," its chief commercial officer, Guliz Ozturk confirmed late last year. In 2016 it ended the year having carried 24.1 million passengers, up +8.1% on 2015. As at Nov-2017, Pegasus Airlines had carried 25.5 million passengers, up 14.9% year over year, according to official company statements.
OBSERVATIONS: Pegasus Airlines fell into loss in 2016, extending an unbroken trend of falling operating margins from the peak in the year of its stock market flotation in 2013. A series of geopolitical and terrorist events in Turkey did weigh heavily on market demand in 2016 but the airline has slowed its expansion to single digits after years of double digit growth. It appears to have also managed to navigate the transitional operation of a dual fleet of Airbus and Boeing models, and with a return in confidence in Turkey's aviation and tourism potential it hopes to return to profitability having posted a TRY492.2 million (EUR109.3 million) profit in the nine months ended Sep-2017.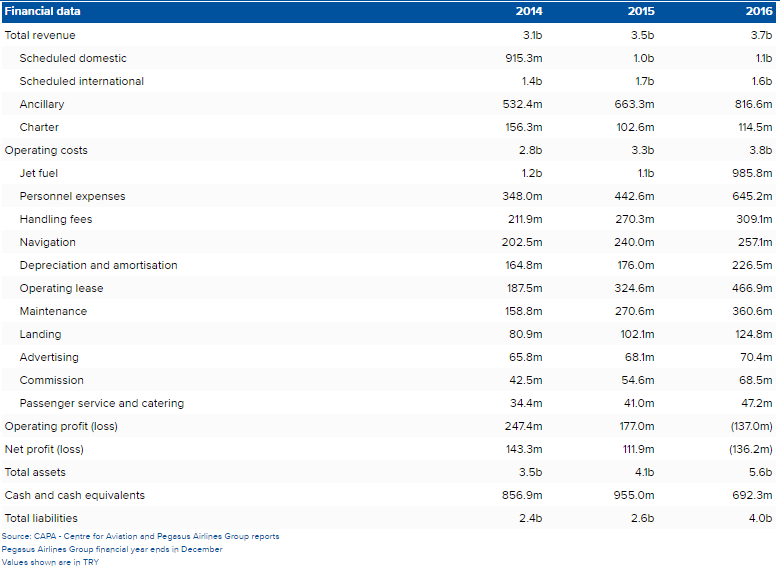 VISIT CAPA – Centre for Aviation to find out how you can access all this information and discover more about the benefits of a CAPA Membership.