The Asia Pacific market is a hot bed for predicted aviation growth over the coming two decades and Vietnam is forecast to be right at the heart of it. Over the past ten years its economy has grown 18.6% against an Asia Pacific average of 9.6%, according to data from a World Bank study. Over the past five years this has helped raise Vietnam to the number one position as the largest outbound destination in the region and the second largest inbound market. It is expected to have the largest real GDP per capita growth of any nation across ASEAN over the next five years.
The local market dynamics are together presenting a great platform for development and the Vietnamese government has been quick to identify that enhanced air transport connectivity has important economic benefits to the country, supporting the growth of new entrants such as VietJet Air which launched operations in Dec-2011.
With a low air travel penetration the opportunities for growth are extensive. The country has a large and young population, a lengthy topography that lacks effective road and rail connectivity and a low travel penetration, all conditions that are ripe for LCC growth.
NETWORK: According to flight schedules from OAG for the week commencing 15-Jan-2018, VietJet Air serves 32 destinations, with a near equal spit between domestic and international in count, albeit not such a balanced split when considering system capacity and flight movements where its domestic inventory accounts for four in five flights and seats. Its current week schedules includes 17 points in Vietnam and 15 abroad with a network that includes eight countries including South Korea to the northeast, Taiwan and Hong Kong to the east, Myanmar to the west as south into Malaysia and Singapore. Its largest base at Ho Chi Minh Tân Sơn Nhất International Airport accounts for almost a third (32.3%) of its system seats, ahead of Hanoi Nội Bài International Airport (20.1%) with flights between the two, its largest city pair, accounting for 17.0% of its total domestic inventory. Outside of Vietnam and South Korea is its largest market by capacity and movements, but it is the Ho Chi Minh Tân Sơn Nhất International - Bangkok Suvarnabhumi route that is its biggest with a 9.4% capacity share and 10.1% movements share during the analysis period.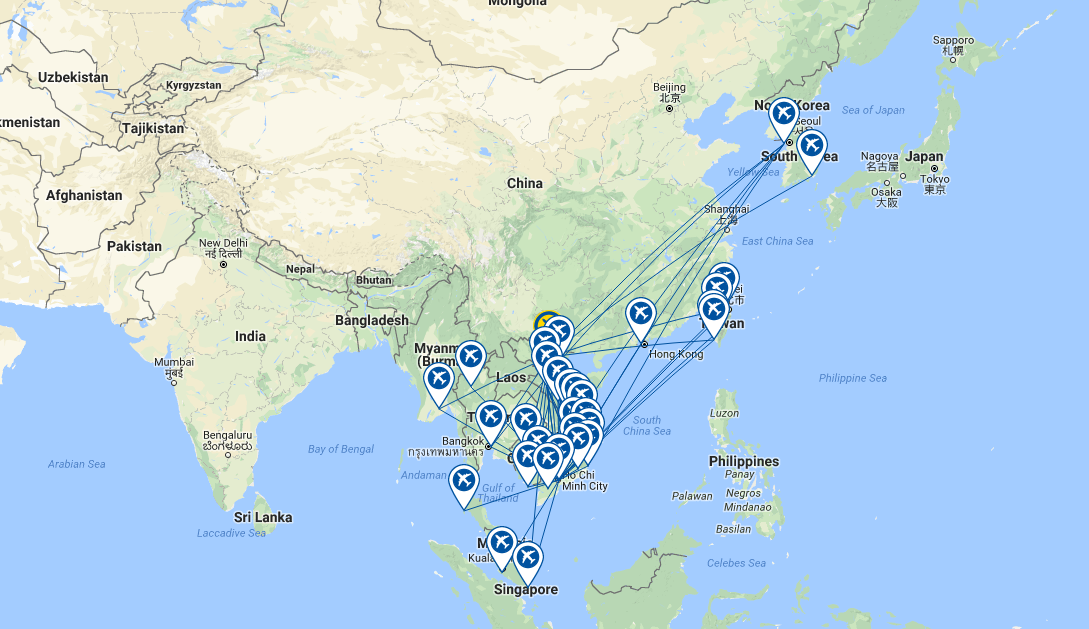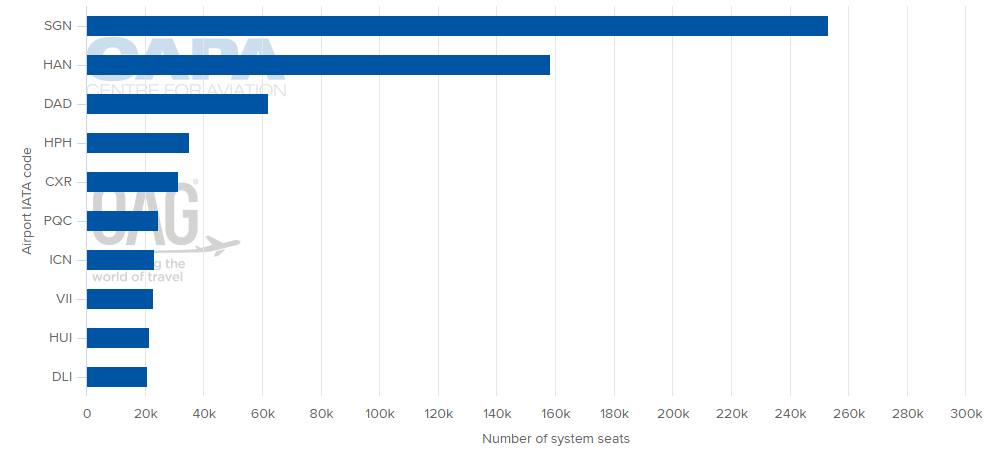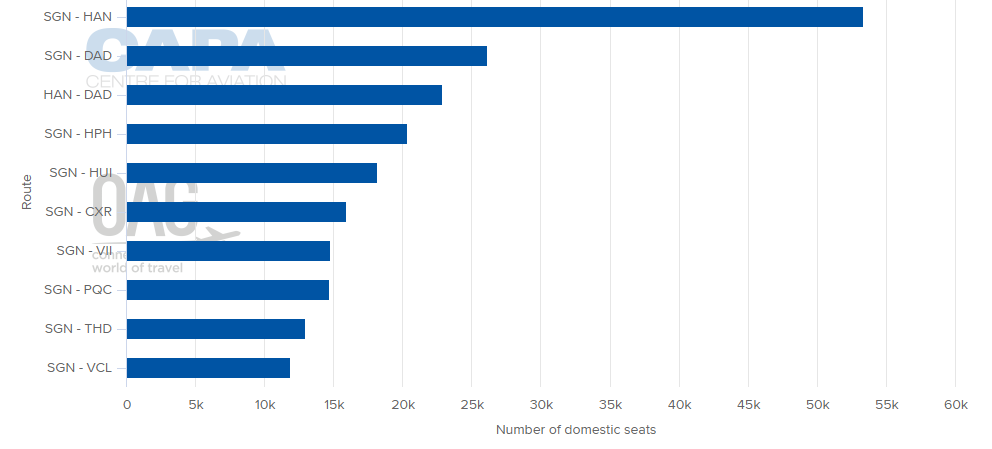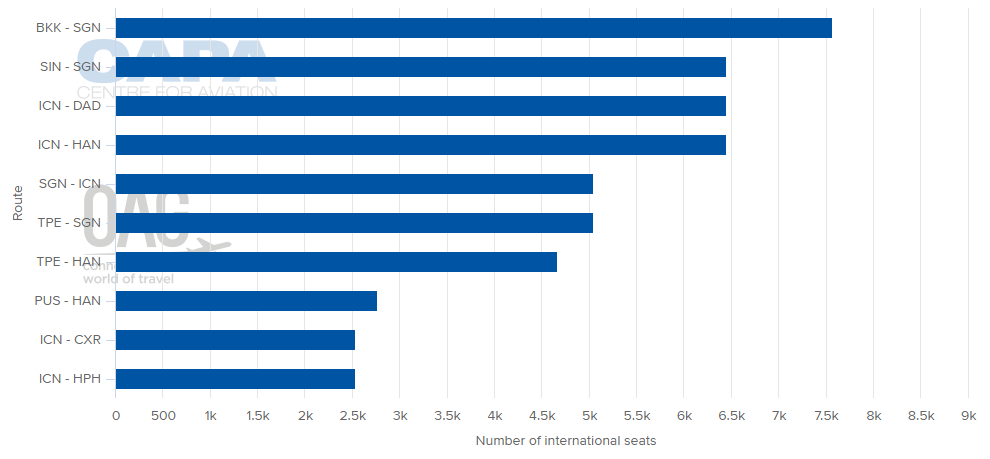 FLEET: It is only six years since VietJet Air launched operations in Dec-2011 with two Airbus A320s formerly operated by Wataniya Airways and it has remained loyal to the Airbus family to support its initial growth. It received its first aircraft directly ordered from the manufacturer in Nov-2014 and in the last days of 2017 received its first neo version, an A321 leased from Goshawk. It has also recently switched an existing order for 42 A320neo aircraft to the larger A321neo, a deal that is expected to be confirmed imminently by the manufacturer. According to the CAPA Fleet Database its 'In service' fleet currently comprises 52 A320 Family aircraft, including 25 A320s, 26 A321s and the single A321neo. Its future orderbook includes 72 A321neos and a small number of outstanding A321ceo versions. In a surprise move, the airline also has a firm commitment for 100 Boeing 737MAX-200s, becoming the second customer to commit to the high-density variant of the 737MAX-8 after Ryanair. The aircraft are due to arrive between 2019 and 2023 and are planned for use on its international route network including potential longer haul flights. CAPA says the VietJet Air fleet already has an average age of just 3 years with the majority of aircraft (88.5%) are leased.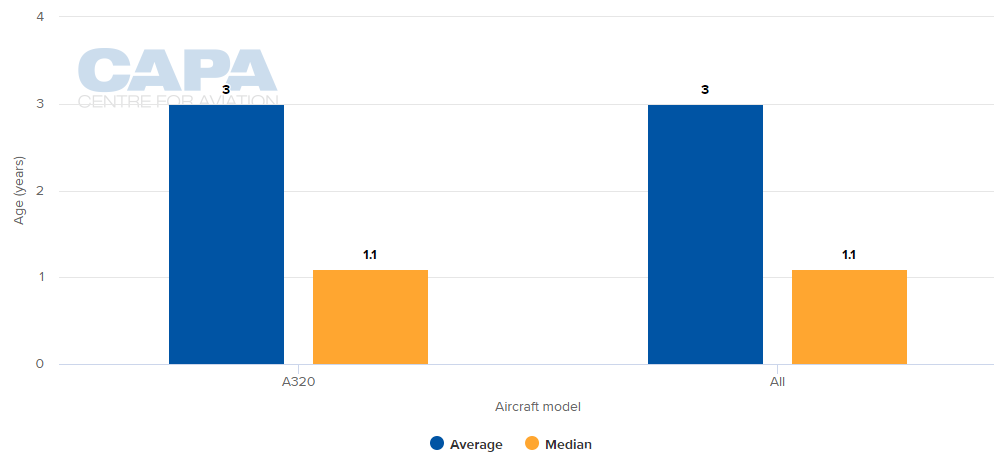 CAPACITY: VietJet Air boosted its system capacity to over 17 million annual seats in 2017 following a year over year rise of +11.0% versus 2016. This was a healthy growth, but down from the dizzy heights of previous years when levels even hit triple digits in its infancy. This +240.5% rise in 2013 was follows by +77.4% in 2014, +62.6% in 2015 and +48.8% in 2016. This has seen the airline actually grow more than 15-fold over the past five years. In 2017 the main growth was in the international market where the airline's capacity more than doubled from 1.2 million to 2.8 million seats. In fact domestic capacity actually only increased +0.8% in 2017 to 14.5 million seats, due in part to an overcapacity in the market, but this followed year over year growth of over +50% in previous years - +75.9% in 2014, +57.2% in 2015 and +50.6% in 2016. VietJet Air has ambitious growth plans that will be supported by the arrival of additional single-aisle aircraft. Published schedules for H1 show a +25.2% year over year capacity upsurge compared to the same period last year.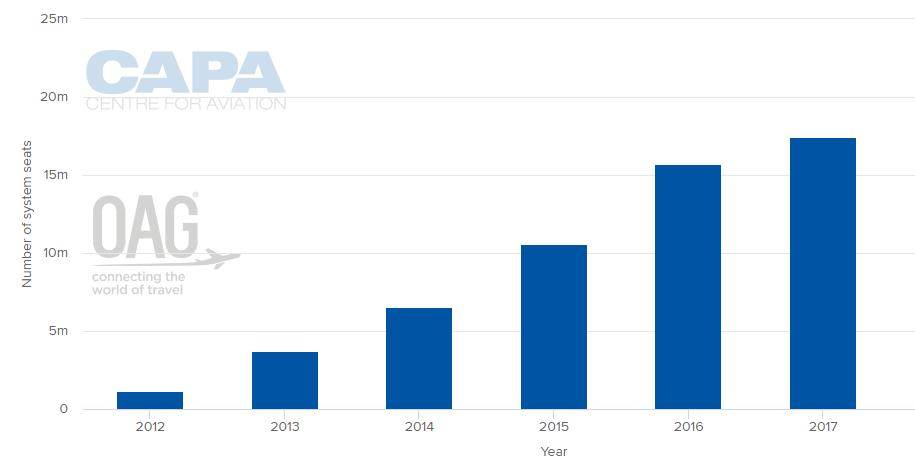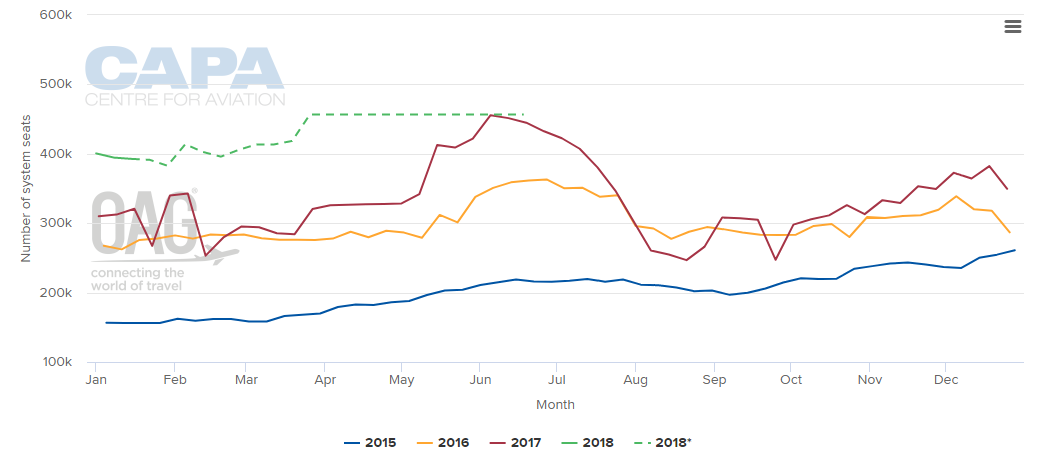 TRAFFIC: A trend line that shows such a negative trajectory for passenger growth can set off the alarm bells, However, in the case of VietJet Air, an airline still in its infancy, it is what you would expect for an airline as it grows scale.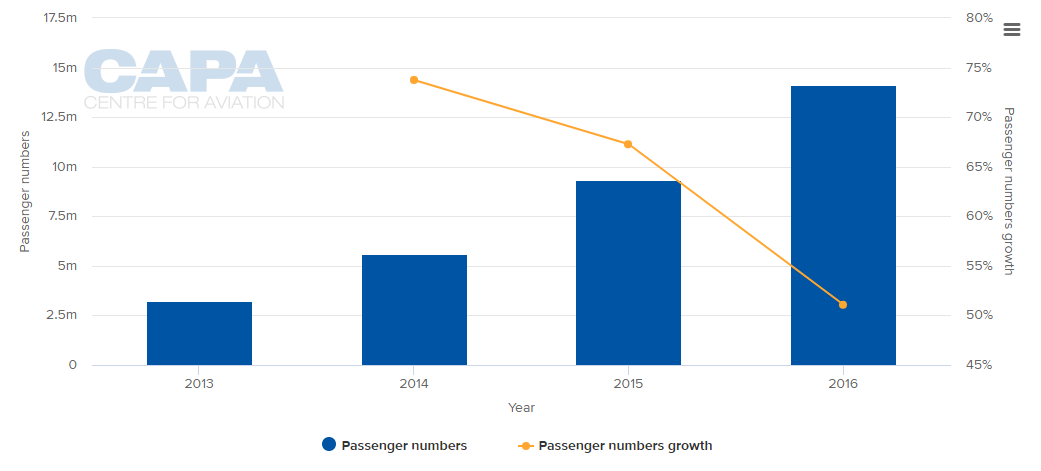 OBSERVATIONS: VietJet Air continues studies into expansion into the long haul market, including potentially sourcing widebodied equipment, but it still remains just a consideration at this stage. "Long haul is a key market for us. We have and continue to make a very serious consideration into a long haul operation", its deputy director commercial, strategy and planning Jay L Lingeswara told The Blue Swan Daily in Sep-2017. While these discussions continue to advance it will continue to focus on growing its regional network, supporting the ongoing growth of Vietnam's aviation sector.
VISIT CAPA – Centre for Aviation to find out how you can access all this information and discover more about the benefits of a CAPA Membership.