The publication cited statistics from the Honolulu city council showing there are 8,000 to 10,000 vacation rentals on Oahu at any given time, but only 770 are licensed, short-term rentals. The new regulations are currently only for Oahu, but it seems likely that similar bills will be introduced for Hawaii Island, Kauai or Maui too.
Travel and Leisure stated Honolulu will start issuing B&B licenses on 1-Oct-2020, and after that time, B&B owners will need to display their permit number in online advertising, including social media. The new regulations obviously have implications for vacation rental site Airbnb, and some of the larger airlines serving the Hawaiian islands are attempting to determine if those changes could impact air travel demand.
"…we don't have a real precise assessment to be able to give you in terms of what the impact is going to be. We do expect that there will be some curtailing of the availability of vacation rental accommodations in the coming months," Hawaiian Airlines' CEO Peter Ingram recently explained.
The limited availability could potentially make it more expensive for people that want that sort of accommodation experience, said Mr Ingram, which would "manifest itself in some pressure on demand" from North America. "It's really hard for us because this is a family opaque market to understand exactly how big that is," he added.
Alaska Air Group is also monitoring how the new laws could potentially affect demand patterns. "I think, my understanding is about 5,000 units of inventory coming offline…", explained company EVP of planning and strategy Shane Tackett.
He concluded it could result in travellers opting to fly to other Hawaiian islands for better availability and costs. "Our bigger focus obviously is how many seats going into Hawaii, because at the end of the day, Hawaii is about supply and demand," said Mr Tackett.
The City & County of Honolulu has regulated short-term rentals (STRs) since 1989. STRs are also known as vacation rentals, and are lodgings that provide guest accommodation for less than 30 days. Ordinance 19-18 (Bill 89) seeks to balance the benefits of STRs for hosts and guests with the desire to keep residential neighbourhoods from being overrun by such properties.
Hawaii welcomed a record 9.9 million tourists in 2018, but fell just short – by only 45,000 visitors – of the ten million milestone that had been expected before headwinds caused by flooding, increased volcanic activities, weather disasters and Hawaii's longest hotel strike diluted demand. Still, arrivals were up 5% year-on-year, increasing the average number of tourists visiting the islands to over 242,000 per day. Visitor spending in 2018 rose to more than USD17.8 billion, generating USD2.08 billion in state tax revenue for the calendar year.
Honolulu Daniel K Inouye International airport, previously known simply as Honolulu International airport, is the major international gateway to the state, handling over 20 million passengers per annum and plays a major role as a transit point and holiday destination in the Pacific. Analysis by CAPA – Centre for Aviation of OAG schedule data highlights that system capacity levels at the airport have remained stable this decade, peaking in 2017 following a +6.5% year-on-year growth, but then falling slightly last year.
CHART - System capacity levels at Honolulu Daniel K Inouye International airport have remained stable this decade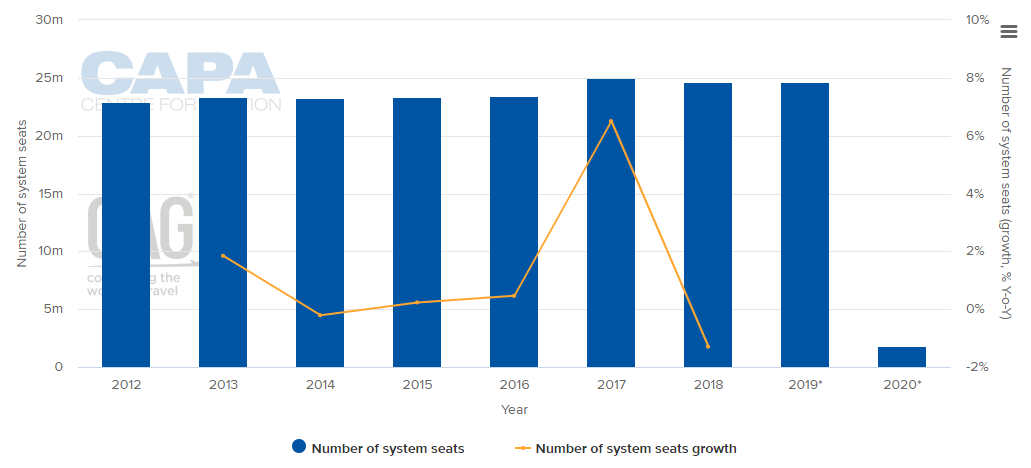 Source: CAPA – Centre for Aviation and OAG (NOTE: * The values for this year are at least partly predictive up to 6 months from 12-Aug-2019 and may be subject to change)