Aviation making slow, if steady, progress on SAF roll-out­
According to the Air Transport Action Group (ATAG), as of 27-Jun-2023 airlines had collectively operated just under 499,000 flights powered by SAF.
At present, airlines are operating a little more than 200 SAF-powered commercial flights per day.
Over the first five months of 2023 there were a little under 32,500 SAF-powered commercial flights – that translates to approximately 215 commercial flights per day, or around 78,500 SAF flights per year.
Cumulative SAF-powered commercial flights, Oct-2019 to Jun-2023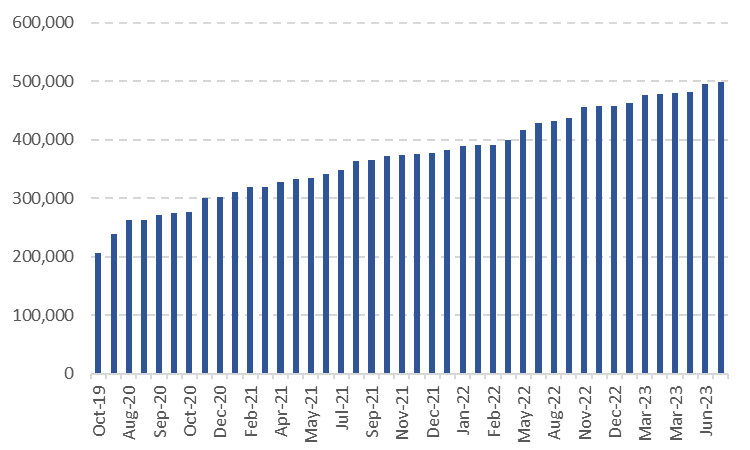 The first test flights of commercial aircraft using a blend of jet-type kerosene and SAF to power their engines occurred during 2008.
By early 2011 airlines started to operate commercial services using SAF.
Since then, more than 50 airlines have powered a flight with their aircraft using SAF. Most of these airlines have operated these flights on an irregular basis, either as tests or as a limited series of commercial flights.
However, there is an increasing share of SAF flights that are regular, schedules services.
A number of major airlines – including Lufthansa, Air France-KLM, All Nippon Airways, SWISS, Finnair, United Airlines, Singapore Airlines, Delta Air Lines and American Airlines – are leading the charge to turn SAF-powered flights from a novelty to a regular occurrence.
Just as limiting is the fact that that there are only a limited number of commercial airports that offer SAF deliveries for commercial aircraft on an ongoing basis.
Although this does include key international hubs – such as San Francisco International, Los Angeles International, Amsterdam Schiphol, London Heathrow, Singapore Changi, Tokyo Narita and Frankfurt International – it highlights the difficulties in updating infrastructure to make SAF a component of day-to-day operations.
Price, availability and inertia
Momentum with SAF flights is building, if only very slowly.
The linked issues of price and availability have been impediments to progress: for airlines, the historically high cost of SAF has meant that they have been unwilling to commit to large purchases; for producers, they have been unable to lower SAF costs by scaling up output, because customers have only been willing to commit to small offtake agreements.
Fortunately, ordering and production appear to have turned a corner.
According to data from ICAO in compiling SAF offtake agreements, the amount of SAF purchases agreed to by airlines grew from 0.4 billion litres in 2020 to 9.9 billion litres in 2021 and 21.7 billion litres in 2022.
Announced SAF offtake agreements (2013-2023, year to date)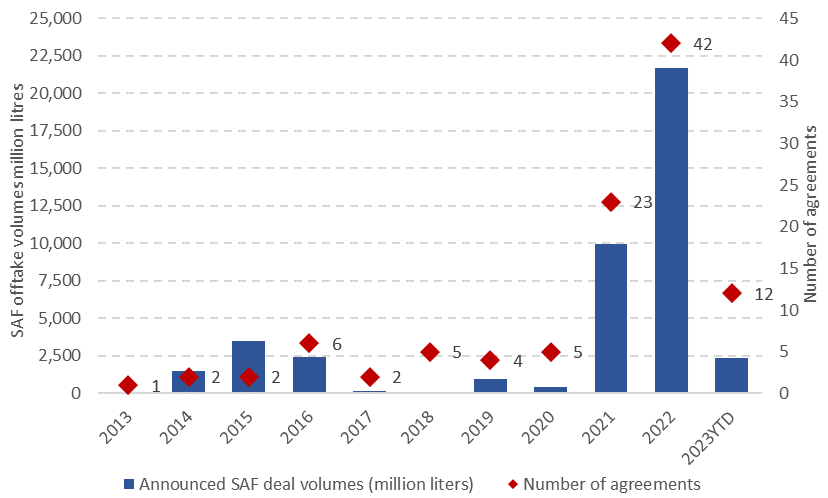 Most of the announced deals are multi-year offtake arrangements, with some stretching out as far as 20 years. These provide producers with desperately needed certainty around production volumes and revenue, which will support their investments in production expansion.
Ultimately, airlines are going to need a lot more SAF.
IATA estimates that global SAF production was approximately 300 million litres in 2022, of which airlines reportedly used every single drop.
Although this was substantially up from the estimate of 125 million litres produced in 2021, it was still less than 0.1% of global jet fuel demand. Before the COVID-19 pandemic airlines were consuming more than 410 billion litres of jet fuel p/a.
According to IATA, SAF production will increase "exponentially" again in 2023. This is good news for the sector, but the exponential production growth will need to continue for decades.
Global SAF production estimates (million litres), from 2007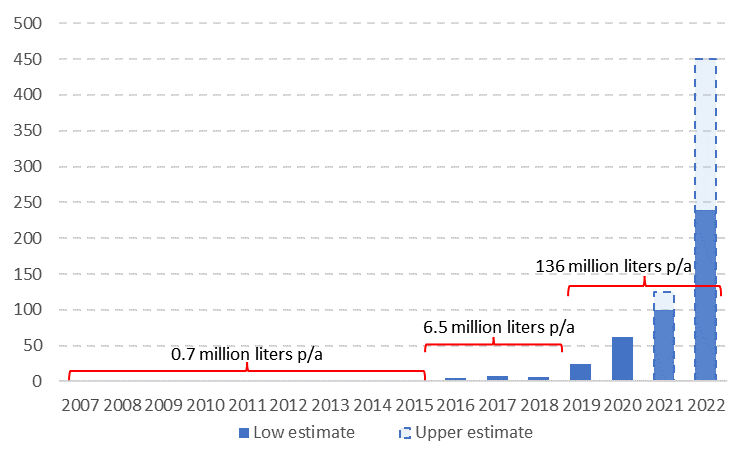 IATA believes that 30 billion litres of SAF output (around 100 times current production) is a 'tipping point' for SAF production and utilisation for commercial aviation. The industry body expects this volume can be reached by about 2030, provided that SAF accounts for about 30% of global renewable fuel production capacity.
With long term airline passenger growth forecast at 5% to 6% over the next few decades, global aviation fuel consumption is inevitably going to grow. Even with ever more efficient aircraft coming into service, better air transport management systems and improvements on the ground, global aviation fuel use could grow to around 650 to 725 billion litres by 2050.
That means that SAF output will need to grow to not just 10s of billions of litres, but 100s of billions of litres over the next 20 to 30 years.
Sustainability and the environment - executive insights
CAPA TV discussed the hot topics of the environment and sustainability with industry executives during the Jun-2023 International Air Transport Association (IATA) AGM in Istanbul, Türkiye.
The environment and sustainability - executive insights from the IATA 2023 AGM