Mr Pinera, a pro-business politician, returns as Chile's president after serving in that capacity from 2010 to 2014. The country's middle class expanded under its current president Michelle Bachelet, but domestic air passenger growth fell to the single digits during her tenure.
For the first ten months of 2017, Chile posted total passenger growth of 10.6%, led by a 16.4% increase in international passengers to 8.9 million. Approximately 9.4 million passengers travelled in Chile's domestic market during that time period, an increase of 5.6%.
CHART - Fellow Latin American nations dominate the largest international markets from Chile by seats, but USA and Spain both make it into the top six markets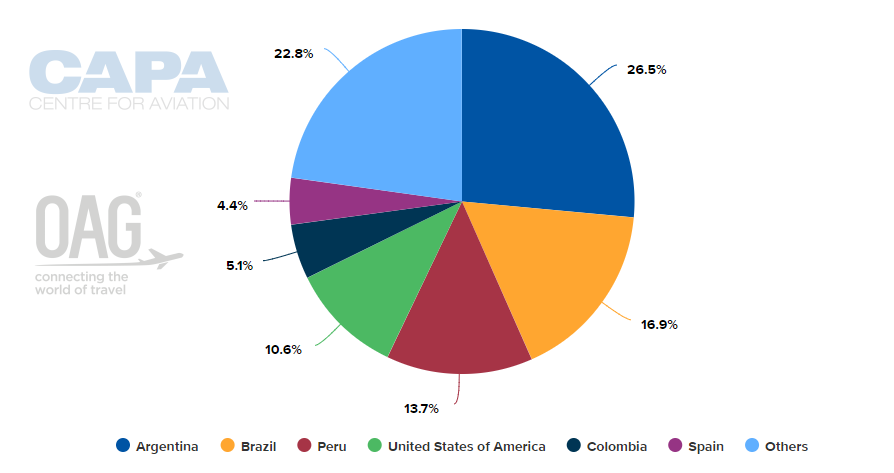 Source: CAPA - Centre for Aviation and OAG
Although LATAM Airlines Group remains the dominant airline in Chile with a 69% market share for the ten months ending Oct-2017, there have been changes in the country's aviation business during the last couple of years. LATAM's main competitor Sky Airline has transitioned to a LCC, and ULCC specialist Indigo Partners launched JetSMART in mid-2017. After roughly three months of operations, JetSMART captured 1.7% of Chile's domestic market. In Oct-2017, JetSMART transported 80,243 domestic passengers, resulting in share of 7.5%.
One of the main factors for Indigo's selection of Chile as its ULCC springboard in Latin America was the country's favourable business climate. Indigo's managing partner William Franke has characterised Chile as a "nice, stable platform". The country allows 100% foreign ownership of airlines, which is rare for the industry.
Chile's status as one of the easier regions for businesses in Latin America should not change drastically under Mr Pinera's administration. However, if middle class growth stagnates, opportunities for air travel passenger stimulation could dim. Chile has one of the higher trips per capita in Latin America. According to Statista, Chile's trips per capita in 2016 was 0.8 versus 0.4 for both Mexico and Argentina and 0.6 for Brazil.
If Mr Pinera continues to forge business friendly policies, airlines could find a sympathetic ear for their long-held frustrations over high taxes and crumbling infrastructure. Mr Pinera is familiar with the airline industry; he sold a stake in LAN Airlines in 2010. He also acquired a stake in Scandinavian Airlines in 1994 as part of a partnership with the Cueto family, which is a controlling shareholder in LATAM Airlines Group.