Restoring confidence in entering public indoor spaces is a critical step in restoring lives and livelihoods to normality and technology is playing a key role in the 'new normal', with entry health screening among the applications that are becoming the norm to ensure collective health.
Back in Apr-2020 The Blue Swan Daily brought news of a partnership between Abu Dhabi-based Etihad Airways and Australian company Elenium Automation to trial new technology which allows self-service devices at airports to be used to help identify travellers with medical conditions, potentially including the early stages of Covid-19.
The United Arab Emirates (UAE) airline is the first carrier to trial the technology, which can monitor the temperature, heart rate and respiratory rate of any person using an airport touchpoint such as a check-in or information kiosk, a bag drop facility, a security point or immigration gate.
In Apr-2020 we only had a promotional image to show how this would look for travellers. Now, as the UAE opens the door to international air travel through the removal of its travel restrictions, we can see clearly how the system looks and works in this video from The National, a private English-language daily newspaper published in Abu Dhabi.
Elenium Automation says studies have shown that monitoring key vital signs together, including temperature, respiration and heart rate can predict if a patient has influenza with 93% accuracy, compared to just doing temperature screening which only has a 65% correlation. Its VITALS system aims to target the key areas to secure the most accurate readings.
The Elenium system will automatically suspend the self-service check-in or bag drop process if a passenger's vital signs indicate potential symptoms of illness. It will then divert to a teleconference or alert qualified staff on site, who can make further assessments and manage travellers as appropriate.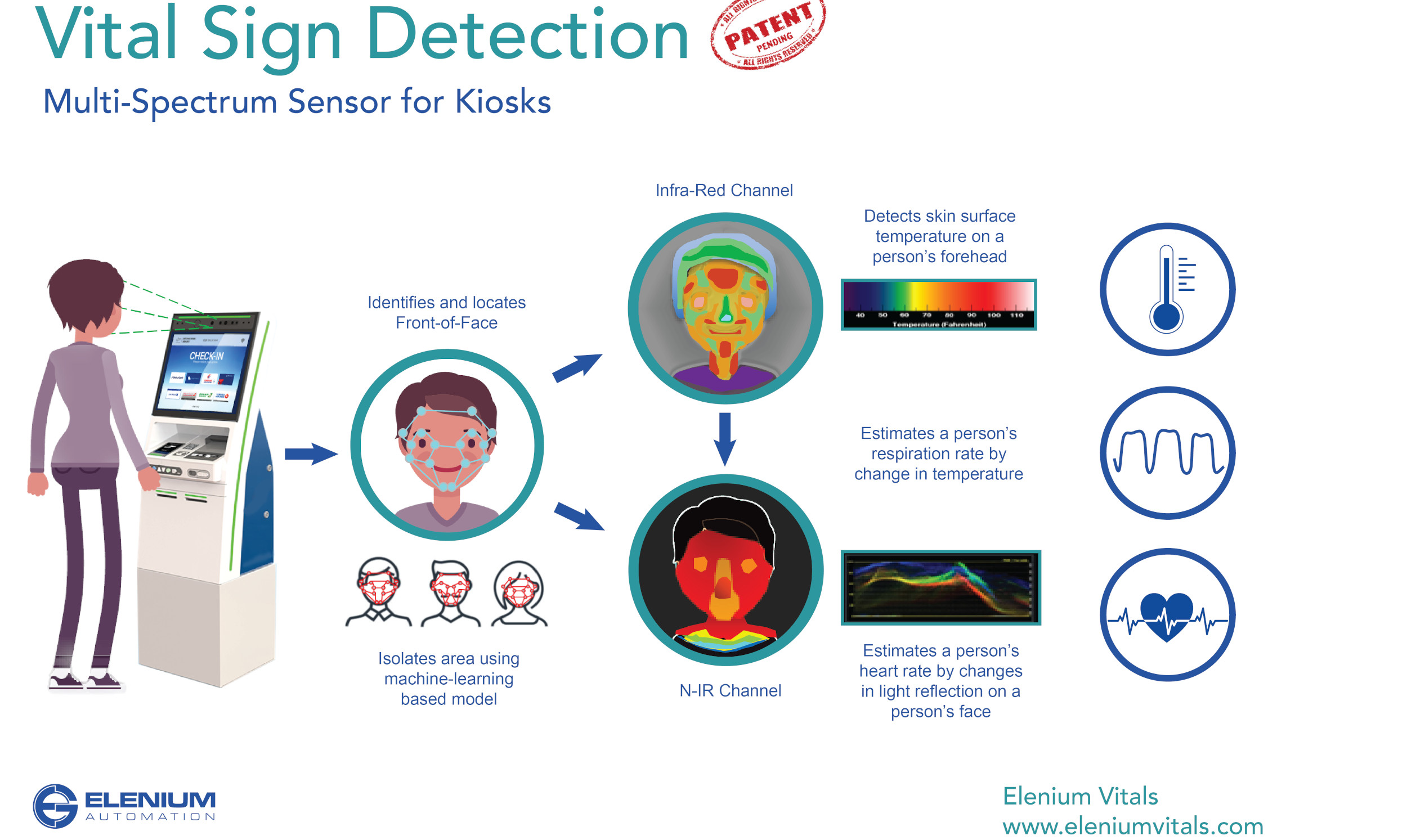 Does this deployment at Abu Dhabi International Airport offer us a view into the future façade of airport check-in areas? The partners are quick to note that the technology is not designed or intended to diagnose medical conditions, but it will act as an early warning indicator which will help to identify people with general symptoms. They can then be further assessed by medical experts, potentially preventing any further spread of any contagious conditions.
The Australian company believes this approach is a world first and it has lodged patents for both the automatic detection of illness symptoms at an aviation self-service touchpoint, and touchless self-service technology at an airport. Combined, this would ensure health screenings can become standard across airports, without putting staff in harm with manual processes. However, like any data deployment the potential issue of privacy will remain a key factor in its acceptance.