Summary
Traffic at North America's 10 largest airports came roaring back in 2022; domestic flying returned to near normality and international travel built through the year.
North America's ten largest airports handled a combined 627 million passengers in 2022, which was an increase of 30.5% year-on-year.
Three of the top 10 North American airports have already exceeded pre-pandemic passenger levels, and all bar a few of the largest US hubs anticipate full traffic recovery during 2023.
New CAPA report studies the performance at each of Europe's ten largest airports in 2022 and provides an outlook for 2023.
2022 performance buoyed by booming domestic market, as well as high VFR and leisure demand
In 2022 growth across North America was largely supported by the booming US domestic market, with VFR and leisure/tourism travel demand the standouts.
The 'revenge travel' phenomenon, with consumers eager to travel after nearly two years of restrictions, remained strong through most of 2022.
Airports with large leisure markets were among the fastest growing for the year, although some of the buoyancy left these markets late in the year.
Balanced against the boom in leisure travel was the slow return of corporate trips.
US airlines reported that revenue from business travellers ended 2022 anywhere from 15% to 25% (or more) down on levels seen before the pandemic.
Although airfares for business travel were still generally lower than 2019 levels, evidence continues to mount that COVID-19 has produced structural changes in the business travel market.
This change has occurred not just in the level of demand for business travel, but also in the reasons for travel and the timing of travel.
Airlines Reporting Corporation: ticket sales by segment (2021-2022)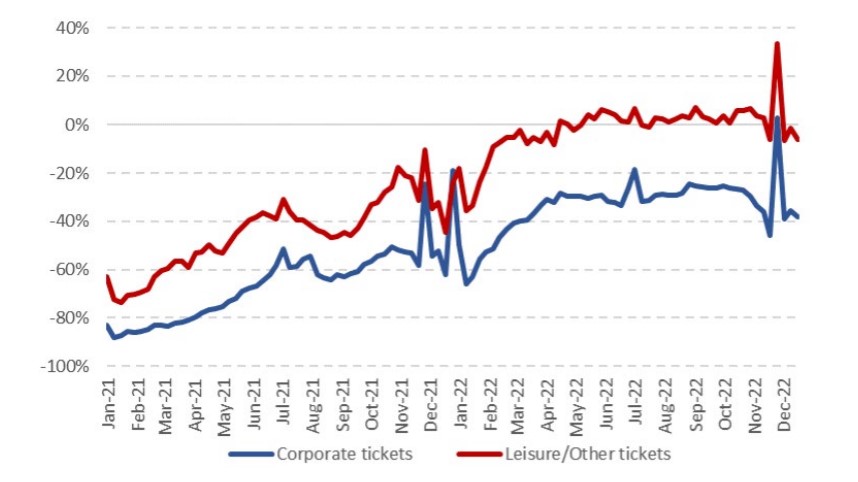 Recovery path has been impacted by numerous factors
Pandemic-era issues also produced a range of other complications and difficulties for airports over 2022.
As traffic built up, so did delays inside the terminals and consequently – traveller ire.
As on-time performance declined, service complaints by travellers spiked more than 55% during 2022.
These operational problems were intermittent, and often localised, with weather the usual inciting agent.
However, the industry spent most of 2022 trying to reverse the impacts of staffing cuts and other exigencies forces on it during the depths of the COVID-19 pandemic. As a result, airlines were forced to respond to disruptions by cutting tens of thousands of flights from their schedules, ultimately taking some of the shine off the recovery.
There was a multitude of contributing factors to the 2022 delays, with no part of the operating chain totally escaping blame.
Some of these – such as staffing shortages at airlines and airports and supply chain issues affecting aircraft reliability – appear to have been largely resolved.
Others concerns – such as ongoing air traffic controller shortages and airport runway closures – have persisted into 2023.
Download FREE report
The Airport Insights: Top 10 North American airports – 2022 insights and recovery prospects for 2023 report from CAPA - Centre for Aviation provides further insight on 2022 performance at North America's leading airports, including more in-depth observations on each of the ten largest airports in the region.
DOWNLOAD the full CAPA - Centre for Aviation report: Airport Insights: Top 10 North American airports – 2022 insights and recovery prospects for 2023