Moldova's main airport, Chișinău International, was privatised in Oct-2013 by way of a 49-year concession to the Russian investment firm Avia Invest, on condition that it invested EUR45 million on the runway and EUR115 million in a new terminal. The runway works and improvements to the terminal have since been carried out, or are under way.
That concession contract was investigated by the Prime Minister, Kirill Gaburich, in May-2015 after which he said that he planned to cancel the agreement; not because of any irregularity (although the National Anti-Corruption Centre was involved in the investigation) but because "preliminary results showed that the Government had no need to sign a concession agreement. It (the airport) functioned normally and earned profits". Understandably, Avia Invest put up a staunch defence in which it claimed that over two years it provided four times the investment funds that the government did in 24 years.
It certainly seems to have provided a stylish terminal building, supported by a stylish and informative website. The short- and mid-haul route network is quite comprehensive and flag carrier Air Moldova undertakes some limited hubbing activities.
CHART - Chișinău International airport is currently linked to over 40 markets across Europe and the Middle East with local carrier Air Moldova holding the dominant capacity share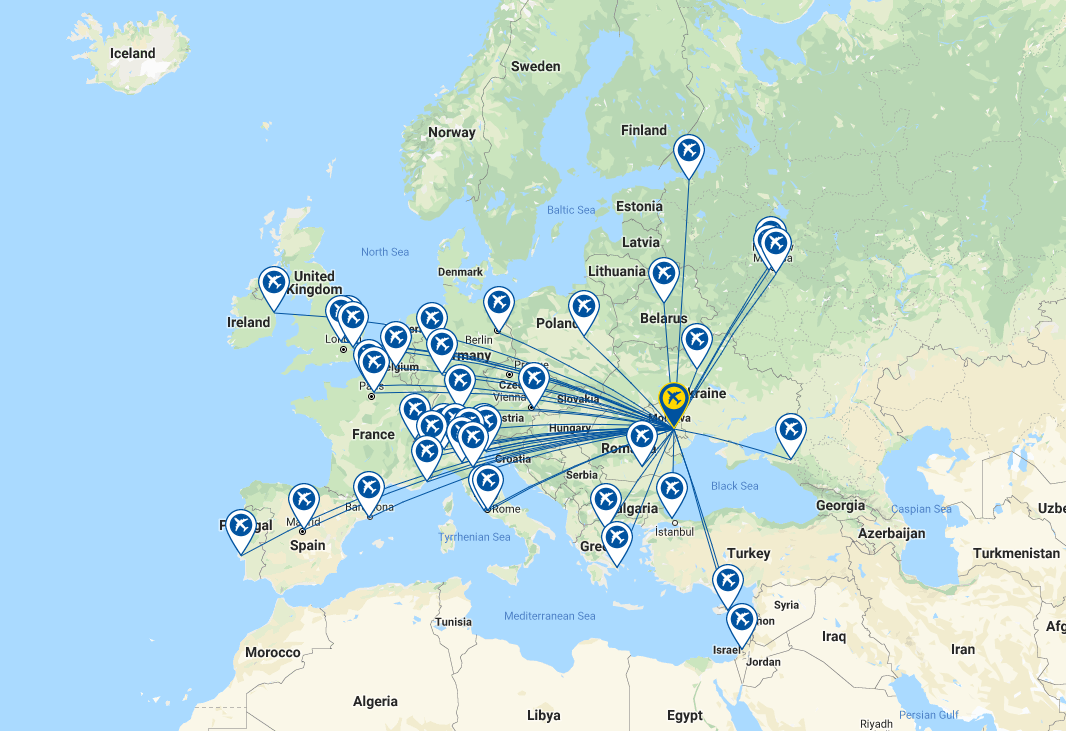 Source: CAPA - Centre for Aviation and OAG
The matter seemed to have been something of a storm in a teacup but recent events have proved otherwise. Early in Aug-2019, 95% of the equity of Avia Invest was acquired by NR Investments, a Channel Islands (UK)-registered property investment vehicle with an extensive track record and experience in Central European property and infrastructure investments.
On the surface it would appear to be a positive development but immediately the Minister of Economy and Infrastructure said the government aimed to "negotiate the concession contract of Chișinău International with its new owners" and "will attempt to renegotiate the contract so as the Moldovan Civil Aviation Authority may receive a greater portion of the EUR9 fee paid per passenger departure, which currently stands at EUR1.75."
Fair enough, but then the President Igor Dodon, said the Supreme Security Council had been summoned in connection to the transaction and that "we believe that there is every reason for this contract to be cancelled and the airport returned to state administration."
A commission of inquiry "for analysis of organisation and conduct of privatisation and concession of public property between 2013 and 2019" will be held in Sep-2019. The inquiry will hold due diligence on the concession of the operator Avia Invest, accompanied by conclusions and recommendations regarding the nullity of the concession contract.
The writing appears to be on the wall for this concession while, to the independent eye, there doesn't seem to be much that is radically wrong with it. It would be easy to conclude that political motives predominate, but without knowing the full story it is impossible to know. But, it wouldn't be the first time such events have taken place in Eastern Europe. There have been numerous instances of 'dodgy' privatisations in Central and Eastern Europe over the years; 'dodgy' in the sense they haven't been, or might not be, sustainable.
These have included the privatisation of 75% of Budapest Ferenc Liszt International airport, the proposed partial (66%) privatisation of Slovakia's Bratislava airport in 2005 which was dropped at the last minute and latterly, the Bulgarian government's concession on Sofia airport, which ended with it awarding the deal to a consortium whose offer, on paper at least, appeared to be inferior to those of some of the other bidders.
Eastern Europe offers attractions to investors because the propensity to fly there can only increase – at least in theory – while some airports are well located to offer an air-land bridge for cargo into and out of West Europe more cheaply. But there are too many instances like those mentioned above for those investors to feel comfortable.