So what is Singles' Day?
The brain child of the Chinese online retail firm Alibaba, the online shopping sale began in 2009 as a simple marketing ploy to assist with consumer sales. The day was originally launched to contrast with Valentine's Day, the date (11/11) representing single people. Since 2009, sales have exceeded all expectations, far outweighing the promotion's US counterparts, such as Cyber Monday and Black Friday.
The rise of Singles' Day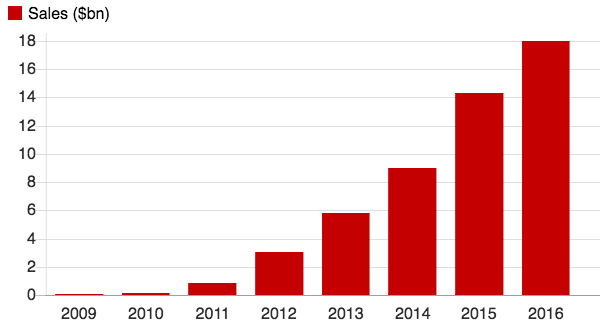 Source: Alibaba, BBC.
Singles' Day and Cyber Monday sales compared: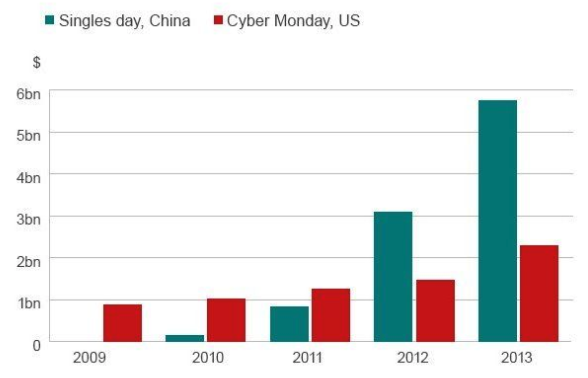 Sources: Alibaba, Bloomberg, ComScore.
The success of Alibaba's Singles' Day sale can be attributed to China's 600 million internet users, a market which, when compared to the US (277 million) and Europe (546 million), clearly creates an opportunity for impressive numbers. The interesting thing is that with a total population of 1.3 billion people, the Chinese market still has a huge opportunity for growth.
The success of this sale also lends itself to the Chinese people's desire to search for a bargain and shop online. According to Bloomberg, more than 90% of the transactions made on the day were done via mobile. If retailers, tourism markets, airlines and hotels outside China want to tap into this lucrative market, it seems a smart decision to ensure that they at least market to Chinese travellers via mobile channels.
There are multiple examples of key travel organisations partnering with Alibaba in order to tap into this lucrative market. Etihad Airways and Qantas are just two examples. Etihad has even gone so far as to release branded livery on five aircraft promoting the Singles' Day sales, in partnership with Alibaba's Tmall and Alitrip. For the month of November those aircraft operated to Beijing, Chengdu, Hong Kong and Shanghai, as well as an additional 40 cities in Etihad's network.
On 06-Nov-2017 Etihad also signed an MoU with Alibaba and Ant Financial Services Group to expand cooperation on their respective loyalty programmes, enhancing guest experience and improving logistics for Chinese customers. Under the agreement, Alibaba and Etihad Guest will explore enhanced programme benefits and opportunities for cross-acquisition of loyalty points, including points conversion to Etihad Guest Miles, reciprocal benefits across premium tiers, and the ability to redeem Etihad Guest miles for Alibaba products.
Key facts from the 2017 Singles' Day:
2 billion (USD25.3 billion) in sales, USD7.5 billion more than in 2016
39 percent increase in sales, exceeding Citigroup Inc. estimates
90 percent of transactions were done via mobile
At its peak, the company's processors handled 256,000 transactions per second
More than one million retailers worldwide took part this year, including the US department store Macy's.