With the Asia Pacific region becoming the largest and the fastest growing travel market in the world, business travel will be more connected than ever before. The industry is working hard to perfect a personalized, seamless and reliable journey that business travellers desire. With the advent of digital technologies, they want choice, price transparency and personalization. At the same time, corporations want better value from travel spend.
Business Travel Agencies (BTAs) must adapt to this evolving environment, delivering a service that helps their customers and travellers get the most out of business trips. In an evolving environment, having strong technology as a backbone will help BTAs offer both cost efficiencies and opportunities to enhance customer experience and revenue. They also need to be at the forefront of innovation, understand the changing needs of their customers, and move quickly to meet them.
Having said that, there are multiple opportunities along the way for business travel agencies to drive continuous engagement with the travellers. During every trip, BTAs can help travellers at times when they need it most, especially during disruption. There is also a huge opportunity to drive up-selling of services to make the trip that little bit more comfortable.
Along with these, BTAs need to support corporate customers in providing the right travel options to their employees. Options that respect the corporation's travel policies, optimize return on investment and ensure duty of care for the traveller.
The recipe for success is to deliver seamless service across channels and touchpoints striking the right balance between automation and human touch. This is where transparency of information is key and customer satisfaction can peak.
To develop a long-term strategy and discover what is transforming the business travel industry, BTAs would need to look at further aggregation to access content more efficiently and offer customized experience like leisure journeys do, right from the start. BTAs will also have to embrace a transparent process so that every transaction in the traveller journey is visible and drives a connection with the largest traveller segment in the region, the Millennials. This segment constitutes about 31% of the traveller population. Finally, they will need to take an on-demand mobile-first approach to be on the same page as the connected, modern business traveller.
The blog also include an explanation of the future of business travel in the Asia Pacific region and how BTAs will have to understand the changing landscape of business travel to succeed: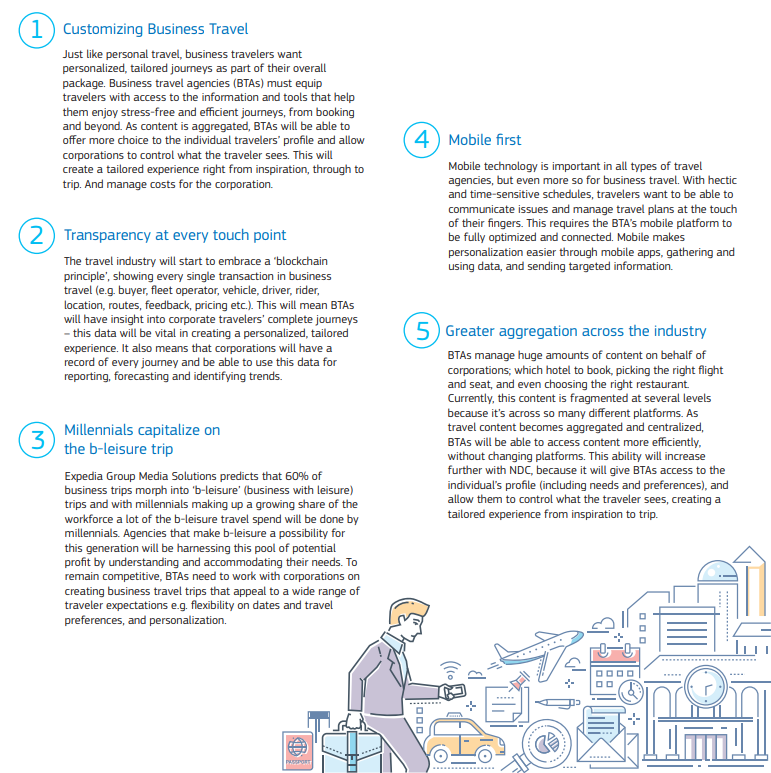 Source: Amadeus IT Group and its affiliates and subsidiaries