---
Summary:
Andrés Obrador has been elected Mexican President after securing a 53% share of the vote;
Previously he said he would abandon the New Mexico City airport if elected, but latterly his position has moderated;
Andrés Obrador has now suggested he will "put it to the people" and private sector participation in the project is now a more likely course of action if the new airport project is not to be axed;
Much is likely to depend on relations between Mexico and the United States of America (USA), which have recently thawed.
---
The reason for that is that AMLO is on record as saying earlier in the year that he would be prepared to cancel the New Mexico City airport project, one that is already under construction with over 300 companies involved. Instead he is understood to be in favour of expanding the existing Benito Juárez International Airport, an option that was considered many times over a considerable period of time but which was concluded eventually to be impractical.
CHART - While passenger traffic has been growing at Mexico City's Benito Juárez International Airport it has somewhat stalled and reduced from +12.2% in 2015 to +6.3% in Jan-May-2018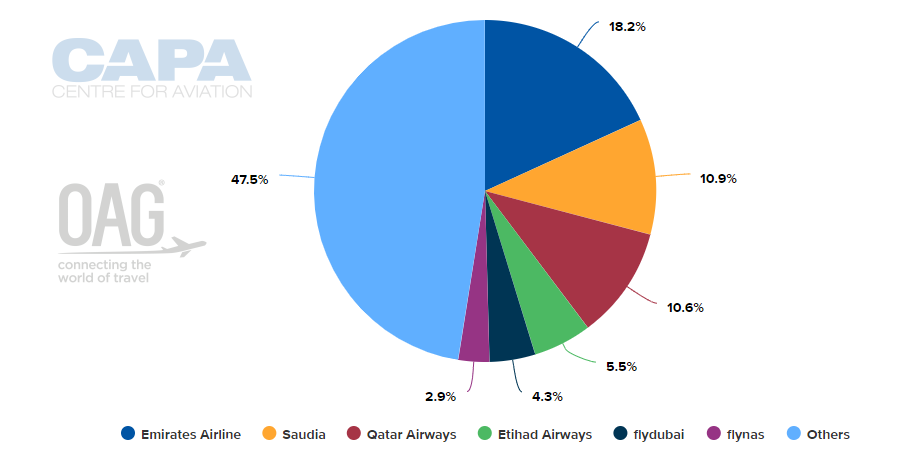 Source: CAPA - Centre for Aviation and Mexico City Juarez International Airport reports
Options for the expansion of the privately owned Toluca Airport, a low-cost base around 40km from downtown, and other airports, have been considered and dismissed over the years in favour of a new airport. It is no longer in the running though it presents a reasonable case and could ultimately make a renewed case given the change in government.
In the face of very strong and growing opposition, AMLO has subsequently said he would support the "re-purposing" of the Santa Lucia Air Base (military) to handle commercial operations in parallel with Mexico City Juarez International Airport or would consider a private initiative for the new airport as an alternative to scrapping the New Mexico City International Airport's construction.
It will be surprising to some people that AMLO chose to propose expanding Juarez or the military airfield before a concession option on the new one. After all, this was always a massive task for an indebted government to take on, on its own.
CHART - Mexico's net external debt (measured in MXN billions) is at an all-time high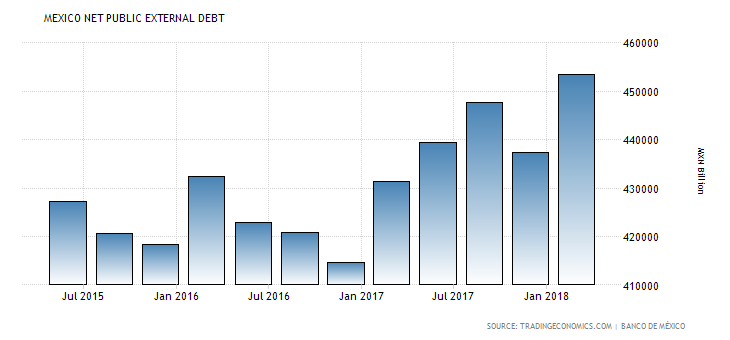 Source: Tradingeconomics.com/Banco de Mexico
Furthermore, many of Mexico's airports are already privatised, often to one of three regional groups – ASUR (South), OMA (Central-North) and GAP (Pacific), which look after different geographical areas, each with an 'anchor' airport of substance, such as Guadalajara and Cancun. That has been the case since the mid-1990s, when they were 15% private concessions, with IPOs following later. But some of the group airports are not Mexican – the groups have become foreign investors, albeit on a small scale, with ASUR the biggest and also including a US airport.
TABLE - The overall financial performance of Mexico's airport privatisations has been good and are ranked as amongst the most successful in Latin America as these financial results for the 12 months ended 31-Dec-2017 highlight

Source: CAPA Investors Database
ASA, the state enterprise which managed the main Mexico City airport and 58 others (now 19) was left out of those early privatisation rounds and Juárez Airport was hived off as a separate publicly-owned but corporatised entity under the control of Grupo Aeroportuario de la Ciudad de México (AICM), which also has responsibility for the new airport.
The Mexico National Chamber of Air Transportation (CANAERO) has said that it plans to present a new air industry agenda 2019-2024 to ALMO. CANAERO said the agenda mainly emphasises aviation security, intelligent regulation, infrastructure improvements, the facilitation of growth and sustainability of services. CANAERO president Sergio Allard also stated though that there is "no doubt" that it is necessary to construct New Mexico City International Airport to meet demand.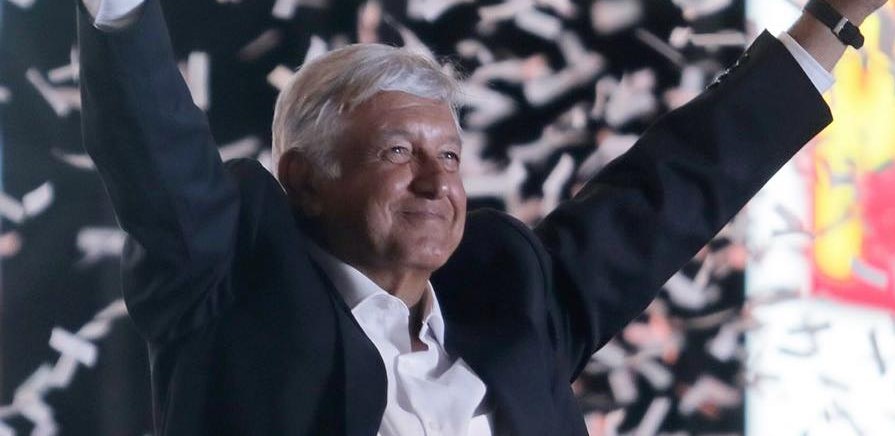 It is the opinion of The Blue Swan Daily that a concession agreement is the best way forward for ALMO. He may be a strident left winger fixated on state control but a modicum of research will tell him that similarly-minded people across the world, and particularly in the US, are increasingly gravitating towards public-private deals to build transport infrastructure. They know that it can reduce costs substantially while allowing them to retain control over the project, subject to satisfactory negotiation.
But he has to get a move on. Phase one of the airport is scheduled for completion in two years time, when it will be able to handle up to 76 million passengers annually. The private sector will want to be on board now, so it can influence design and utility. Then there is the question of the bond funding that has been proposed and how it will influence ownership and voting rights.
The latest position AMLO holds, immediately prior to the election, and spelt out at a rally in Texcoco, México state — the municipality where the new airport is being built — is that by Sep-2018 at the latest he will conduct a public consultation in which citizens will be presented with three different proposals: two that will see the project continue and one that will scrap it.
https://corporatetravelcommunity.com/political-threat-clouds-new-mexico-city-airport-project/