---
Summary:
Ardian has sold its 49% stake in London Luton Airport to AMP Capital after majority shareholder AENA declined to take up its option to buy;
London Luton has been the fastest growing established airport in the UK capital and could play an increasingly important role in the London system;
London Luton's a 'Vision for Sustainable Growth 2020-2050' document will go out to consultation later this year as it seeks to plan for future development;
AMP Capital already as interests in Newcastle and Leeds Bradford airports and could invest in other UK airports.
---
Ardian first entered the airport investment world in 2011 when it joined a consortium to bid for the concession to operate Madrid and Barcelona airports (AENA) in Spain, which was under offer at the time but subsequently withdrawn as AENA rethought its privatisation strategy.
That set in train a co-operation with AENA because in 2013 Ardian went on to acquire the 49% stake in LLA from Barcelona-based Abertis, which later exited the airport sector entirely. Meanwhile AENA, which had previously been a 10% shareholder, increased its stake to 51%. The total transaction value was GBP445 million.
Ardian invested over GBP160 million in the airport since 2013 but may no longer have regarded LLA as a viable investment, since Heathrow Airport's bid for a third runway was supported by the Airports Commission and despite opposition it will in all likelihood be approved by the British parliament this summer. A proposal was made to the Airports Commission for a four-runway LLA, connected by spur railway lines to the main west coast rail lines, but not by the airport itself, rather a private company.
https://corporatetravelcommunity.com/major-investment-programme-delivers-the-new-face-of-london-luton-airport/
AENA declined to purchase Ardian's holding in LLA despite having the preferential right to do so. Despite some fairly extensive infrastructure additions there, including a GBP120 million mass transit system connecting the terminal building to the railway station, LLA's problem is physically constrained by its location and its development plan only encompasses growth to 18 million ppa (a previous capacity of 30 million ppa having been rejected).
Acknowledging that the development plan is inadequate (LLA's passenger traffic growth was 18.5% in 2016 and 8.6% in 2017 to 15.8 million, though it is down to less than 1% in the first three months of 2018) a 'Vision for Sustainable Growth 2020-2050' document will go out to consultation later this year.
CHART - London Luton has been the fastest growing of London's established airports since 2010 with annual traffic levels soaring by more than 80% from 8.7 million passengers in 2010 to almost 15.8 million last year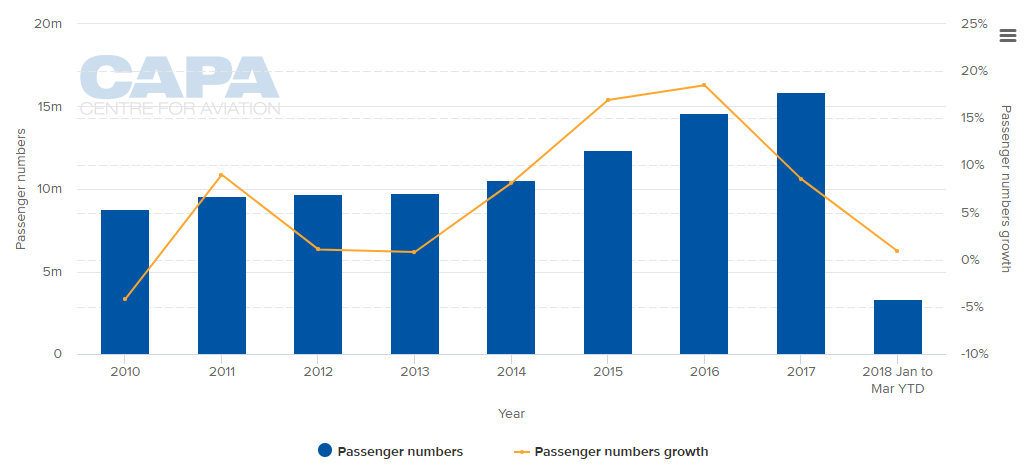 Source: CAPA - Centre for Aviation and London Luton Airport reports
None of this appears to have discouraged AMP Capital, which has been gobbling up UK airport assets for the last few years, adding to its existing portfolio of Melbourne Tullamarine, Launceston and Port Hedland airports in Australia.
It began in Oct-2012 when Copenhagen Airports agreed to sell its 49% stake in the UK's Newcastle International Airport to a fund managed by AMP Capital Investors. Then, in Oct-2017, AMP Capital agreed to acquire 100% of Leeds Bradford Airport from Bridgepoint Advisers Limited, for an undisclosed sum.
CHART - Newcastle International Airport (top) and Leeds-Bradford Airport (bottom) provide important local and hub connectivity to north east and north England, respectively, and have a bias towards LCC operations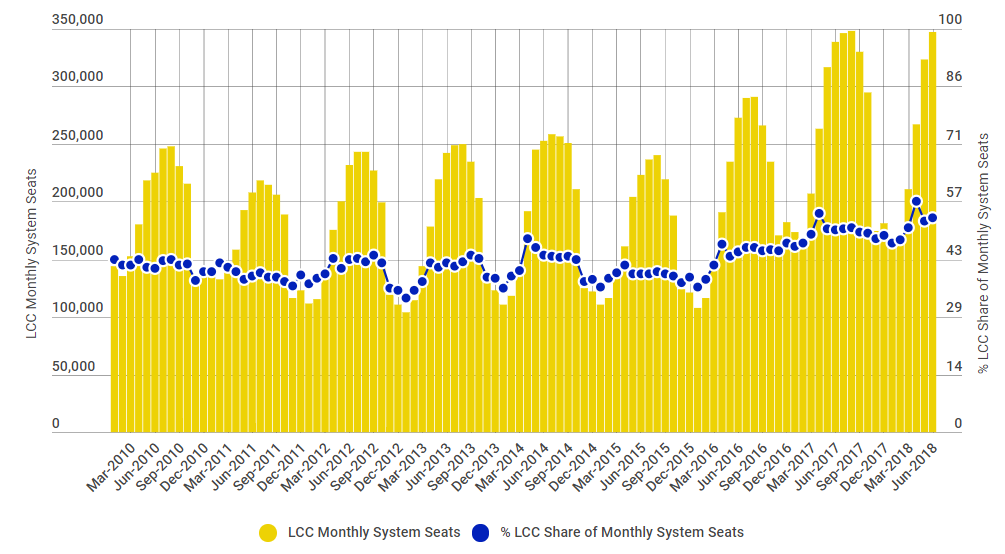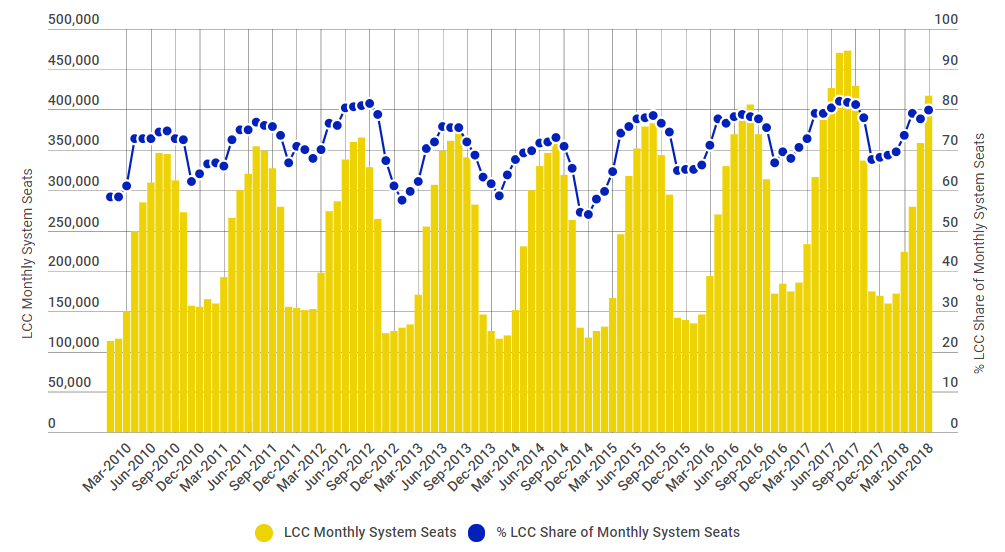 Source: The Blue Swan Daily and OAG (data: two-way system seats)
The two airports are less than 100 miles apart, connected by the same national trunk highway and their catchment areas overlap so are actually effectively in direct competition with one another. At both airports operations are dominated by LCCs with a current 62.7% share at Newcastle and 88.7% share at Leeds Bradford.
The acquisition of equity in London Luton's operating company takes it even further down the path of wholesale budget airline operations. Latest data shows that 98% of the airport's systems seats are provided by LCCs, the highest level among the UK's largest airports.
CHART - While London Luton is the UK capitals fourth largest airport, it now has the largest share of LCC operations having overtaken Stansted last year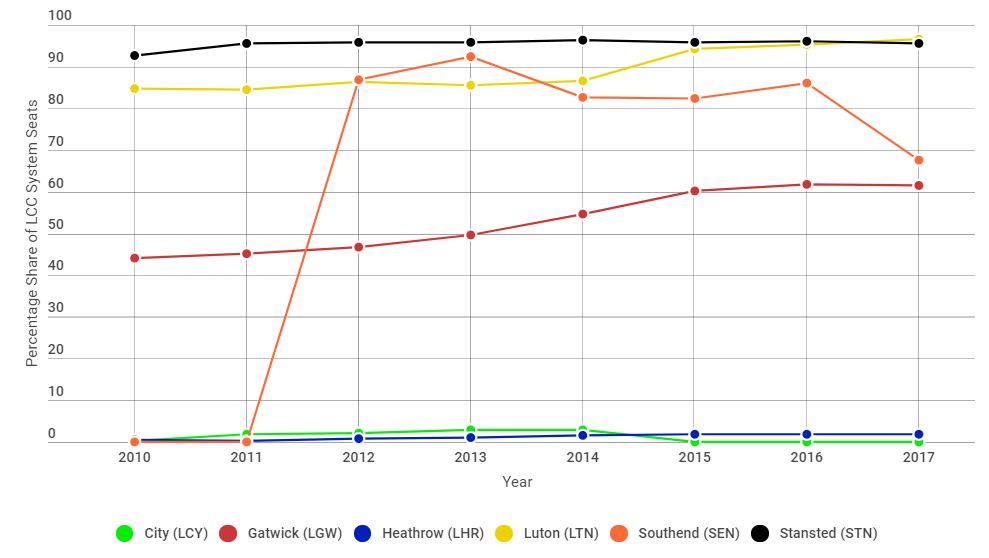 Source: The Blue Swan Daily and OAG
AMP Capital has shown it has the appetite for more airport acquisitions with bids this decade for Chicago Midway, Osaka and Ontario airports and most recently for a commercial partnership with the Sunshine Coast Maroochydore Airport. There is every chance it will seek to extend its portfolio further in the UK if the existing three investments prove to be fruitful, and/or to increase its stake holding where it is a minority shareholder. But its options are limited!
The smallest of its UK airports (Leeds-Bradford) handles less than four million passengers per annum and the move with the London Luton purchase signifies an upward ambition. It might be attracted to Edinburgh Airport if Global Infrastructure Partners chose to off-load it, or to East Midlands Airport, which Manchester Airports Group could sell if it opted to focus on Manchester and Stansted as part of a north-south strategy.
Or, it could simply go the way of Australia's Macquarie Airports, an operator, once one of the world's largest, which invested in and/or operated UK airports (Birmingham, Bristol), speculated over numerous others and which was involved with many airports in Europe and elsewhere, before disposing of all its interests apart from Sydney Airport and returning there.