A new analysis looking forward through 2022 by market intelligence and travel search specialist ForwardKeys demonstrates that there are signs to be optimistic as it highlights four key trends which have the potential to make a huge difference to the travel landscape in 2022. For the corporate travel industry this includes the observation that business travel "is not dead" and positively that the Asia Pacific region, where travel levels have lagged behind the rest of the world, will "reopen soon".
People still want to travel if countries are open for business
The ForwardKeys publication, 'Travel Outlook in 2022: Four Key Components', importantly highlights positive developments from 2021 that provide strong case studies to back up the optimistic outlook. What this all illustrates, it says, is that even when the Covid situation is getting worse, people still want to travel. What stops them though is how governments react to the evolution of the pandemic. "If they make sure that their country is open for business, the strength of travel demand is such that they will see travellers flying their way," the report explains.
Business travel 'is not dead'
One of the great fears of the travel industry since the beginning of the pandemic has been that business travel would never come back. With online conferences, online meetings and reduced budgets from crisis-stricken companies, the odds were increasingly getting stacked against business travel recovery. Yet, it appears that business travel is slowly but surely making a comeback.
"We could see this very clearly happening in Europe, where intra-European business travel was on a steady rise from Apr-2021 until the new wave of covid-cases last November," explains Olivier Ponti, VP of Insights at ForwardKeys.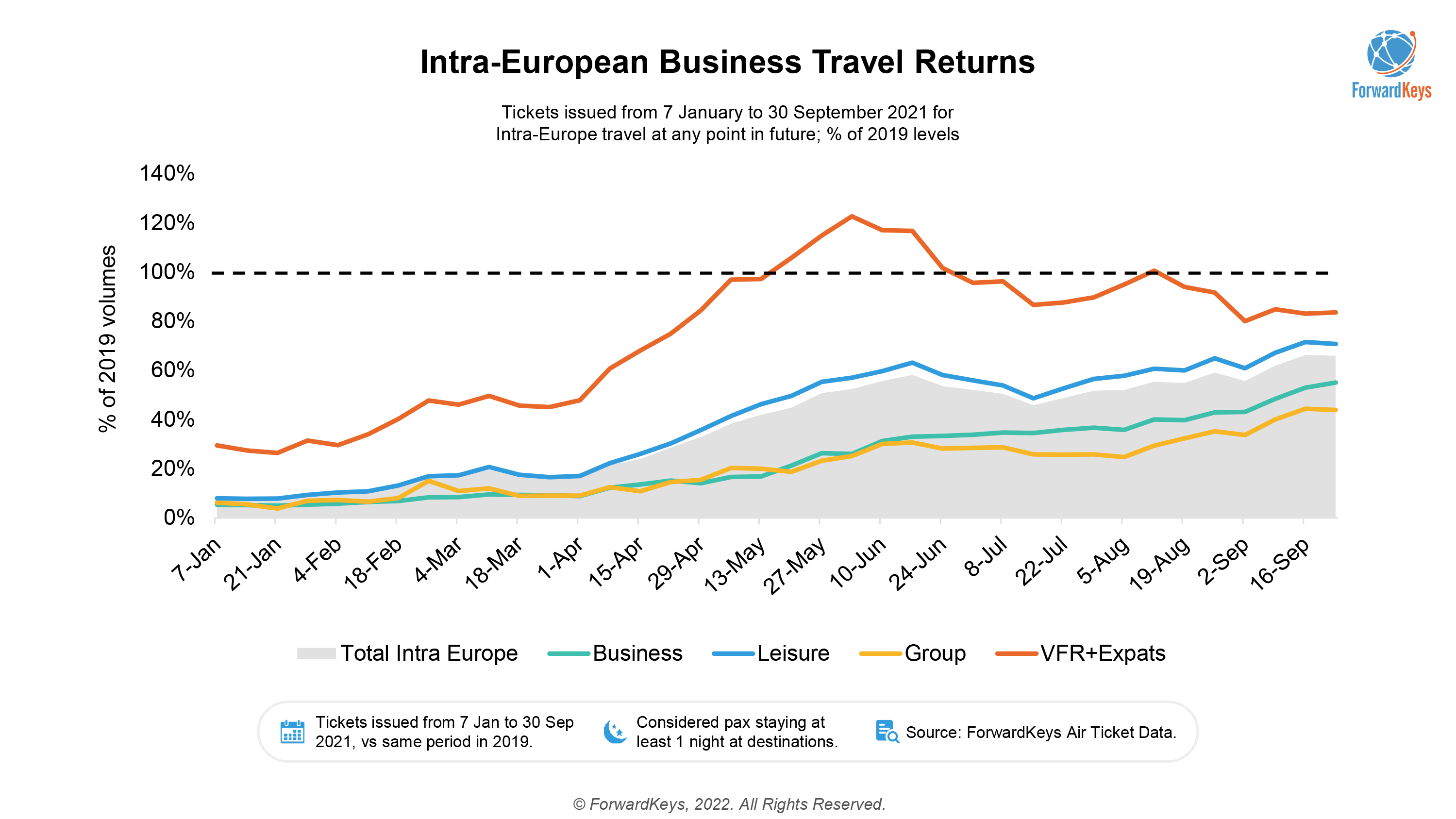 He acknowledges that business travel demand may be recovering more slowly than the leisure segment, and "can be a bit bumpy," but all in all, the gap between leisure and business "is narrowing" as intra-European business travel reached close to 70% of 2019 levels in Oct-2021.
This supports the observation that a large part of pre-covid business travel will eventually come back with sales representatives again meeting their clients in person and people will still happily meeting at conferences to exchange ideas and network.
Asia Pacific region 'to reopen soon'
This insight into Europe mirrors other analysis on business travel across the US market and is positive for the APAC region which has – and continues – to see travel recovery lagging behind the rest of the world. This situation has been heavily influenced by the simple fact that most destinations have not been open for business and had travel restrictions in place that made travel "cumbersome or next to impossible," notes Mr Ponti in the report.
The good news, he says, is that just before Omicron hit, this situation was changing at a fast pace. The group of countries partially open or who had announced a plan to reopen was much larger and included very popular destinations like India, Australia, Indonesia, Japan, Fiji and Singapore.
"There are good reasons to believe that these plans will be put back on track and that this will reactivate regional and even intercontinental travel, following the same pattern as what we've seen in other parts of the world, and hopefully go faster in the process," believes ForwardKeys. However, there is one big question mark, China, the world's biggest outbound market pre-covid, described in hr report as "a giant waiting for awakening".
Domestic travel, to remain 'relevant player' in tourism
The observations from 2021 provide some insight for other markets to consider. One key highlight was the return of domestic travel demand, an area that was first to rebound and one in many markets that has helped to keep the travel industry afloat.
Using its home market of Spain as an example, a destination where recovery is well underway, ForwardKeys identifies trends for a growing travel market. This is a country where a lot of domestic travel takes place by air due to large distances and it is home to tourist hotspots, including city destinations, mainland coastal markets and the Balearic and Canary Islands, popular with locals and foreign visitors alike.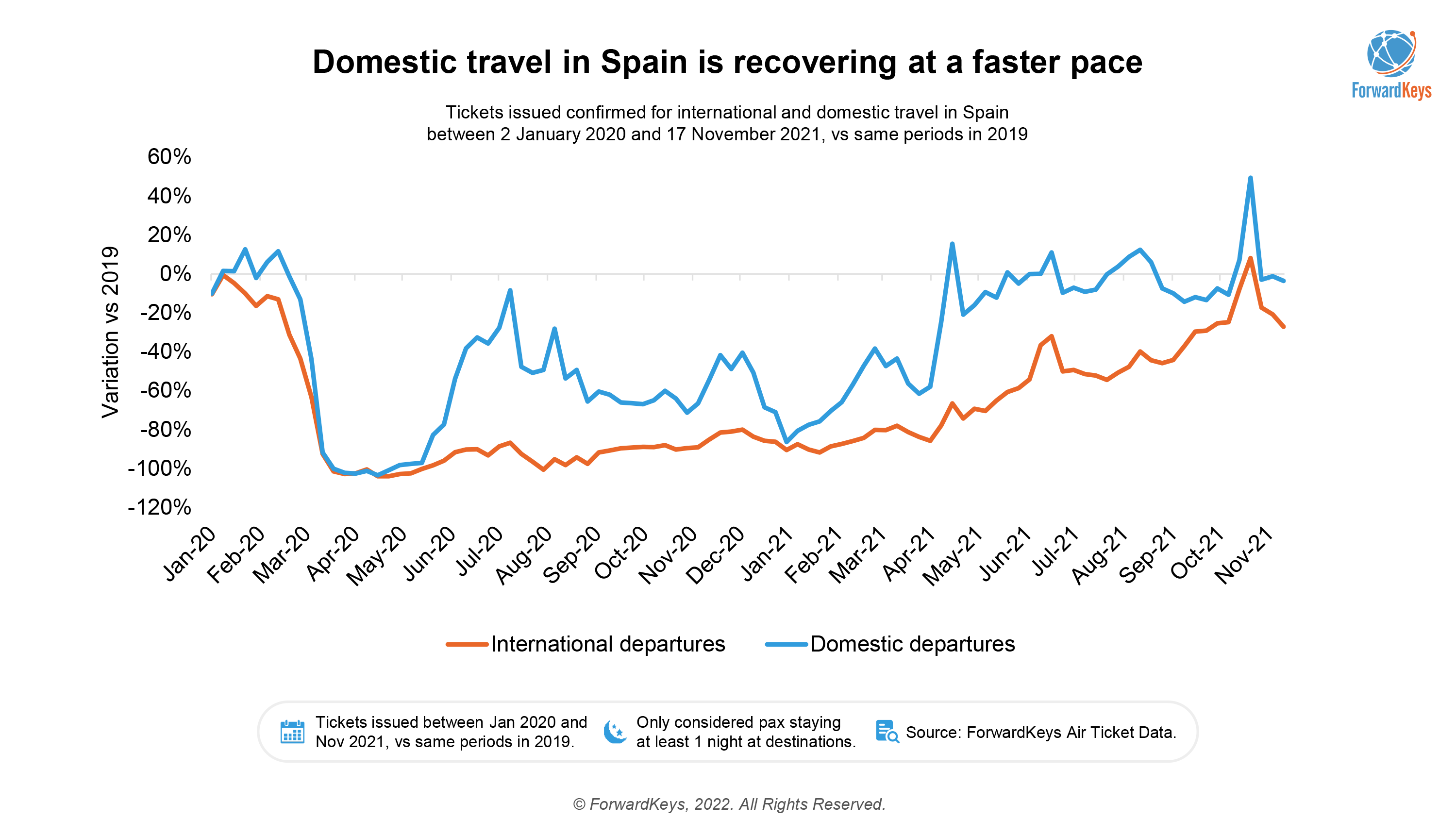 Looking at the evolution of domestic travel since the beginning of the pandemic, ForwardKeys data shows that it was quick to rebound, as early as the summer of 2020, just after confinement measures were lifted. In Apr-2021, with the help of the Easter break, domestic travel reached back to pre-covid levels for the first time and since then has remained strong, with various periods above 2019 levels, like during the autumn holidays at the end of Oct-2021.
It is a very different story when looking at the evolution of international departures from Spain, which took much longer to see locals resume trips abroad. It's only from the spring of 2021 that there is an acceleration of the recovery.
ForwardKeys identifies that an important takeaway here is that international travel recovered while domestic travel remained strong, "which means that the travel market is getting bigger". Spain, it says, "is not an isolated case" and it says a similar pattern is evident in many other countries and a positive observation that is "a good reason for being optimistic," according to the data intelligence specialist.
The pent-up demand is real
We had previously entered 2021 with similar optimism, but this year we have the added proof that there is strong pent-up demand for travel. This can be clearly observed by looking at what happens when travel restrictions are lifted in other parts of the world.
Here, using the example of Australia, a country that has applied very strict travel restrictions until its reopening in Nov-2021, ForwardKeys observes a rapid acceleration of bookings from key source markets like the UK, Singapore, and the United States of America from the moment the Australian government announced a reopening date. "This shows that pent-up demand was there all along and only waited for a clear signal from the authorities to be released," notes the report.
In the case of Australia, this signal "took a long time to come," says ForwardKeys, but in other destinations, it came much faster and provides further insights about pent-up demand. Using Greece as an example, ForwardKeys demonstrates that pent-up demand is strong, even with potential concerns over rising infections.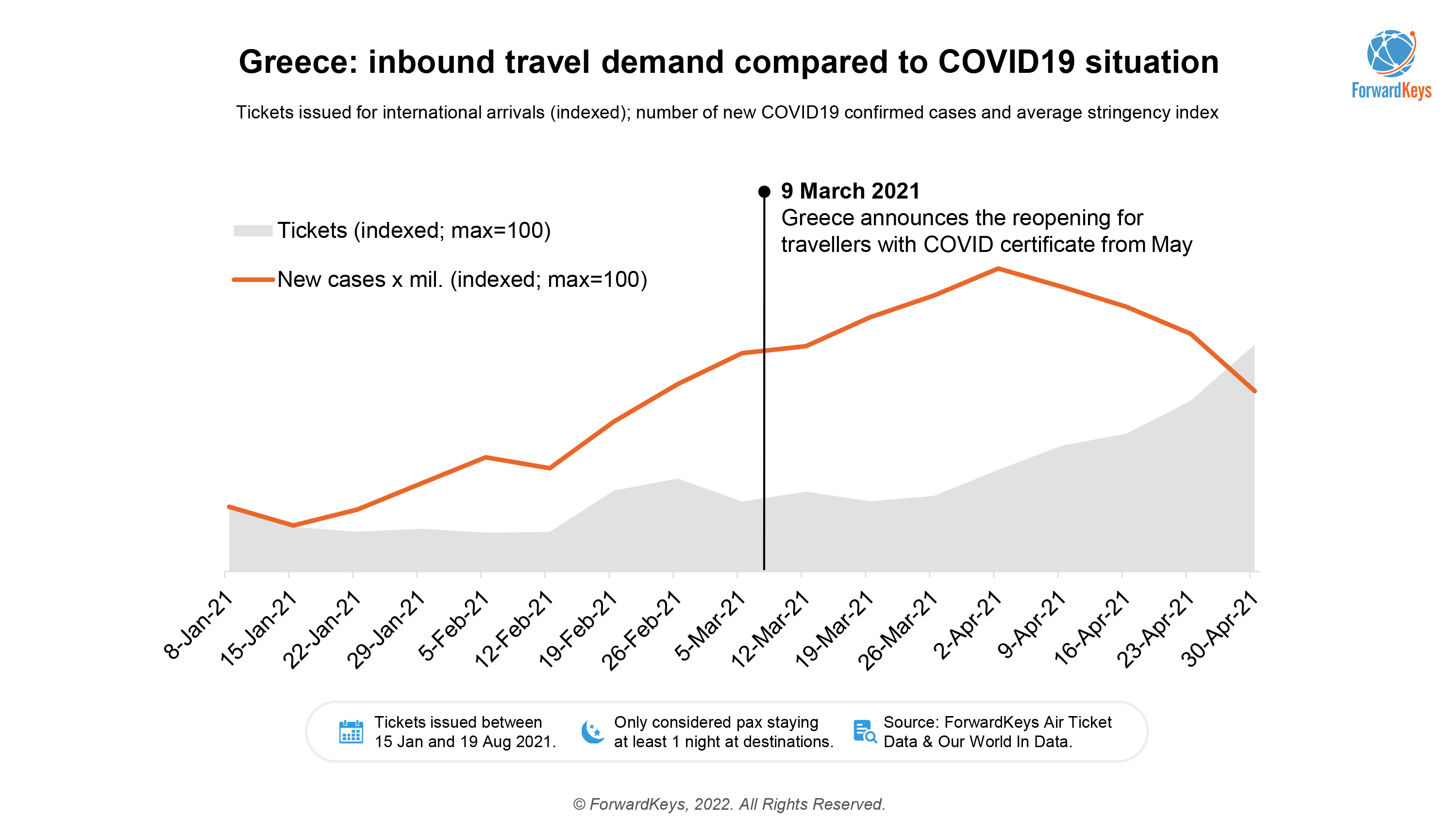 The Greek government announced a reopening of the country to travellers with a Covid certificate in Mar-2021. At the very same time, the number of covid cases in Greece was rising at an alarming rate. "Given that this rebound of the pandemic was all over the news in Greece's key source markets, it is fair to assume that people knew about this situation and yet, the number of international tickets to the country grew at a very fast pace, which made Greece one of the success stories of last summer," says ForwardKeys.