---
Summary:
Johannesburg Lanseria Airport intends to overtake Durban's King Shaka International as South Africa's third largest airport;
The airport aims to become a regional gateway and negotiations are already underway with foreign airlines to open up new routes, including Air Namibia, Kenya Airways, Air Mauritius and Air Botswana;
The airport t is located between Johannesburg and Pretoria, one of South Africa's three capitals, and on the periphery of a joint metropolitan region of well over 10 million people;
However, the airport is poorly served by public transport, although a high-speed rail line could pass through it, eventually.
---
It is the intention that the airport should become a regional hub, catering for the South African development community and the sub-Saharan region. Negotiations have been underway since the end of 2017 with airlines including Air Namibia, Kenya Airways, Air Mauritius and Air Botswana to open up new routes. All of them fly to Johannesburg's main O R Tambo International Airport (JNB), to the east of the city, so 'new routes' might actually mean diverting one or more services to Lanseria.
JNB is situated approximately 50km (31 miles) by road from Lanseria. While the former is located in proximity to residential and modern commercial areas in the Kempton Park district of Ekurhuleni municipality and easily accessed by motorway-standard roads, Lanseria is more "off the beaten track" in farmland to the northwest, on the road to nowhere in particular.
While it is located between Johannesburg and Pretoria, one of South Africa's three capitals, and on the periphery of a joint metropolitan region of well over 10 million people, one of Lanseria's problems is that it does not lie along the line of the M1 motorway that connects the two cities. If it did, it might be a different story.
MAP - Johannesburg's O R Tambo International and Lanseria International airports are both located to the north of Johannesburg, but are far enough apart to co-exist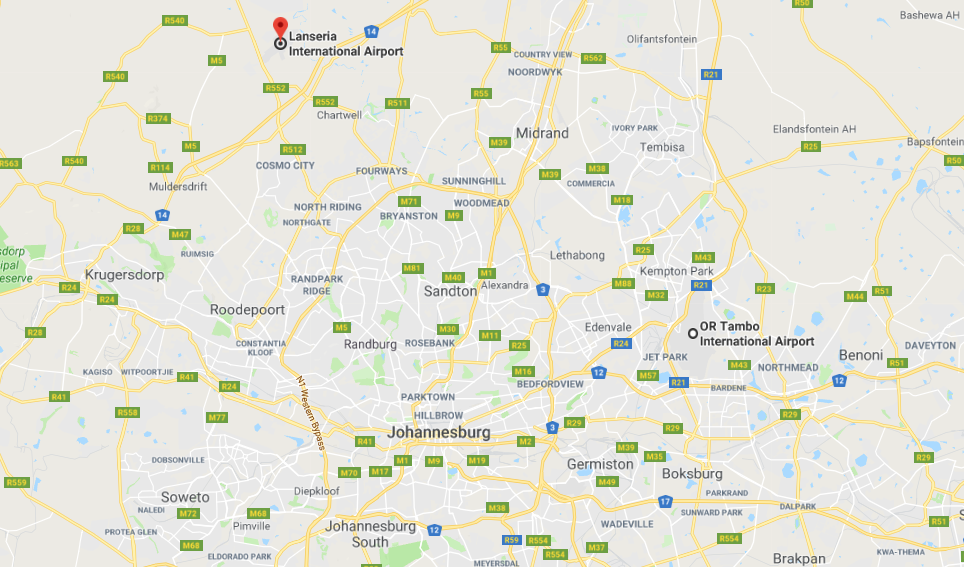 Source: Google Maps
Much the same is true of public transport. JNB has been since 2013 on the Gautrain 80 km/50 mile fast rail network line to Sandton, where it connects with the remainder of the as-yet still small network, but one which serves the central rail station, some of Johannesburg's more upwardly mobile areas - and the city of Pretoria. In contrast, Lanseria is nowhere near a rail line. A foreign visitor without a car might well be put off buying a ticket from there to, say, Cape Town or Durban.
However, in an interesting development in 2017 it was revealed that the operator of Gautrain was planning to expand the network in a five-phase procedure to Lanseria Airport following the completion of a feasibility study. That would connect the airport to downtown and its main rail station, the upmarket residential and commercial suburbs, Pretoria - and JNB.
Caution must be exercised here. Gautrain is often criticised for enhancing the travel prospects of the Middle Class rather than the urban poor while many areas have hardly any public transport at all and much resistance can be expected. It could easily take 10 years for this ambition to be realised.
In these circumstances Lanseria has done well to transform itself from a grass airstrip handling general aviation to a 3000 x 45 m asphalt runway facility supported by Comair through its LCC kulula.com, the South African Airways' LCC Mango, and another LCC, Fly Safair and handling 1.9 million passengers in 2017. It was in 1990 when it came to prominence internationally as Nelson Mandela was flown there following his release from prison in Cape Town.
CHART - Schedules at Lanseria International Airport are dominated by South Africa's domestic LCC operators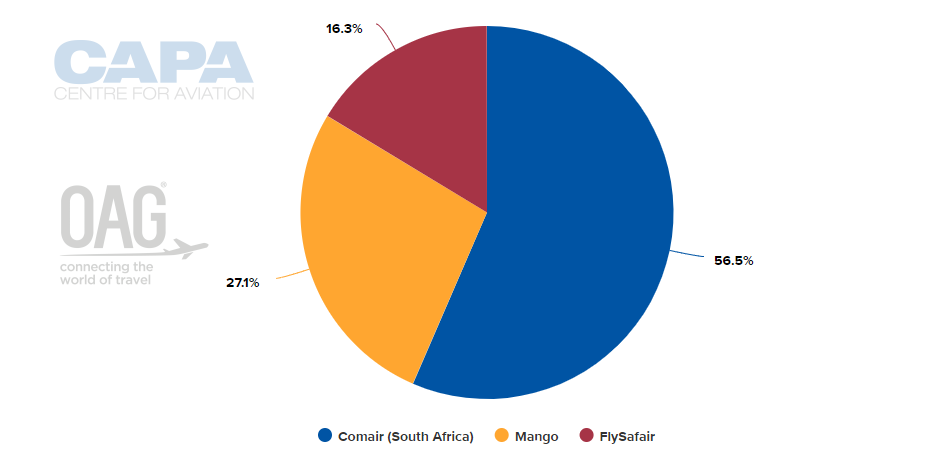 Source: CAPA - Centre for Aviation and OAG (data: w/c 25-Jun-2018)
At the beginning of this year Lanseria's management initiated a five year capital investment programme to improve and develop facilities. A new multi storey car park is under construction after a survey revealed that long-term car parking rates having been a bone of contention with the airport's users. A new control tower opened on 31-Oct-2017. There is also a small but growing maintenance organisation.
Strangely though, little has been said about the need for a new terminal to handle international traffic. At present all direct flights are domestic. Only the "expansion" of the present terminal building has been mooted, which may not really fit the management's ambition.
Separately, in Nov-2017 the Gauteng province Premier, David Makhura, said Lanseria International Airport will be the site of a new airport city development on several sites, including industrial, commercial and residential projects, which chimes with the airport management's additional desire to build a designated cargo facility. The airport's shareholders will invest approximately ZAR1 billion (USD70 million) in the airport while another ZAR9 billion (USD636 million) will be invested by other private investors in the other, associated developments.
As Johannesburg continues to expand away from its downtown core – its metropolitan region population has soared to over 9.5 million – and with much of that expansion roughly in the direction of Lanseria, an expanded airport with a planned business and residential community is being broached at just the right time, though getting attached to the public transport network is essential. In this respect it shares numerous commonalities with the Western Sydney airport development in Australia (which will also have an 'airport city') and it might be pertinent for the planners of each to get their heads together.