The reduced travel demand has hit airports especially hard. Latest data from ACI Europe, the organisation representing the interests of the region's airports, shows passenger traffic currently down by 81% across the European airport networks, with the stark lost passenger threshold of 1.5 billion so far this year being passed in the last few days. These passengers, in a socially-distanced 1.5 metre spaced line, would wrap around Earth 56 times, says the industry body.
The impact is most obvious when you look at Sep-2020 traffic levels and compare them to last year. Heading this list in 2019 were the big hubs of London Heathrow, Paris CDG and Amsterdam Schiphol. In Sep-2020 the big three only just sneaked into the top ten list in positions eight, nine and ten, with Paris CDG now leading Amsterdam Schiphol and both ahead of London Heathrow.
This 'new' ranking is dominated by Turkish and Russian airports. In fact all seven others in the top ten are from the two countries, topped by Antalya in Turkey and followed closely by Sheremetyevo and Domodedovo airports in Moscow. Russia and Turkey are clearly outperforming other markets, due to the relative dynamism of their domestic market.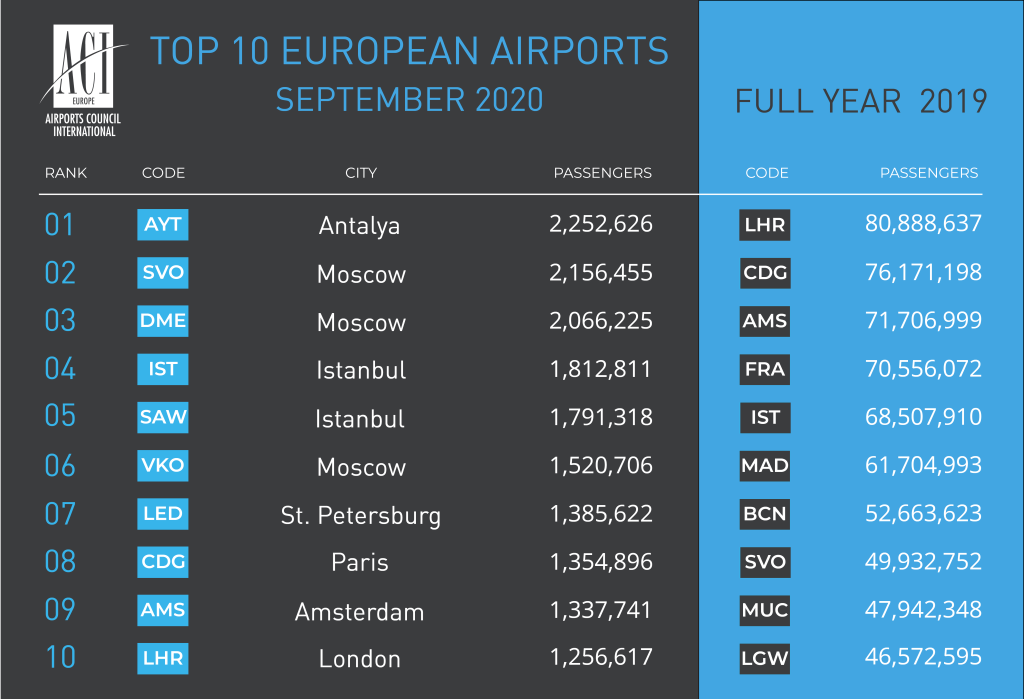 ACI Europe opened its 30th Annual Congress this week by setting out a vastly altered business model for the post-COVID future. Speaking at the event, live-streamed from Brussels Airport's Skyhall, director general Olivier Jankovec described an uncertain, slow and uneven recovery. Against a backdrop of extreme financial distress – deteriorating by the day due to subdued traffic demand – and massive job cuts, he called for increased collaboration between airlines and airports.
"For too long airlines have seen airports as infrastructure that should be provided for free, or as a piggy bank which they can squeeze for change. Airlines and airports are in this together. Airlines need to support airport investment and development, and airports will join with airlines to launch routes and services," he said.
According to ACI Europe the region's top 20 airports have so far cut operating expenses by EUR3 billion (-22%) and capital expenditure, the crucial investments for the future, by EUR2.6 billion (-37%). But airports' fixed cost base, diseconomies of scale and the need to keep essential facilities up and running even when traffic is collapsing, all limit their ability to cut operating costs even further.
The result, according to Mr Jankovec, is a permanent new normal for airport trading conditions and operations built around three core pillars of build back better, deliver it better, and expanding the pie.
Airports will be facing renewed competitive pressures on their aeronautical activities as LCCs are set to emerge as structural winners and airline hybridisation to further increase putting additional price pressure on airports which are already offering rebates and incentives to airlines to attract and retain their business, while also adding further COVID-19 rebates and incentives. "This means they are pricing below costs - in a desperate attempt to restore air connectivity," according to ACI Europe.
Similarly, revenues from commercial activities - in particular retail – are also being challenged as COVID-19 has pushed even more purchases into the digital world. Airports and their concessionaires are bracing for an "epochal shift" regarding place of purchase, consumption decisions, and travel to and from the airport, ACI Europe acknowledges.
"Our airport economic model has been dependent upon and driven by the assurance of continued dynamic growth in air traffic. But we can no longer assume that will be the case in the post-COVID-19 environment. Our industry needs to look to robust future-proofing with new ways of trading and operating," says Mr Jankovec
The "build back better, deliver it better, expand the pie" concept aims to increase the airport industry's determination to take the lead in crafting a sustainable future; leverage technology and data to become hyperconnected infrastructure embracing health safety, operational efficiency and new mobility; and remodel aeronautical charges and commercial revenues with an emphasis on a user-pays principle as well as flexible and market-driven pricing.
These imperatives will be challenging for all airports, but especially for smaller regionals – as these have been facing issues of structural profitability for years. "New partnerships will be sought and nurtured," says Mr Jankovec. "Ultimately, airports will need to be able to move towards more flexible, dynamic and market-driven solutions than ever before."
In a positive step, ACI Europe is among the signatories to a joint commitment from over 20 associations that collectively represent the entire European aviation ecosystem to work with policy makers to achieve net zero CO2 emissions by 2050, part of a comprehensive collaborative analysis detailing ways aviation can recover sustainably and more resiliently from the COVID-19 crisis whilst supporting the European Union's Green Deal objectives.
Here we see Europe's aviation bodies coming together and committed to ambitious actions to tackle the sector's climate impact, and to strive for a socially sustainable, competitive and more resilient aviation sector. The commitments will help build a greener, socially and economically robust future for aviation.
To achieve this though, urgent action by EU leaders is required to deliver policies that will enable that action. The sector cannot merely wait for a resumption of business as usual. Supportive policies are required so that aviation can continue to be a primary enabler of the global economy in the future.