---
Summary:
Start of the month schedules show Dec-2017 departure seat capacity from Europe is expected to rise 5.2% versus same month last year.
Year to date European departure capacity has averaged a 6.6% growth across the first 11 months.
December will be the third successive month to see year-over-year declines versus 2016 capacity growth as the failure of both airberlin and Monarch Airlines hit the schedules.
Full year growth in capacity from Europe will fall slightly short of last year's +6.5% rate - it will only be down marginally and will still be the second fastest rate over the past ten years.
---
In the case of Europe, overall network capacity at the start of the month is up +5.2% in Dec-2017 versus the same month last year, the slowest monthly growth rate in 2017 with the exception of February, which was influenced by last year's leap year. This is the third successive month with declining capacity growth versus 2016, but still sees overall departure capacity within and from Europe growing by 4.6 million seats to over 96 million. To put it into context that is an average of 154,000+ additional seats a day to a total of over 3.1 million per day.
CHART – Overall network capacity from Europe is up +5.2% for Dec-2017 versus the same month last year maintaining a positive performance trend for the year but continuing a declining rate trend since the start of the winter schedule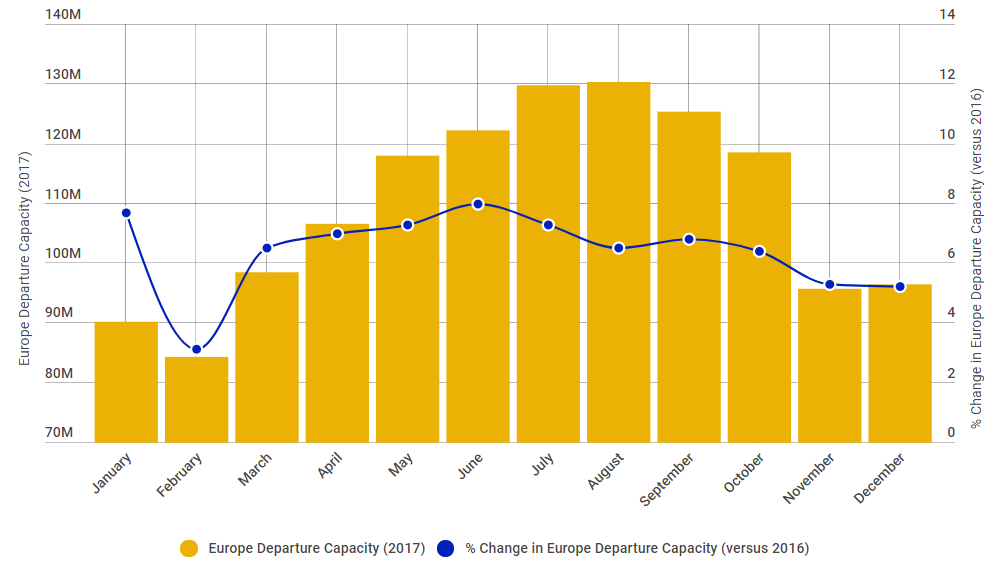 Source: The Blue Swan Daily and OAG
It had been a relatively stable year for Europe across the first three quarters with an average growth rate of +6.6% and monthly rates fluctuating between +6.4% and +7.9% (you can read +6.8% for Feb-2017 in real terms when accounting for last year's leap year), but there has been a clear shift since the start of the winter schedules. Capacity growth slowed to +6.4% in October, before falling to +5.3% in November (having opened the month at a predicted +6.0% growth). The December level is currently stable with last month. However, once unfulfilled schedules are accounted for that rate is expected to drop below +5%, and the weakest December growth rate since 2014.
CHART - December is among the quieter months of the year with airlines tweaking schedules to meet seasonal and holiday demand. Despite this year's slowing rate trend, the coming month's rate of growth is still the fourth fastest for the month over the past ten years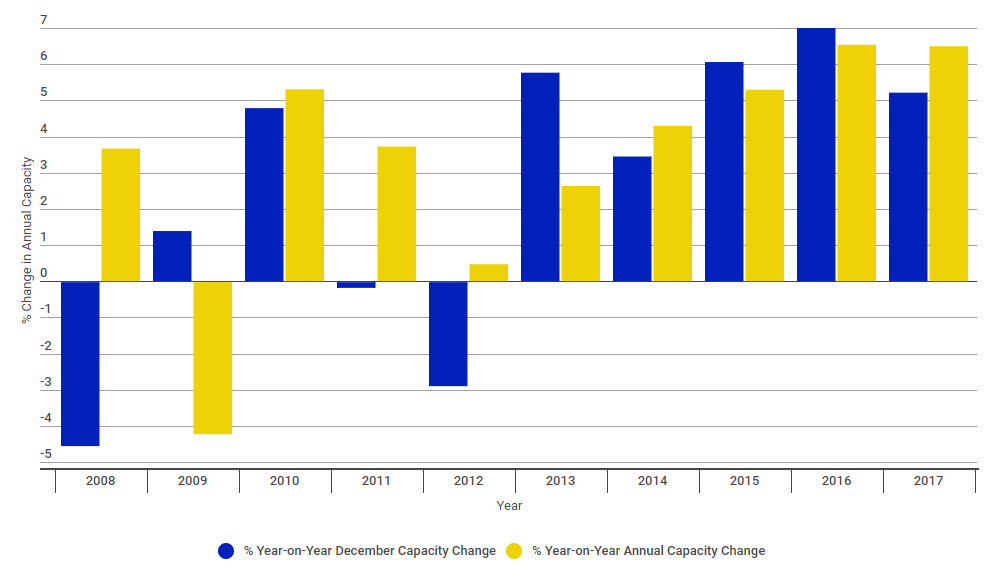 Source: The Blue Swan Daily and OAG
The recent collapse of Monarch Airlines, airberlin, Belair, Vim Airlines is certainly impacting capacity short term across the winter, but most observers believe that much of this will be backfilled by airlines over the coming months to some degree balancing any loss. While regulators continue to assess the major airberlin-Lufthansa deal, the former Monarch slots have now been sold on to the likes of IAG at London Gatwick, Wizz Air at London Luton and reallocated by slot coordinator ACL to a number of carriers at Birmingham and Manchester.
While a slowing rate can mean many things, initial indications are that annual departure capacity from Europe for the full year will be stable with the 2016 performance, but down by around 0.1%, ending four years of successive rate rises. Last year's +6.54% rise was the largest annual rise in over ten years and this year's performance will fall slightly short, currently estimated at +6.50% based on published schedules.
A closer look at country performance around Europe in Dec-2017 highlights the impact of the airberlin collapse on the data with start of the month capacity from Germany down -2.1% on Dec-2016 (the only negative variance among the 'Top 10' European markets). Elsewhere, December declines are expected in Denmark (-3.5%), Austria (-0.1%) and Gibraltar (-45.0%) which has been hit the hardest by the collapse of Monarch. Bosnia & Herzegovina (+34.5) and Faroe Islands (+34.4%) are still growing departure capacity by more than a third, Georgia has a monthly capacity up more than a quarter (+28.7%), while Montenegro (+22.3%), Iceland (+22.1%) and Latvia (+20.6%) are growing by more than a fifth.
The recovery in Turkey following political instability and terrorism issues last year sees the nation report the largest December capacity growth rate among the largest aviation markets in Europe (+14.0%), with Poland (+13.4%), Finland (+11.6%) and Portugal +(10.0%) also members of the 'Top 20' reporting double digit rates of growth.
CHART - Germany has been hit by the collapse of airberlin with Spain close to overtaking it as the second largest European aviation market by departure capacity in Dec-2017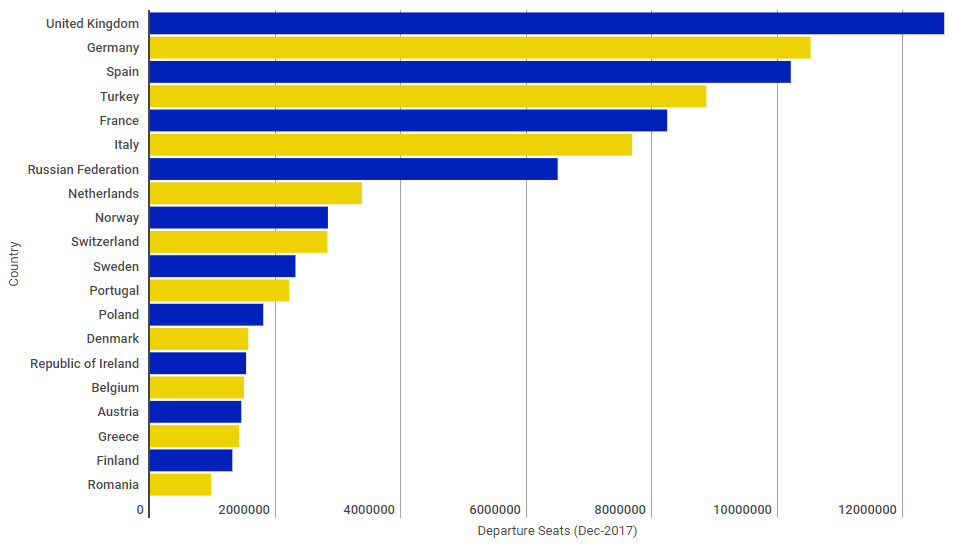 Source: The Blue Swan Daily and OAG