---
Summary:
Start of the month schedules show Dec-2017 departure seats from the South Pacific expected to rise 1.9% versus Dec-2016 and will again be the busiest month of the year in terms of available capacity.
Year to date South Pacific departure capacity has averaged a 2.7% growth across the first 11 months.
December will be the second successive month to see year-over-year declines versus 2016 capacity growth.
Full year growth in capacity from the South Pacific will be below the +4.2% rate recorded last year, but is up on the levels recorded the two preceding years.
---
In the case of the South Pacific, overall network capacity at the start of the month is up +1.9.% in Dec-2017 versus the same month last year, the tenth consecutive month of year-on-year growth following the small -0.5% decline recorded in Feb-2017 (due to the additional leap year day in Feb-2016). It is set to be the second successive month of capacity growth declines (down 1.4 percentage points on Oct-2017 and 0.5 percentage points on last month) and slightly down on the year average which stands at a healthy 2.7% growth delivered mainly by above average performance in the Mar-2017 to Aug-2017 window.
CHART – Network capacity growth from and within the South Pacific has shown stability through 2017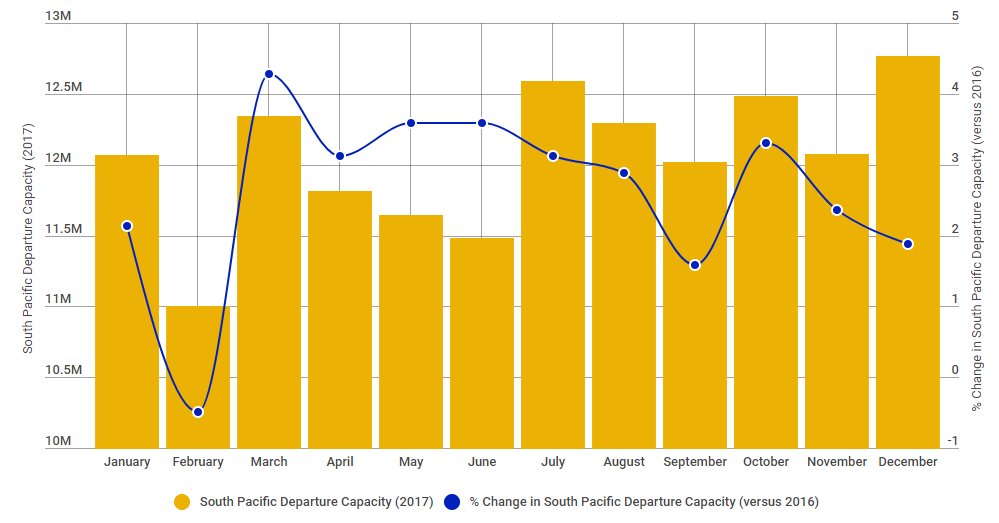 Source: The Blue Swan Daily and OAG
The schedules for the month ahead mean that December should again be the busiest month in the region by capacity, just eclipsing the inventory offered in Jul-2017. This will be the third successive year that air capacity levels in December have been higher than any other month of the year, a position it also recorded in 2007, 2010 and 2013. Air capacity from the region has grown in every year of the current decade after witnessing a small reduction (-2.8%) in 2009.
The Dec-2017 performance will be influenced by a year-on-year growth in capacity of +1.1% within and from Australia and +3.0% within and from New Zealand. Together the two nations account for 90.4% of all capacity from the South Pacific (including all intra-South Pacific activity). Looking across the year as a whole, capacity from Australia will be up around +1.3% for the full year, down from +2.8% last year, while New Zealand will see a rise of +5.7%, almost half its record +11.6% growth performance in 2016.
CHART - While the Australian market outperformed New Zealand in terms of capacity growth across the first three years of the decade, Its Tasman rival has been growing at a faster rate since 2014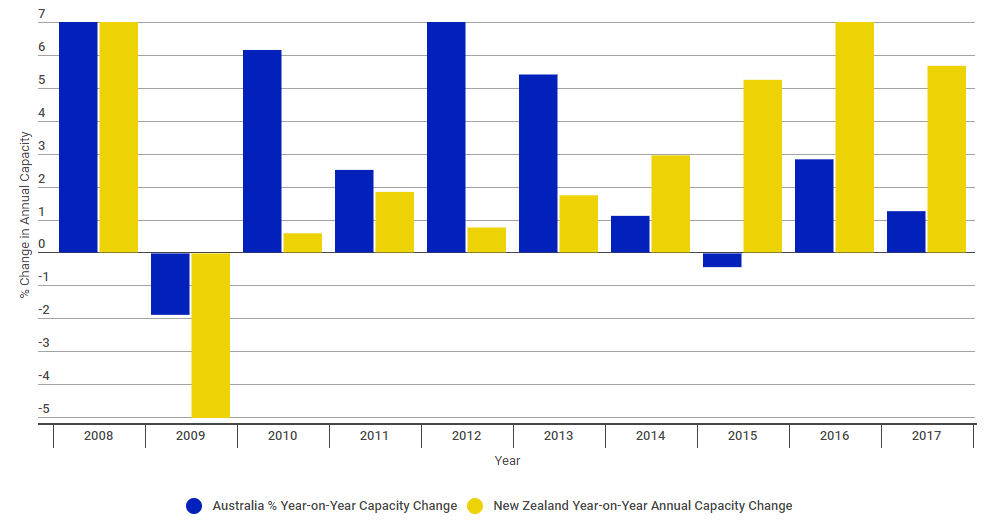 Source: The Blue Swan Daily and OAG