Now after more than six years of commercial airline service, The Blue Swan Daily looks at the airlines and operations with the type with data insights suggesting that while the aircraft has certainly facilitated a number of new routes that would not have been sustainable with older generation equipment, it has mainly been used to simply add efficiency and reduce costs in airline service.
According to the CAPA Fleet Database there are now more than 625 Boeing 787s now in commercial service with over 130 aircraft being delivered in each of the past three years (2015, 2016 and 2017). These are flying with more than 50 different airlines with the original 787-8 operating alongside the stretched 787-9, These will soon be joined by the 787-10, the largest member of the Dreamliner family.
TABLE - All Nippon Airways, the launch customer for the 787, remains the largest operator of the type and still has outstanding commitments for additional 787-9s
Source: CAPA – Centre for Aviation Fleet Database (data: as at 20-Dec-2017)
Since the 787 made its commercial debut with All Nippon Airways in Oct-2011, the type has made more than 1.1 million flights (as at 01-Jan-2018) offering more than 290 million seats. The aircraft have flown more than 5.39 billion kilometres on scheduled flights, the equivalent of 18 return journeys to the sun, over 7,000 trips to the moon and back or almost 135,000 times round the world.
In 2017 there was a Dreamliner departure ever 1 minute 20 seconds and interestingly, the aircraft is now flying over longer distances than ever before with the average stage length in 2017 growing to 5,233 km, up +3.8% on 2016. This is around the distance between London and Boston; Doha and Bangkok; Dublin and Toronto; Casablanca and Riyadh; and Addis Ababa and Cape Town; all regular 787 routes.
But, what were the biggest markets for 787 operations in 2017?
The Blue Swan Daily takes a closer inspection of last year's flight schedules. OAG data shows that Tokyo remains the largest city for 787 operations with Narita International and Haneda the two largest airports by Dreamliner departures last year. In fact Narita has now overtaken Haneda as the largest market for 787 departures with growth of +28.3% last year (versus just +1.3% at Haneda).
The two airports serving the Japanese capital are just ahead of London Heathrow, Beijing Capital International and Doha International, while the European hubs of Adolfo Suárez Madrid–Barajas International and Paris Charles De Gaulle witnessed the largest year-over-year growth in 787 departures.
A total of 47 airports across the globe welcomed their first 787 arrivals in 2017, including the largest of them all, Hartsfield–Jackson Atlanta International Airport.
CHART - Narita International has now overtaken Haneda as the largest airport for 787 operations as Tokyo continues to dominate as the Dreamliner's biggest destination market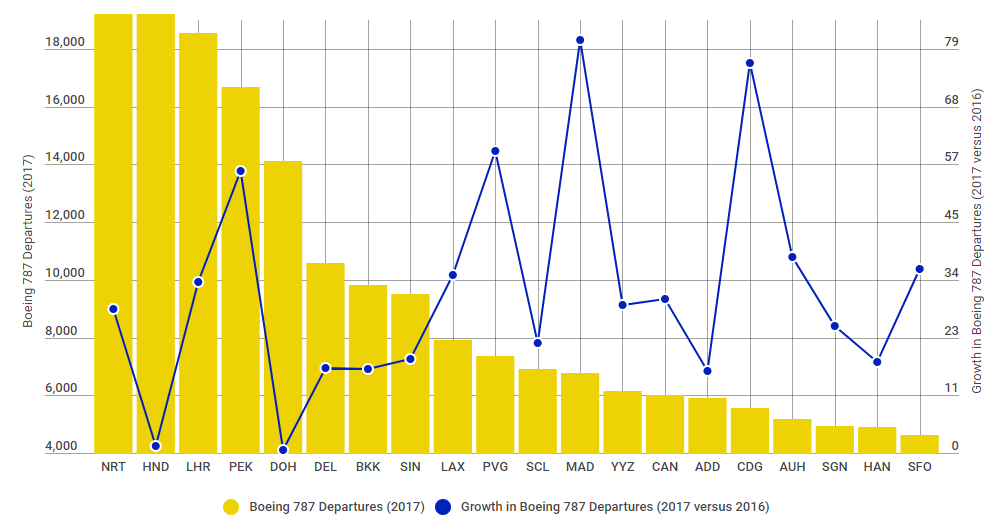 Source: The Blue Swan Daily and OAG