This is the first of six monthly reports – European Travel Commission 'Monitoring Sentiment for Domestic and Intra-European Travel' – that will gauge short-term travel intentions of European travellers from ten high-volume source markets to better understand and respond to the impact of the Covid-19 pandemic on travel in Europe. The report also provides information on people's travel preferences, including types of destinations and experiences, holiday periods, and concerns relating to travel in the next months.
The report shows that despite the pandemic, Europeans remain optimistic about travel. A clear majority of respondents (54%) indicate that they intend to take a trip in the next six months, while 26% stated that they plan to travel by Nov- 2020. Travel within Europe is a top choice with 41% intending to go on a trip domestically and 39% to other European destinations.
Notably, countries heavily affected by Covid-19 are still among the most popular destinations across Europe with Spain, France and Italy leading the ranking. Among those planning to resume travel sooner, the most appealing types of leisure trips are sun & beach holidays (25%), followed by city breaks (19%) and nature/outdoors trips (16%).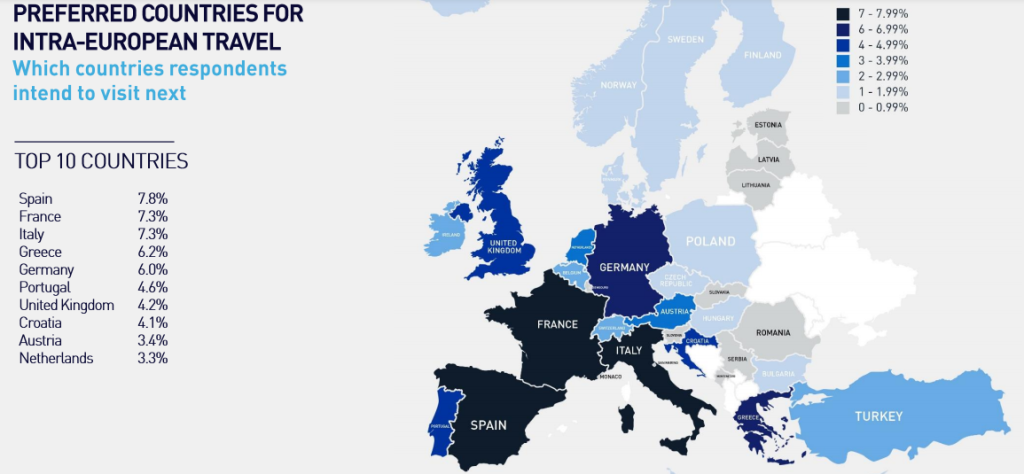 Europeans prioritise health and safety (21%) on their travels but also factor in peace of mind and relaxation (14%) as well as affordability (13%). Health-wise, 20% consider air travel to be the least safe part of a travel journey. For those with short-term travel plans, no factors are more important for decision-making than flexible cancellation policies (11%), social distancing in flights and transport (9%) and fully lifted travel restrictions (9%).
But despite the sentiment to travel, ongoing restrictions and rising Covid-19 cases keep Europeans grounded. Anxiety about travelling remains high as Europeans must navigate complicated restrictions and a persistent pandemic. The ETC report found that primary concerns for those intending to travel in the short-term are quarantine measures during a trip (15%), rising numbers of Covid-19 cases (12%), the possibility of falling ill at the destination (11%) and changing/unpredictable travel restrictions (10%).

This first report shows that quarantines, shifting border regulations, unclear booking and cancellation policies are creating obstacles for respondents with short-term travel plans and highlight the need for European governments to coordinate travel rules and regulations without delay.
"The report clearly indicates that Europeans' appetite for travel is robust, but it is also being held back by understandable health worries and a discouraging array of Covid-related rules and restrictions," says Eduardo Santander, executive director, ETC. "A harmonised approach and streamlining travel rules at a European level is the only solution for restoring consumer confidence and kick-starting travel recovery."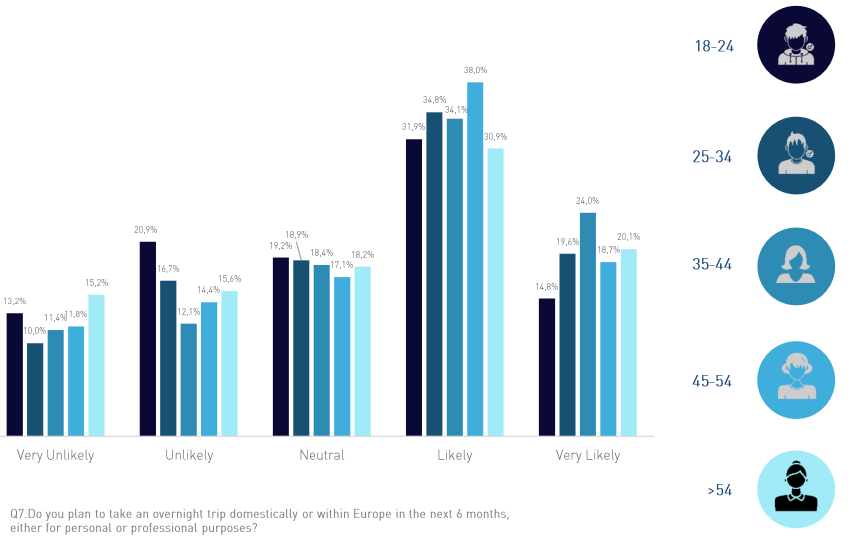 The ETC report surveyed nearly 6,000 respondents and its findings provide some guidance for destinations and businesses alike. Among the advice For European destinations it suggests they focus on existing demand for domestic and intra-European travel. "Destinations heavily dependent on air travel will need to rethink their short-term strategies source markets and target/niche audiences".
For businesses, it highlights that "flexibility is the new luxury" and having flexible and straightforward cancellation policies "will be critical for both B2C and B2B". Businesses that are able to maximise flexibility "will emerge stronger to their competitors" in its eyes. With 'peace of mind' as a top quality, businesses that can manage the customer experience accordingly throughout the entire visitor journey and ensure 'carefree travel' are expected to recover faster, it notes.