Once we do it will obviously again become second nature, but making that move may remain a challenge. Specialist travel insurance firm Medical Travel Compared recently (Oct-2020) surveyed almost 2,000 holidaymakers from across the UK where England and Scotland are currently in lockdowns and Wales has just exited from one as COVID-19 infections and deaths have spiked in the final quarter of the year. It found that travel fear remains a major factor when it comes to travel.
Unsurprisingly, many Britons' single biggest COVID-19-related fear is becoming unwell with the condition while they're abroad. But more than half respondents also highlighted having to quarantine at a destination, being stranded in another country due to changing restrictions on arrivals into the UK, or contracting COVID-19 on a flight, as concerns. Almost one in two respondents also believe they won't be able to travel as often as they would like because of COVID-19 restrictions and up to 80% of Brits expect travel to become more expensive in the future.

The research reveals a notable north/south divide when it comes to COVID-19 worries with those in the north showing far more concerns about the pandemic than their neighbours in the south. Overall, Aberdeen is the most anxious city in the UK with 88% of residents believing that their travel anxiety has increased since the outbreak. Coventry, Plymouth and Sheffield follow closely with 84%, 83%, and 80% of residents suffering from more travel anxiety, respectively. Derby ranks as having the least COVID-19 anxiety at 44% with Lancaster, Birmingham and Leeds following at 48%, 59% and 60% respectively.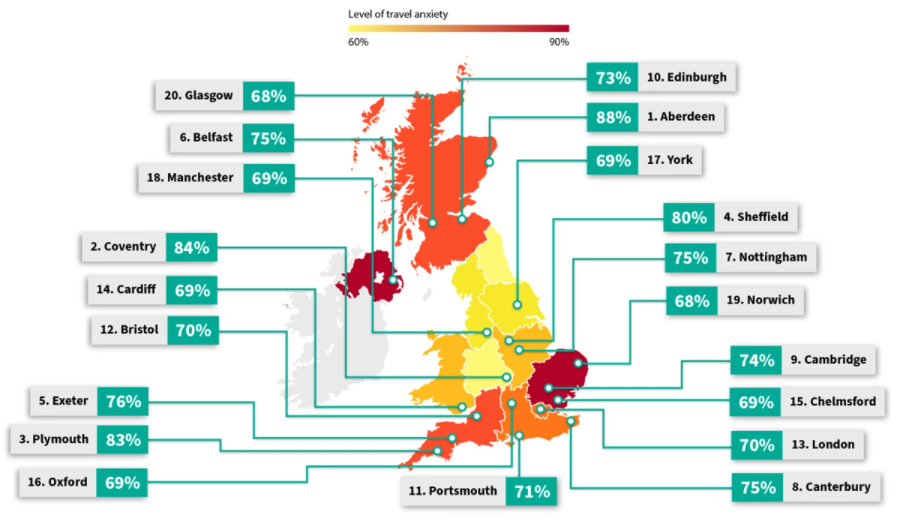 Meanwhile, the ongoing Global Travel Profiles YouGov syndicated survey, which runs in 25 markets and reflects insights for the last 30 days, reveals that most countries cite 'Travel restrictions' and 'Health risks' as top obstacles for travel, but there is a significant variation from country to country.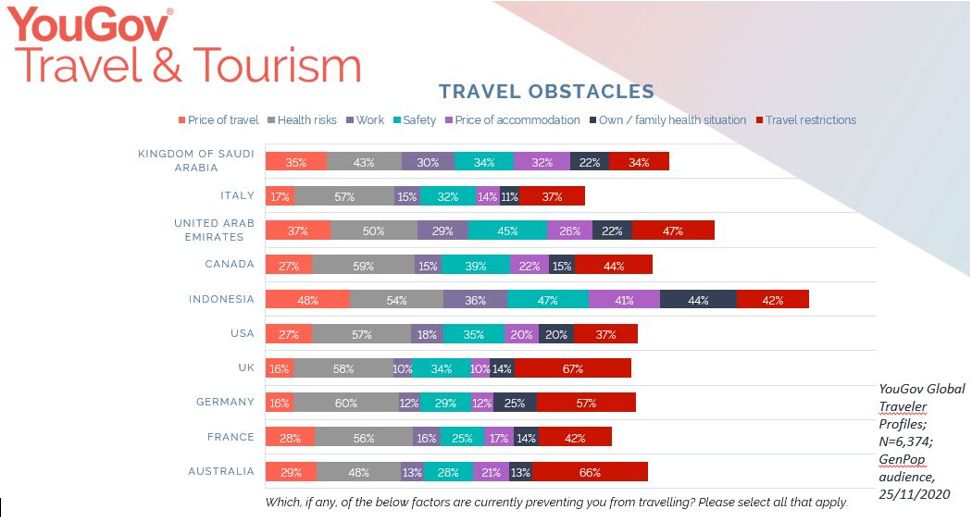 Further YouGov research shows that affluent households that have economic confidence have a greater sentiment to want to travel. The online research of over 3000 that spread across North America, LATAM, Europe, the Middle East and Asia Pacific found that while fears about the virus remain high, and economic concerns continue, the desire to travel endures – especially among younger affluents.
In the context of the study, affluent households were defined as households with a minimum household income of 100k in the UK, 200K in the US, 150k in Canada, 250k in China, 100k in France, 90k in Spain, 90k in Italy and 100k in Germany (in local currencies).
The data shows that concern about the spread of coronavirus remains high across the world (59%) and most respondents believe the pandemic will not be over until 2021 or later (75%). However, in the face of the pandemic, the research finds that affluent households' personal economic confidence is generally stronger than their belief in their country's economy or the global economy.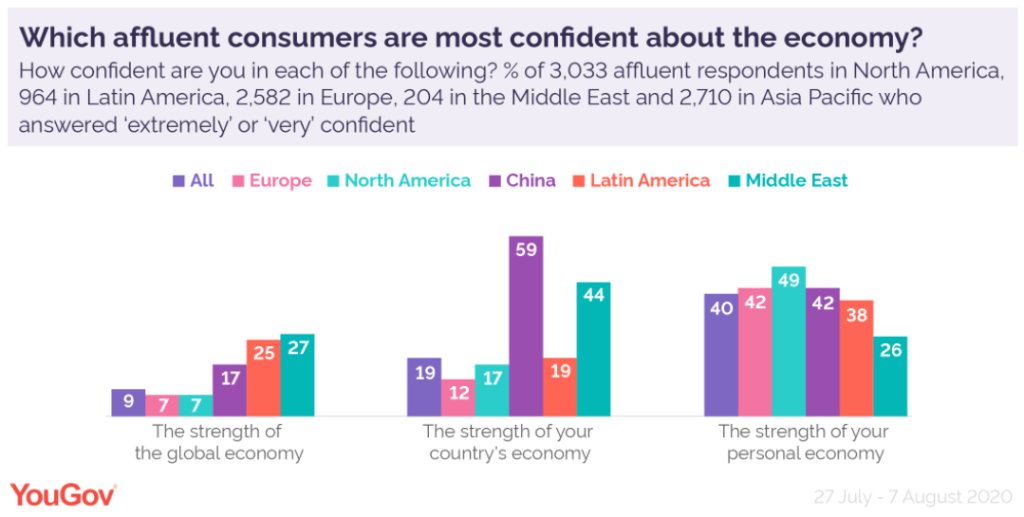 The results again identify some regional variations. The data finds that Chinese people are generally confident about the strength of their country's economy (59%) and their own personal financial situation (42%). However, they show a more measured outlook about the performance of the global economy (only 17% are confident).
The average confidence score of those who are very or extremely confident that they are in good shape to endure a recession is 73%, with North America most confident (86%) and Latin America the least confident (58%). This confidence is even more pronounced among Gen X (80%) and Baby Boomers (84%) worldwide.
Differences in confidence when it comes to travel are most apparent between age groups. Generation Z are the most eager to travel soon, with 41% of respondents indicating that they would be confident to travel abroad this year. Millennials also have a higher comfort level than the average affluent when it comes to taking commercial airline trips within their region this year (52%) or going on holiday within their country (66%).
There are many factors influencing opinions towards travel and they split opinion. Alan Joyce, CEO of Australian flag carrier Qantas, said that once a COVID-19 vaccine becomes available, passengers will only be allowed to fly on the airline if they can provide proof they have been vaccinated.
Testing and vaccination are seen as key factors in the recovery, but Mr Joyce's comments have received a mixed response. YouGov completed a survey of over 4,000 UK residents after his statement questioning if they would support or oppose it if all airlines adopted this policy? Most supported his viewpoint, but almost one in five opposed the idea.