In absolute terms, the number of international arrivals estimates for 2023 range from 713 million under the mild scenario to 512 million under the medium scenario and 383 million under the severe scenario.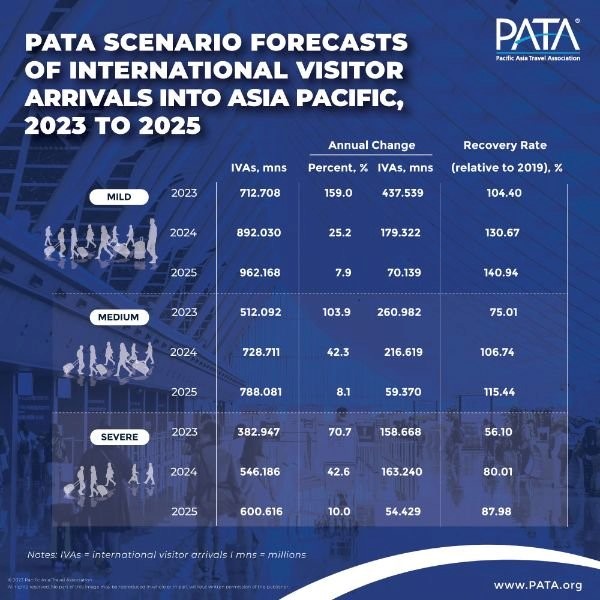 Uneven growth between national markets and sub-regions
While the forecasts for annual increases in international visitor numbers into and across Asia Pacific are strong for each year from 2023 to 2025 under all three scenarios, there are still significant variations under each of those scenarios for individual destination regions and within those, the destinations themselves.
The annual growth rate for IVAs into and across Asia, for example, is predicted to be of the order of 254% in 2023 under the mild scenario, 171% under the medium scenario and 127% under the severe scenario. Such performances are supported by the recent news that China is slowly returning to international travel for both inbound and outbound.
The other destination regions of Asia Pacific are not forecast to grow as strongly as Asia, but still have significant growth rates and absolute volume increases, which, importantly, are predicted to remain positive from year to year between 2023 and 2025.
Percentage rises high… numbers not so high
In addition, when evaluating the annual percentage gains, it must be remembered that while triple-digit annual growth rates look powerful, they translate into quite different absolute increases in IVAs; the annual percentage increases need to be tempered against the absolute increases in visitor numbers.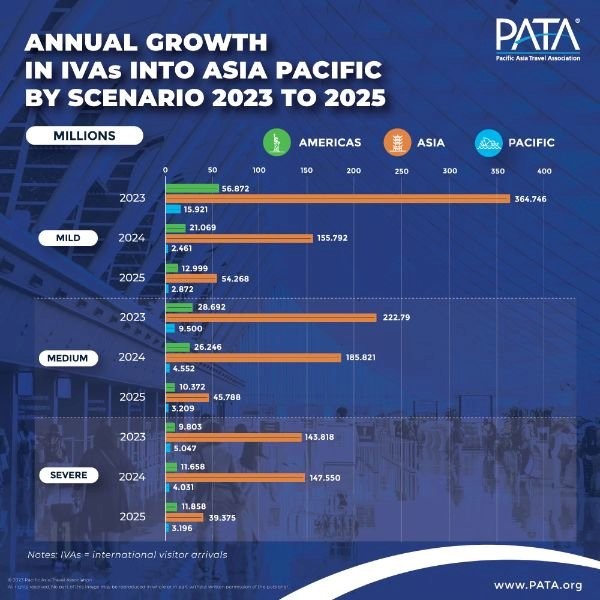 'Extremely positive' outlook, but significant challenges remain
PATA Chair Peter Semone describes the trends displayed in its forecasts are "extremely positive," but warns "there are still significant challenges ahead," not the least of which will be managing the impacts of the various variants of COVID-19 that continue to spread across the region and wider world.
Add to that the continually looming possibility of a global recession, ongoing geo-political conflicts, a persistent trade-war and changing landscapes in the face of climate change, and, notes Mr Semone, "it seems advisable to at least consider the possibility of more years of uncertainty and to prepare accordingly".
Need for a mindset shift from marketing a destination to managing visitor demand
International travel has already returned to and across the Asia Pacific region to some degree, however, PATA forecasts growth over the next few years will largely be uneven for various sub-regions and destinations, in the face of their own local disruptions.
"The need for a mindset shift from merely marketing a destination to managing visitor demand in a responsible and sustainable manner remains a critical issue for the travel and tourism sector," says Mr Semone.
While "the lure of revenue is seductive after years of losses," he notes that "it should not be the only driving force" behind the rebuilding of the supply-side elements of international travel and tourism.
Staffing will be 'critical' issue in travel and tourism recovery
Another critical issue for the travel and tourism sector he identifies is staffing. "We need appropriately trained and motivated personnel and that in turn necessitates education, realistic salaries and benefits, and a transparent promotion pathway for those staff," he says.
The sector lost millions of workers during the COVID-19 years and luring them back will be "a difficult task unless conditions improve," he notes.
"Developing a more harmonious and equitable tourism system of necessity, involves destinations, suppliers, local communities, and workers. Get that mix right and we will be on the road to a sustainable and equitable long-term future," he adds.