The unpopular duty is chargeable per passenger flying from UK airports to domestic and international destinations with a band structure, where duty rates vary by destination and by class of travel. First introduced in 1994, it was originally just GBP5 per person for short-haul flights, and GBP10 elsewhere – it now adds GBP13 to the cost of every short-haul ticket and GBP78 for long-haul in economy, rising to GBP176 for long-haul flights in first or business class. It has been a cash cow for the government and what's more the airlines help collect it on the treasury's behalf.
The Office of Budget Responsibility expects APD to raise GBP3.7 billion in 2019-20, approximately 0.5% of all receipts and equivalent to around GBP130 per household and 0.2% of national income. When it is broken down it doesn't sound like a lot of money, but has proven to be a significant impediment to the development of air connectivity.
APD receipts stood at GBP3.4 billion in 2017-18 and are forecast to rise steadily to GBP4.4 billion by 2023-24. That rise is explained by continued growth in air passenger numbers, as well as rising duty rates. In general, the Government has stated that the main rates of APD will continue to be uprated each year in line with RPI inflation and rounded to the nearest GBP1. However, the Government has announced that Band A rates (for short-haul travel over distances of less than 2000 miles) will be frozen in 2019-20 and 2020-21.
CHART - While worldwide international arrivals increased +6% year-on-year in 2018, the number of people visiting the UK fell in 2018, and that trend has continued across the first five months of 2019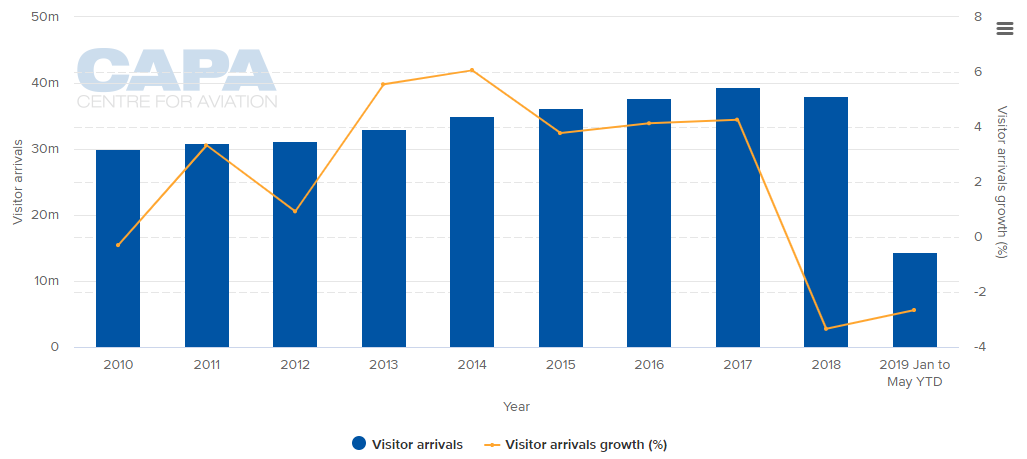 Source: CAPA – Centre for Aviation and VisitBritain
Analysis released last month by the 'A Fair Tax on Flying' coalition outlined the significant impact that APD will have on businesses hoping to increase international trade after Brexit. As the Government prepares for exiting the EU on 31-Oct-2019, the analysis suggests that the Government will be taking more than a third of the cost of a one-way ticket for flying from UK airports.
It shows that in the week that follows the proposed Brexit date, APD will - on average -form 40% of the cost of a one-way ticket to the 47 nations listed by the Office for National Statistic (ONS) as destinations flown to for business purposes. For many destinations, that level is much higher, reaching 42% of the cost of a ticket to Toronto, 56% to New York, 60% to Tel Aviv and 72% to Dublin.
The high level of APD clearly places the UK at a competitive disadvantage when compared to its European neighbours, and 'A Fair Tax on Flying' are calling for an at least 50% reduction in APD. "Having the highest aviation taxes in the world is simply incompatible with boosting international trade and making Britain truly global," says Simon McNamara, spokesman for the campaign.
Now, a cross party group of Parliamentarians, the All-Party Parliamentary Group on APD has backed reforms to what is the highest tax of its kind in Europe and opening up new opportunities for route growth, both domestic and international. After a month's long evidence gathering exercise, it claims two thirds of airlines currently operating in the UK would invest in new routes outside of London and the south east if APD was cut by 50%, and nine in ten would invest more in existing routes.
The report concluded: "APD runs counter to many of the government's stated priorities, including increasing exports and creating jobs; its removal will give Britain's aviation sector the chance to flourish once more, boosting connectivity and driving economic growth." It also highlighted "impracticalities and absurdities" in the way APD is collected – such as the fact domestic passengers are penalised twice on return journeys.
It remains unclear if the research will sway the chancellor's stance. There are once again doubts over the UK's revised Brexit date as politicians continue to debate over a 'deal' or 'no deal' departure from Europe. And, while there is evidence in a PwC study that significantly reducing or abolishing APD would create tens of thousands of new jobs and would actually increase the revenues to the Treasury from other taxes so much that it would pay for itself – increasing the amount money flowing into the Exchequer - it seems the GBP3.7 billion income is too much to gamble with.