---
Summary:
Apple is United Airlines' largest corporate customer in the San Francisco market by a wide margin;
Apple spends USD150 million per year on United flights to/from San Francisco;
San Francisco-Shanghai is Apple's largest route, spending USD35 million on approximately 9,000 return business class tickets per year.
---
United disclosed details of the Apple corporate account, listing Apple's 10 biggest routes from San Francisco and providing revenue figures, on 11-Jan-2019 in a sign displayed at San Francisco International Airport (SFO). The sign was removed within a few hours; when The Blue Swan Daily visited SFO at 5pm on 11-Jan-2019 the sign had already been taken down.
It is understood the sign infuriated Apple, which likely asked United to remove it. Apple is typically very guarded with its corporate information including travel patterns. The sign and its contents quickly became a hot topic on social media. United's decision to display the sign without apparent Apple approval was a bad miscalculation which could impact one of the airline's most important corporate relationships.
Disclosing Apple's travel patterns also did not make sense for United as it provides competitors with information that can be used to pursue business from Apple. The information could even lead other US airlines to launch new international routes from San Francisco, providing potential new competition for United.
San Francisco-Shanghai could particularly become an attractive route for a competitor such as Delta Air Lines. China Eastern Airlines and United are currently the only nonstop competitors on the San Francisco-Shanghai route. China Eastern operates one daily flight with 777-300ERs while United operates two daily flights using a mix of 787-8s and 787-9s.
On most days United operates the route with one 787-8 and one 787-9, generating 84 business class seats each way. Apple has an average of 25 business class passengers per day on United's San Francisco to Shanghai flights (and another 25 passengers from Shanghai to San Francisco). Therefore, Apple buys approximately 30% of United's total business class capacity on this route. Apple was likely a major factor in United adding a second daily frequency on San Francisco-Shanghai in Oct-2016.
United revealed in the SFO sign that Apple spends USD35 million annually on the San Francisco-Shanghai route, which represents 25% of Apple's total USD150 million spend on its flights with United at San Francisco. Based on the figures provided, Apple buys approximately 9,000 business class return tickets per year and pays an average return fare of about USD4,000 (indicating a significant corporate discount compared to the average San Francisco-Shanghai fare).
It is hardly surprising that San Francisco-Shanghai is Apple's biggest route. Apple is based in the San Francisco suburb of Cupertino and has a huge presence in the Shanghai area including manufacturing facilities. Apple is also a huge customer for several of Shanghai's top hotels.
Six other Asian destinations are among the top 10 routes for Apple form San Francisco – Hong Kong, Taipei, Seoul, Singapore, Tokyo and Beijing. The only non-Asian routes making the top 10 are London, Munich and Tel Aviv. United does not currently have any US airline competition on any of the top 10 routes but all the routes are served by foreign airlines, which Apple also uses (although much less frequently).
Apple is United's largest corporate customer in the San Francisco area by a wide margin. United disclosed that Facebook, Roche and Google are its largest corporate accounts in San Francisco after Apple. These three accounts are each worth at least USD34 million per year but this is peanuts compared to Apple.
CHART - Apple's reported top 10 routes from San Francisco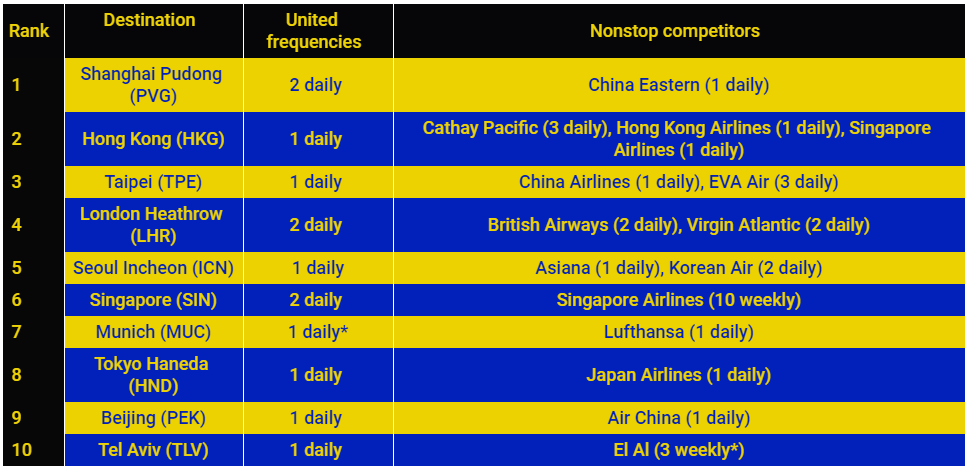 Source: United Airlines and OAG (NOTE: *seasonal summer only service)