In general, the report suggests that for the first time in more than a year, travel providers see bright days ahead with vaccinated populations trending up and case counts trending down in the US, all signs point to travellers on the move. This means airlines and hotels have a renewed opportunity to welcome back old customers and wow new ones with personalised service, cementing long-term bonds with attractive loyalty programmes.
To understand the latest shifts in travel expectations, attitudes and behaviours — as well as the sustainability of those shifts — PwC surveyed more than 1,300 US consumers in Apr-2021 and compared the results to earlier surveys conducted in Apr-2020 and Aug-2020. What stands out in the latest research is that most respondents said they have at least one flight and/or an overnight stay planned for business or leisure within the next 12 months.
After a year of remote work and video calls, we expect business travel to make a gradual comeback in the months ahead. However, as business leaders rethink corporate travel policies, the future of business travel remains somewhat amorphous, says PwC.
What we can learn from the Apr-2021 survey is that consumers expect business travel to return sooner rather than later. Some 40% of business travellers believe they will meet or exceed pre-pandemic levels of business travel by the end of 2022, regardless of whether they've actually planned their next business trip.
Many may still be waiting for final travel-policy guidance from employers and clients. "Understandably, travel suppliers are cautiously optimistic," notes PwC on the research. However, it identifies that the enthusiasm for business travel is lagging. Three quarters (75%) of business travel respondents to its survey said they were not excited about or are indifferent to travelling again for work.
Almost half of business travellers (46%) may not have a choice about travelling for work because of concerns that their income or employment could be negatively affected over the next 12 months. Meanwhile, a third of business travellers don't want to go back into the office; they're happy to work remotely. This itself will push a shift in the types of business travel we will see in the immediate future.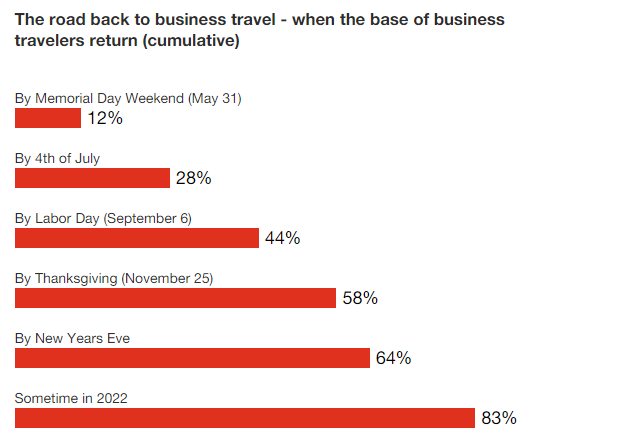 We may also see a dilution in traveller loyalty with the PwC research indicating that while consumers are eager to travel, they may not go back to their pre-pandemic providers. When it surveyed consumers last summer, some 40% said they would likely switch loyalties. "That trend is now taking root," it observes, with one in three travellers reporting trying a brand other than the one currently holding their highest loyalty programme status. A high majority (85%) said they're likely to stay with the airline they switched to while three-quarters(76%) said the same about hotels.
Three in five (60%) respondents said the most important reason for shifting loyalty is better pricing, offers or packages. Almost half (46%) of top-tier members said loyalty programmes are even more important now than they were before the pandemic — more so by far than all membership tiers. The highest-tier loyalty members are also those that are most likely to switch brands, a trend first identifies by PwC in its Aug-2020 research but continuing into 2021.