---
Summary:
Royal Schiphol Group may seek to increase its stake in Groupe ADP as that entity is privatised;
The privatisation is a slow procedure, has already been rejected once in the Senate, and will take time to reach fruition;
Any deal will be likely impacted by the Dutch government's sudden purchase of Air France-KLM shares earlier this year.
---
While there is no firm intent at this stage, Schiphol Group has stated it is "closely following" the announcement by the French state that it would privatise Groupe ADP, while retaining 20% of the equity, adding its intention is to continue its strategic cooperation with the operator and "remain a key shareholder of ADP". According to CAPA – Centre for Aviation airport and investor profiles, Groupe ADP has an 8% cross-shareholding with Schiphol Group. Any deal may raise the question as to whether Groupe ADP would require reciprocity.
CHART - Schiphol Group is currently the third largest investor in the Paris airports, albeit with just an 8% share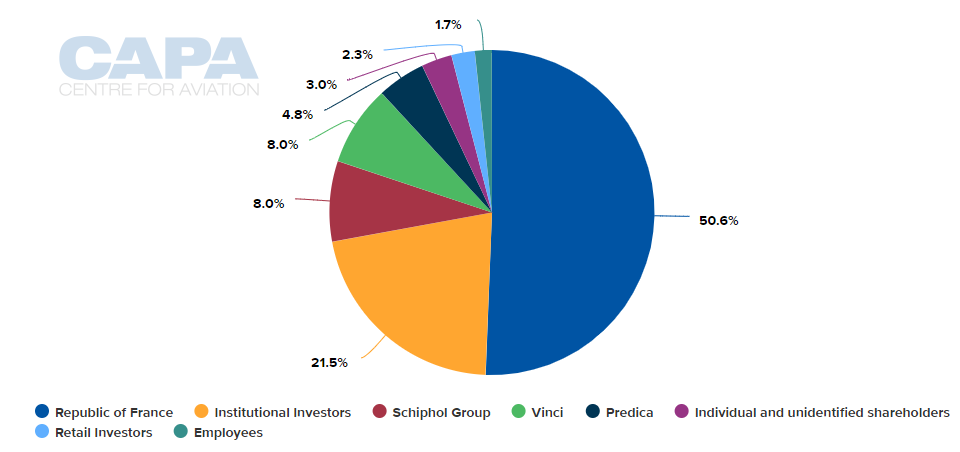 Source: CAPA - Centre for Aviation
The proposed privatisation has been covered on several occasions previously in The Blue Swan Daily. Not much progress has been made since the last article and the privatisation remains a work-in-progress which requires legislative procedures, and they take time.
What can be said for sure is that there is growing opposition not only to this transaction but also to President Macron's PACTE Bill on growth and economic transformation in general, by which means the state would divest its (50.6%) stake in Groupe ADP. during a time when M. Macron's poll ratings plummeted (although they have recovered a little recently).
https://corporatetravelcommunity.com/french-governments-share-sale-in-groupe-adp-is-attracting-the-industrys-big-hitters/
Les Républicains (the centre-right Gaullist party, which is the second largest in the Assembly) Senate president Bruno Retailleau has publicly opposed privatisation of Groupe ADP on the grounds that "privatising a monopoly means unduly providing financial income to the private sector".
Meanwhile, the privatisation has received support though from the La République en Marche group in the Assembly, which argues that while ADP's share price has increase 3.5 times since 2006, the group must operate in an increasingly competitive market to remain viable and that "if the airport wants to improve further, significant investments must be made and the French state, in debt as it is, isn't capable of doing so".
Technically, the procedure has advanced since the previous The Blue Swan Daily insight, but in a stop-start manner which suggests a bumpy ride. In Feb-2019 the Senate voted to remove Article 44 of the government's business reform package, the one relating to the privatisation of Groupe ADP, by 246 votes to 78. But then on 14-Mar it was reinstated by way of a vote in the Assembly in which it was carried by 47 to 24 Deputies votes. Parliament was always going to have the final say on adoption of the article and there are likely many more twists and turns remaining.
One can understand Schiphol Group's interest in increasing its share in Groupe ADP. Both the two main Paris airports have experienced consistent passenger traffic growth since 2012 and in the case of Charles de Gaulle (CDG) it is touching 5% in the opening months of 2019. It retained tenth position in the list of world's busiest airports in 2018.
CHART - Paris Charles de Gaulle is among the world's top ten busiest airports and has seen annual passenger growth every year this decade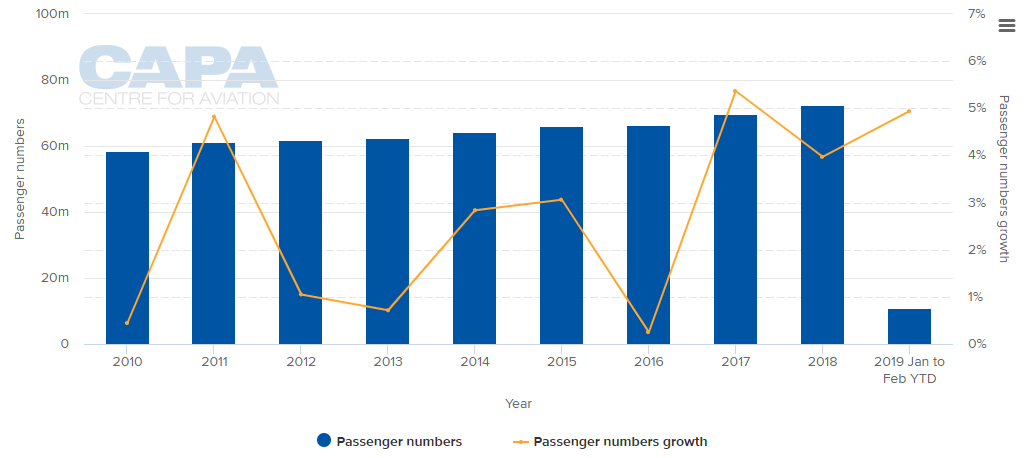 Source: CAPA - Centre for Aviation and Aéroports de Paris
The CAPA – Centre for Aviation Airport Construction Database says around USD1.8 billion is committed to infrastructure expansion at CDG to 2025 and not including the proposed new T4, while at Orly Airport the sum is over USD600 million will be invested, including a new connector building which should open shortly.
Groupe ADP is consistently profitable as one might expect, recording an (increasing) EBITDA margin of between 39% and 43% between 2013 and 2017. Under its present agreement with the government it can increase aeronautical charges every year but there is a quid pro quo on infrastructure development.
Internationally, it is involved as operator and/or investor and/or manager at 38 airports around the world including those by way of a 38% stake in Turkey's TAV Airports.
CHART - Groupe ADP is involved as operator and/or investor and/or manager at 38 airports around the world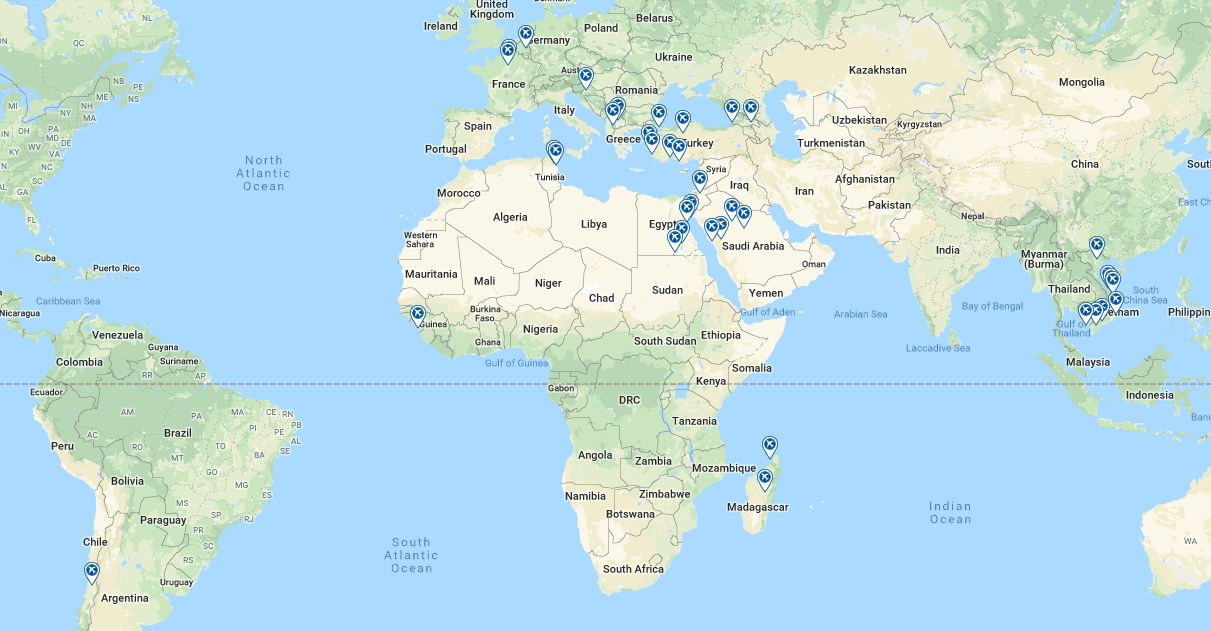 Source: CAPA - Centre for Aviation
In comparison it might not seem as attractive for Groupe ADP to increase its stake in Schiphol Group by reciprocation. While the former appears to have few concerns either at home or in its foreign investments Schiphol Group is battling against capacity constraints in Amsterdam that are perpetuated by a fearsome environmental movement which is committed to preventing expansion either at Schiphol or at the alternative Lelystad Airport.
https://corporatetravelcommunity.com/amsterdams-schiphol-airport-is-all-at-sea-over-its-extension/
Moreover, unlike Groupe ADP it has relatively few foreign investments, those activities having shrunk over the years and which are now down to just three foreign airports. Schiphol Group is also not privatised except by way of Groupe ADP's 8% cross-shareholding and is otherwise owned by the Dutch Ministry of Finance (70%), and the municipalities of Amsterdam (20%) and Rotterdam (2%).
Will this interest turn into a firm deal? You have to consider that earlier deal by the Dutch government's to acquire that 13% stake in Air France-KLM. That is almost certain to influence any further move by Schiphol Group to acquire more of Groupe ADP's equity and any reaction from France.