It was confirmed last week that after 16 years of ownership, the Weaving Group (initially GoFast Group) has sold its 32% minority stake in Aigle Azur to David Neeleman, adding to his interests in both Azul Airlines in Brazil and TAP Air Portugal in Europe. These are both airlines that HNA Group also holds shares and this latest partnership could see Aigle Azur boost its activities in medium and long haul markets, especially following a new partnership with fellow French operator Corsair.
CHART - Aigle Azur operates from Paris Orly, but also has a presence at regional airports across France, primarily serving African markets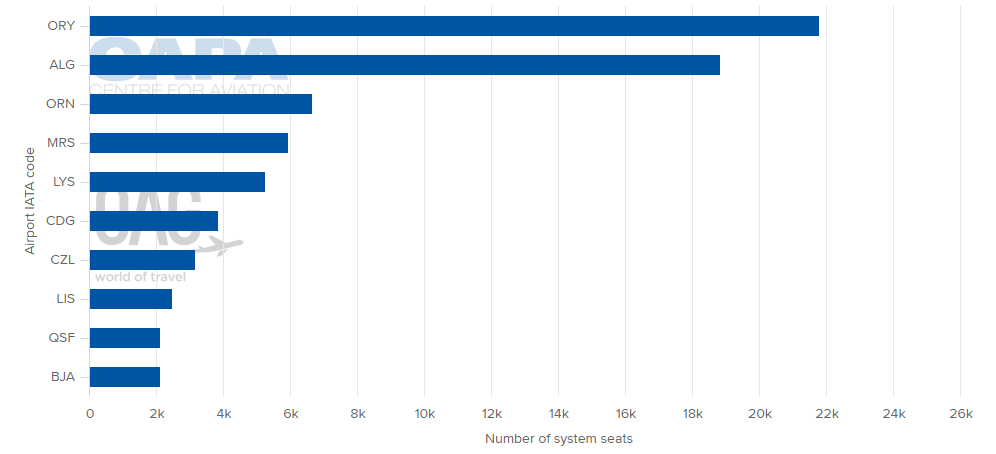 Source: CAPA - Centre for Aviation and OAG (data: w/c 20-Nov-2017)
This "operational and commercial partnership agreement" with Corsair is "designed to expand cooperation" between the two airlines and accelerate their development, "especially towards Africa" from the end of this year, but reciprocal codeshares will be introduced across a wide range of destinations from Lebanon in the Middle East, Russia, to Germany and Portugal in Europe.
In Africa, Corsair plans to launch a weekly Paris Orly - Bamako service from 30-Jan-2018, on which Aigle Azur will now codeshare, and plans to add a second weekly frequency from Apr-2018. Aigle Azur will continue to operate its own three times weekly Paris Orly – Bamako service, which has been operating via Agadir in both directions since late Oct-2017, meaning a joint five times weekly offer between the French and Mali capital cities.
It is far too early to see how Mr Neeleman will influence the French airline, but it is clear that he and the fast expanding HNA Group are happy business partners. Long haul growth seems an obvious component to the model and just three months after taking up his position as president and CEO of Aigle Azur, Frantz Yvelin, former founder of La Compagnie, has highlighted long haul routes as a possible tool for "a quick return to profitability and a bold development for the second airline of our country".
This could be delivered through closer ties with Corsair. The "operational and commercial partnership" with Corsair could be the first stage to a close relationship between Aigle Azur and Corsair, especially with TUI Group understood to want to relinquish its control of the carrier. While CAPA – Centre for Aviation Fleets database list Aigle Azur as operating nine Airbus A320s on a network that focusses on Africa, it shows Corsair has a complementary fleet of two A330-200, two A330-300s and three 747-400s which serve Africa and Latin America.
The HNA Group and Mr Neeleman interests in Azul Airlines and TAP Air Portugal (the latter through Gateway Group) deliver clear opportunities in the east-west axis between Europe and Latin America. The investment in Aigle Azur could see this grow to include France and not just Portugal in this equation and perhaps lengthen the cooperation along a north-south axis from Europe into Africa.