The 2021 ACI Report from ACI HR Solutions, a recruitment, executive search and professional training firm dedicated to the travel, tourism, hospitality and lifestyle industries, now shows the human impact of a pandemic it describes as having "devastated" theses industries with retrenchment levels exceeding those seen during the Global Financial Crisis in 2008.
The ninth annual report includes a dedicates supplement that highlights COVID-19 trends – it doesn't make positive reading! Around one in four (24%) of the respondents (800+ travel, tourism, hospitality and lifestyle personnel from across the Asia Pacific and surrounding regions) were made redundant in 2020, and a further half (50%) experienced salary cuts. A majority (36%) of these saw their salary reduced by 25%-50%, whilst more than a quarter (28%) experienced steeper cuts of 50% or higher.
The findings showed some truth to the last in first out philosophy, with 83% of those who had experienced retrenchment, being employed with their organisation below five years, with the most vulnerable age group between 46-55 with more than half (53%) of those retrenched belonging to this age bracket.
However, despite the upheaval, the report suggests most respondents felt their organisation had handled the COVID-19 situation well (measuring internal communication, staffing strategies, support, and health and safety), with a majority (56%) rating their company as good or excellent in performance, whilst a further 28% said matters were fairly handled.
Alarmingly though, the research indicates that one in five (20%) respondents indicated that they have lost confidence in the industry entirely, and "will no longer pursue a career in the sector," with technology/ IT, health care and education being the top three alternative industries being pursued.
Not surprisingly, given the circumstances only a quarter of respondents (28%) indicated they had received some form of a salary increment in 2020 – this represents a large drop when compared to the previous year where 65% of respondents indicated a bump in their pay. More than a third (39%) did receive a bonus in 2020 (compared to 60% the previous year), the majority (40%) receiving 1-2 months' bonus, with a further 32% receiving less than one month's bonus.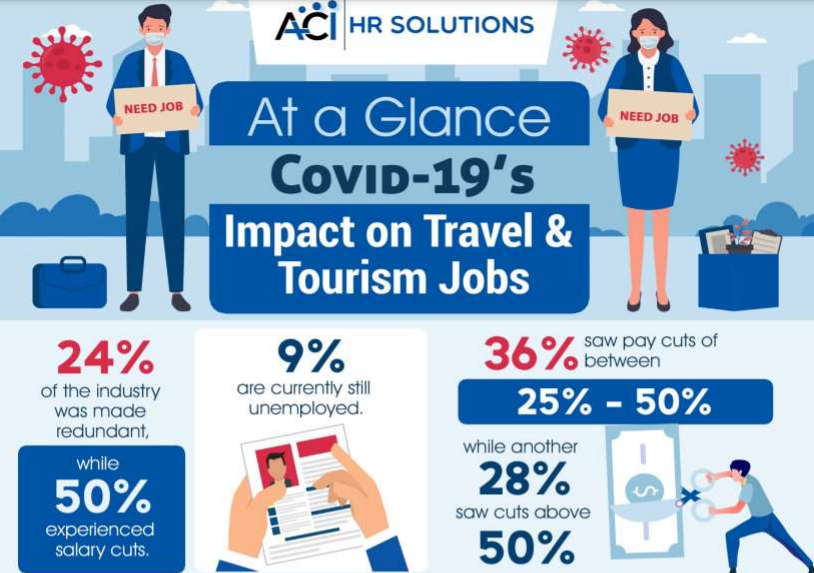 The importance of career development became a more critical factor for many in the industry, the research indicates, with almost three-quarters (74%) indicating that career progression was either 'extremely important' or 'very important' to them, up from 70% in the previous edition of the survey.
However, only a third (32%) of those surveyed said they believed their current employer offered 'excellent' or 'good' opportunities for career progression, down from 2020's 40%, with a further 34% even indicating that career prospects with their present employer were 'poor' or 'zero' – up from 30%.
The ACI report also cites STR research into 2021 performance for hotels across the Asia Pacific region. It identifies that certain markets are expected to accelerate faster in the first six months of 2021, while some other markets are expected to either grow at a slower pace or solely rely on domestic and limited travel for a longer period of time.
These observations are based on hotel data along with learnings pre-pandemic and now in the midst of it, including the path and type of recovery (domestic, regional, leisure or weekend business; variations in movement restrictions and lockdowns; level of dependency on various source markets, like China; and travel and tourism's importance within overall GDP.
The thoughts suggest "a clear correlation between recovery speed and how likely markets are to quickly enable pre-vaccine travel solutions, via collaborative travel lanes that remove the need for lengthy quarantine periods that inhibit travel confidence".