---
Summary:
WOW air's collapse leaves Icelandair with 72% of capacity at Keflavik International airport, but it is not really in a position to take advantage of that;
Some European routes might be taken on by other carriers, but it is unlikely there will be significant interest in the trans-Atlantic network?
Passenger numbers could fall further than Isavia had predicted based previously on WOW air's contraction rather than collapse.
---
It certainly will have a big influence in a destination that is already starting to cool having been ranked among the world's hottest growth markets in previous years. As reported previously by The Blue Swan Daily when a merger of Icelandair and WOW air was being negotiated, both carriers have or had a critical role in facilitating the movement of Icelanders abroad, for business and leisure purposes, and in bringing tourists to Iceland, now the country's biggest industry.
They also offer(ed) sixth freedom travel opportunities between Europe and North America, though that remains a subsidiary role and is more appropriate to winter as the main focus in the short summer period (May to September) is on the higher fare-paying visitors to the country.
https://corporatetravelcommunity.com/the-icelandair-and-wow-air-merger-could-have-a-big-impact-on-keflavik-airport/
A further report from CAPA – Centre for Aviation earlier this year commented on the prediction made by Isavia that there would be a big fall in passenger numbers brought about by route consolidation alone this year. Early statistics (Jan-Feb) have supported this view, although not quite to the degree that Isavia had imagined.
SEE RELATED REPORT: Keflavik Airport: heavy decline in passenger traffic forecast for 2019
This same report suggested that "this town ain't big enough for the both of us" and that one airline would have to go to bring some stability back to what is after all still a small niche market despite the dramatic visitor explosion of the last eight years. It is true that Iceland isn't everyone's cup of tea. Touring impressive natural tourism sites of waterfalls and geysers along untarmacked roads, staring at them through the gloomy half-light of an Icelandic winter where it gets light at 11am and dark before 3pm, only appeals to a limited audience.
As wonderful as it is to these visitors, they don't often come back. Presumably Indigo Partners, which had reached a preliminary agreement to buy 49% of WOW air on condition of the cancellation of routes, aircraft orders and lease deals, an attempt at sale-and-leaseback of aircraft, and a wholesale reduction of staff numbers, reached the same conclusion.
So what future is there for the routes that WOW air operated? Who will take them over? Icelandair? Another pan-European LCC? Individual LCCs? What about the North American services, and the transit facility?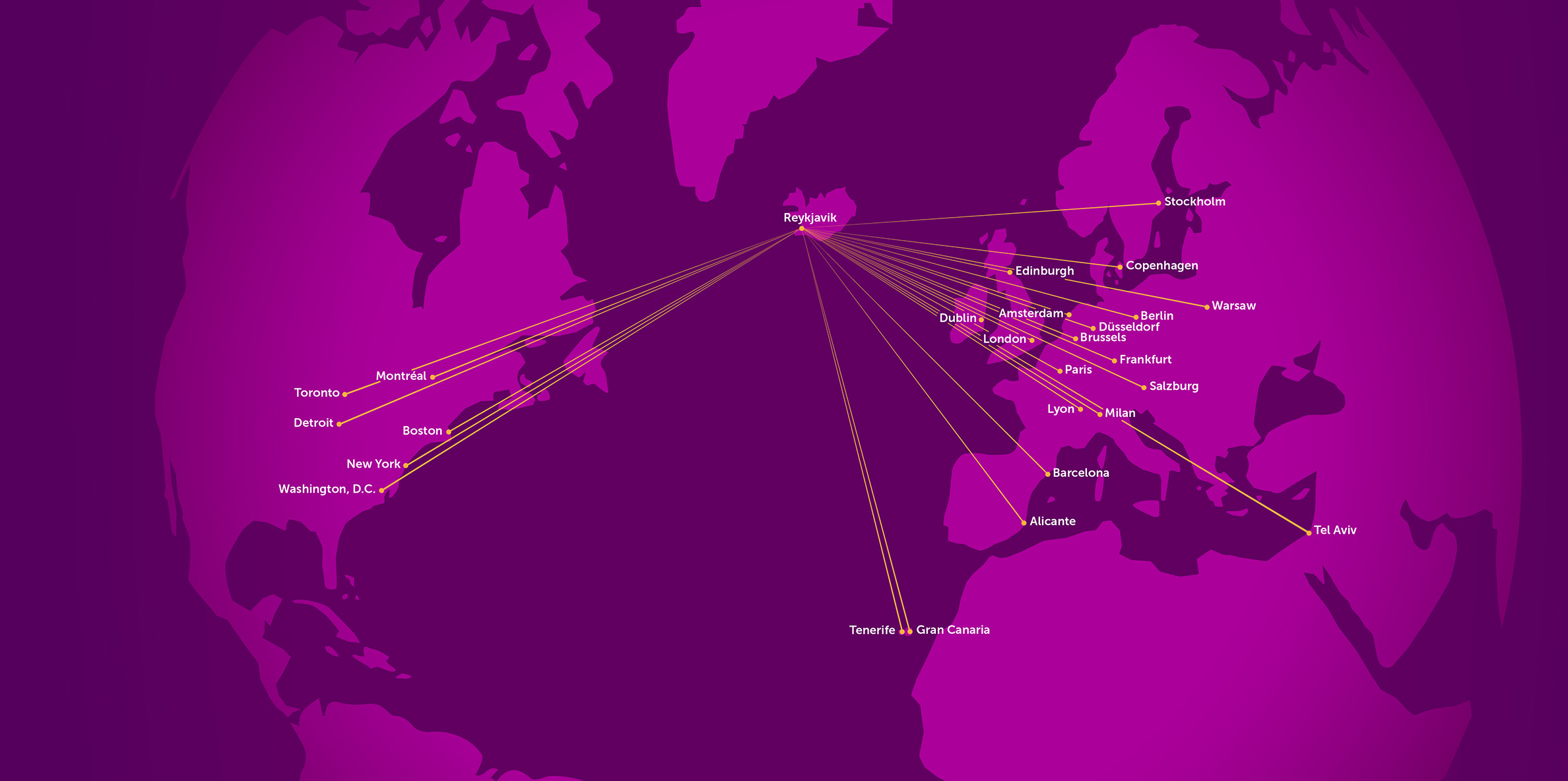 Icelandair seems unlikely this experienced carrier would put itself at risk by taking on many of WOW air's routes, some of which had duplicated its own anyway, in both Europe and North America. Icelandair has been reducing routes as much as adding them and a period of consolidation is called for after it recorded a net loss of USD55.6 million in the 12 months ended Dec-2018, compared to a profit of USD37.5 million in the previous year.
Big European LCCs like easyJet, Ryanair and Wizz Air might look at Keflavik International airport and wonder if they should set up a base there. But there are a few issues that might put them off making such a decision, significantly this includes Isavia's fees, which are not cheap (and which is why Ryanair isn't there, and never has been).
CHART – Away from Icelandair's dominance, Wizz Air and easyJet are currently the largest airlines at Keflavik International airport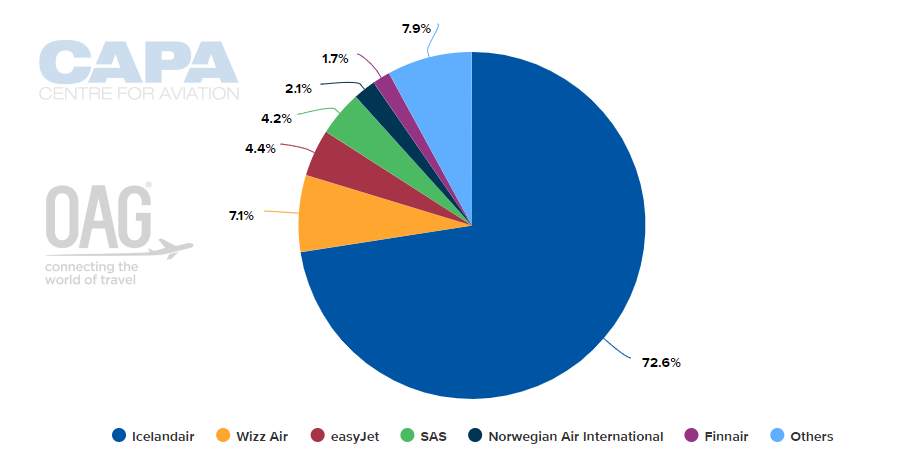 Source: CAPA - Centre for Aviation and OAG (data: w/c 08-Apr-2019)
To succeed in Iceland you have to know the Icelandic market, which is one of horizontal integration of tour operators, travel agencies, hotels, car hire, and surface transport, either directly owned or through agency agreements. It is not a market you can enter easily without these agreements, which take time to develop and mature.
A key part of the Icelandair and WOW air models has been facilitating transfers. But any new entrant or growing operator would have to rely on local demand or a complex intercontinental transfer with a partner airline. It is also unlikely that American Airlines, Delta Air Lines and United Airlines who currently offer services to Iceland will start any new ones from their secondary hubs and focus cities when much of their existing traffic is onward bound to Europe anyway, and which would merely cannibalise their existing routes.
Looking to the east where visitor numbers have been picking up rapidly is one possibility but WOW air's attempt to connect Delhi with Reykjavik lasted all of seven weeks at the tail end of 2018. China holds more promise than India but who is going to serve it, taking an aircraft out of 'opportunity cost' commission for two days at a time?
There has already been some movement. The LCC Transavia just announced plans for three times weekly Amsterdam-Reykjavik Keflavik service, effective 05-Jul-2019. The new route fills the gap brought about by the cessation of operations of WOW Air, although it is a longstanding route for Icelandair, which operates it year-round.
Overall, there is not a great deal of opportunity for expansion of services other than by running the sort of risks WOW air exposed itself to (though not the acquisition of long-haul wide bodies, which ultimately put paid to it). For now, Isavia may feel inclined to revise the downturn in passengers from 7% to double digits for this year and to look again at projections beyond that.