The investment has seemingly proved fruitful with the regional airport already having seen seven years as an easyJet base, more recently seeing the arrival of Ryanair and in the past couple of weeks the news that Wizz Air will now also be starting flights this winter. Securing Europe's three largest LCCs is a significant chapter in the rebirth of Southend, now a real alternative for the London market thanks to its new facilities, efficient operations and direct train into the capital city.
The big question though is can the three LCCs happily sit alongside one another on the airport's fresh apron? The evidence already even before Wizz Air's flights have started is that the answer to that question may be a big NO! While the networks of easyJet and Wizz Air have a relatively low level off overlap, it is different between Wizz Air and Ryanair where particularly in Central and Eastern European markets, there are common routes. Both have talked about competing more aggressively, but there has not been any blood bath, yet.
London Southend highlights this competitive position perfectly though. Wizz Air, the leader in the Central and Eastern European market, will initially launch flights to Southend from Sibiu (daily) at the end of Oct-2019, with services from Bucharest (five times weekly) and Vilnius (twice weekly) following in Nov-2019.
However, less than 24 hours after Wizz Air announced its plans, Ryanair announced that it would also serve Bucharest (also five times weekly) and Vilnius (three times weekly), as well as Treviso and Venice in an expansion of its own winter network from Southend. These flights will commence at the start of Nov-2019, just weeks ahead of Wizz Air's services.
It is unclear if there is sufficient demand to support such growth in connectivity to the capital cities of Romania and Lithuania. While Vilnius may be able to sustain five weekly flights, ten flights a week to Bucharest will be more of a challenge. The two cities are already well-connected to London with flights to three and four airports respectively. It will be interesting to see which of the LCCs blinks first.
The LCCs are driving traffic growth at Southend, but other airlines are also helping boost passengers, notably Flybe and Loganair, even Air Malta serves the airport. Its fast processing time and good rail connectivity has also caught the eye of corporates with many to the east of London seeing it as an alternative to bypassing the capital if travelling directly to one of the growing number of markets now served from the airport.
CHART – The arrival of Ryanair at London Southend has helped the airport continue its rapid growth since easyJet opened its base earlier in the decade. Passenger numbers grew more than a third last year (+35.5%) and are growing by +38.3% year-on-year over 1H 2019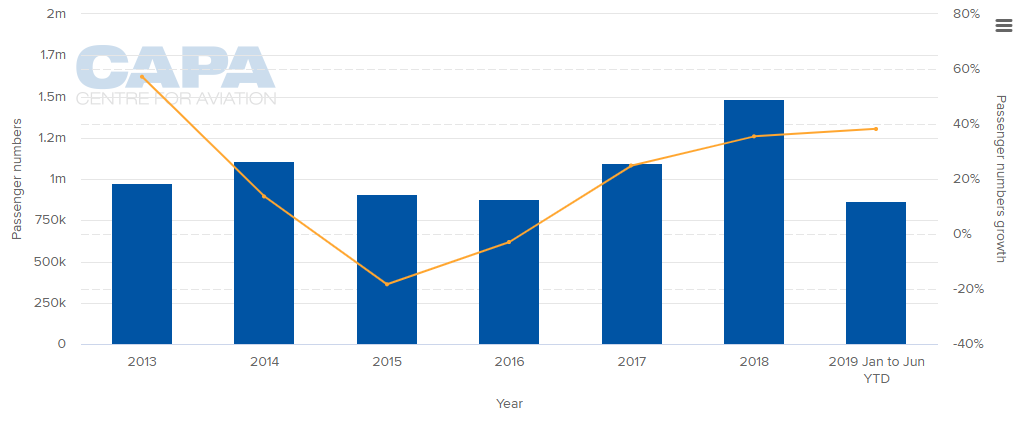 Source: CAPA – Centre for Aviation and UK Civil Aviation Authority (CAA)
Stobart Aviation, which began as a means of diversifying away from the Eddie Stobart Logistics business, famous for its green and white trucks which ply Britain's motorways, also has interests at Carlisle, and more recently Teesside (which has taken back its old name having been known as Durham Tess Valley for the past 15 years). Maybe it likes risky investments, perhaps it highlight its eccentricity, but developments at London Southend show that such moves can be worth the risk.
Stobart has signed a five-year agreement with Wizz Air, describing it as a "significant milestone" in its development. It's a milestone because Wizz Air is the sort of airline which can throw considerable resources into an airport if it thinks it is onto a winner. Recently for example it announced new routes from Luton Airport to Moscow and St Petersburg, two hopelessly underserved routes between the UK and Russia.