As of 07-Dec-2018, 23,679 advanced bookings had been made in Australia through all global distribution systems (GDS) for return flights to the US scheduled between 21-Dec-2018 and 30-Dec-2018. This is the third consecutive year for the US to be ranked the hottest long-haul festive destination for Australian travellers.
Flight bookings to second placed China and third placed India stood at 19,959 and 18,396, respectively. These two countries were also shown to be the fastest growing long-haul festive destinations for Australian travellers in terms of volume (both up by over 5%).
Travelport Managing Director for Australia and New Zealand Scott Barber commented: "The constant appeal of the US to Australian travellers could attribute to its unique festive celebrations, grand shopping sales, distinctive weather conditions and abundant flight options."
"We are also excited to see the growing appeal of China and India to Australian travellers. This is partly boosted by the opening of new flight routes connecting some emerging destinations in these countries. The closer economic and cultural ties as well as travellers' better understanding of their tourist attractions have also contributed to the growth."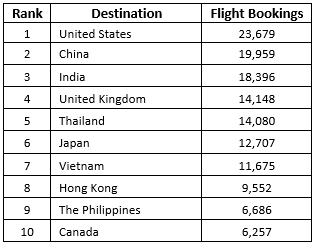 This data is derived from Travelport's interpretation of relevant MIDT data. It reflects bookings made in Australia as of 7 December 2018 through GDS only, a channel primarily used by travel agents, for return flights between 21 December and 30 December 2018. Additional bookings will have been made directly with airlines, which may or may not also have a GDS presence.