In its Jun-2019 Asia Pacific regional briefing, the airline trade organisation noted that escalating trade tensions between the US and China continue to "weigh upon the business environment in the region". The collapse of Jet Airways and rising airfares in India also influenced performance with domestic RPK's slipping into negative territory for the first time since early-2014, slipping from 3.1% in Mar-2019 to -0.5% in Apr-2019. This is down from a massive +19.0% annual RPK growth for 2018.
IATA noted that Japan's business confidence fell below the 50-mark into contraction territory amidst softer demand from China, the country's key business partner, but domestic air passenger demand remained solid.
Domestic RPK growth in Japan "remained generally unchanged" in Apr-2019 compared to Mar-2019 creeping up 0.3 percentage points from +3.1% to 3.4% growth, while domestic RPK growth in Australia "picked up modestly" but remained negative at -0.7% year-on-year. This compares with -1.2% recorded in Feb-2019 and -2.3% in Mar-2019.
Among international markets, Asia-Europe was the strongest performer with +8.1% growth, almost double the +4.5% rate recorded in Mar-2019 and greater than the +7.1% recorded for 2018. This was the sole market in the region to see RPKs grow versus last year's annual average. It was followed in terms of growth by within Asia and Southwest Pacific-Americas (both +5.2%). These represent a rise from +3.7% growth in Mar-2019 for within Asia, but a fall from +7.6% growth in Mar-2019 for the Southwest Pacific-Americas.
CHART – The Asia Pacific region continues to generally outperform the rest of the world when it comes to growth in air passenger volumes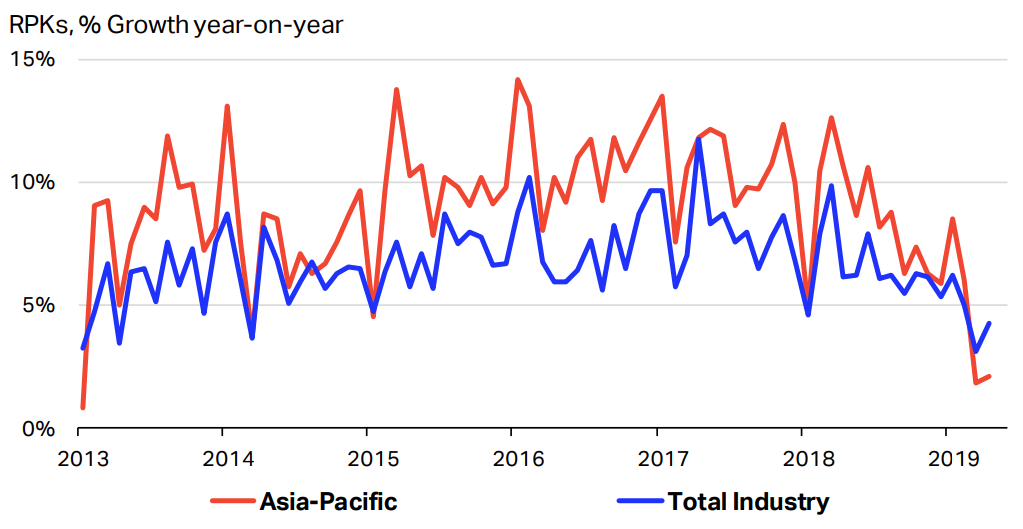 Source: IATA Statistics
The regional briefing highlights that industry-wide passenger load factor (PLF) picked up to 82.8%, a record high outcome for the month of April. But, in contrast, the freight load factor (FLF) eased to 46.3%, following a strong performance in Mar-2019 (49.4%). The PLF rose slightly in Asia Pacific but remained more than 1 full percentage point below the industry-wide outcome, at 81.7%. For freight, the FLF eased by a sizeable 3 percentage points from 55.0% to 51.8% in Apr-2019, but remains above the industry average.
According to IATA, the latest financial data for Q1 2019 confirms a decline in industry profitability versus the same period a year ago; the EBIT margin fell to 2.3%, from 4.2% in Q1 2018. The story is "more upbeat" at the regional level , it acknowledged, where airline operating (EBIT) margins appear to have picked up by more than two percentage points versus a year ago from 3.4% to 5.7% of revenues.
There were declines in passenger yields on the majority of the key domestic and international routes in Apr-2019, but that said, the downward pressure "has been less intense" versus the previous months, according to IATA, which is consistent with its latest data on airline profitability.
Asia-Middle East remains the best performer, with yields up 14.1%, growing from 4.5% in Feb-2019 and 8.1% in Mar-2019. India domestic was the only other region to see positive growth in passenger yields, rising from 0.2% in Feb-2019 and 0.9% in Mar-2019 to 3.3% in Apr-2019. The largest declines in Apr-2019 yields were seen in the Asia-South America (-7.7%) and Asia-Europe (-6.8%) markets, but both were smaller levels than those recorded the previous month.