Our analysis of OAG schedule data shows that international flight frequencies from Asia Pacific grew +5.1% across the first two months of 2019, versus the same period last year, while overall flight frequencies across the region increased +4.3% when domestic departures are also considered.
The fast emerging China market heads the list and continues its steady growth with an above average +6.0% rate of international frequency growth across the two month analysis period. In fact five of the six largest nations reported above average growth in frequencies, including second-ranked Japan (+7.6%), third-ranked Thailand (+8.6%), fourth-ranked South Korea (+9.4%) and sixth-ranked Singapore (5.6%), the latter jumping ahead of Hong Kong in the rankings compared to the same period in 2018. It was only fifth-ranked India that has slipped below the average figure (+5.0%) and that was only by just under 0.2 percentage points.
Vietnam has been highlighted as one of the key growth markets across Asia Pacific in the coming years and recorded the largest growth in year-on-year international departure frequencies over the first two months of 2019. The +12.8% rise meant it jumped ahead of both Indonesia and Australia to reach tenth place in the ranking. Only Macau among the major Asia Pacific country markets had a higher increase in international frequencies at +12.9%, while the Philippines should be mentioned for its +9.8% growth between the two periods.
It was only Pakistan (ranked 17th) and Sri Lanka (ranked 18th) that had a reduction in year-on-year international departure frequencies across the Jan-2019 and Feb-2019 period, down -10.0% and -6.4%, respectively. Bangladesh (ranked 19th) almost joined them with just four additional international departures between the two analysis periods, less than a 0.1% growth.
Outside of the major markets their were significant variations in performance, with major declines in international departure frequencies in Samoa, American Samoa and North Korea. Meanwhile, notable rates of growth were recorded in Kiribati, Nauru, and in particular, Uzbekistan in Central Asia, where international departures grew by almost a half (47.6%) and boosted it ahead of the Maldives, Laos and Guam into the top 25 country markets by this metric across the Asia Pacific region.
CHART – International flight frequencies from Asia Pacific grew +5.1% across the first two months of 2019, versus the same period in 2018, with most nations reporting an uplift in departures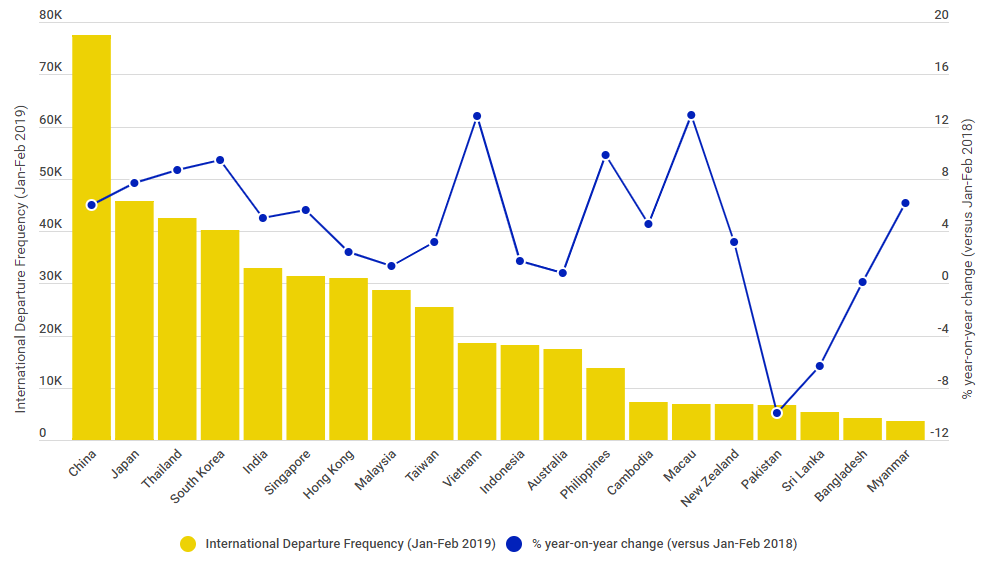 Source: The Blue Swan Daily and OAG