The 'Unravel Travel: Fear & Possibilities in a Post Coronavirus (Covid-19) World' examined the sentiments of more than 10,000 people across 17 countries regarding travel in a post-Covid-19 world and produced a travel confidence score based on how comfortable a person is to travel internationally in the next 12 months, and how well-prepared they feel about their country reopening its tourism and leisure activities.
Asian countries dominated the list of countries that scored above the global average, but they were also among those they scored lowest too. India and Thailand jointly headed the list with a score of 76, while China (69), Indonesia (65) and Singapore (64) all scored higher than the global average of 61. France (71), Germany (68), and Denmark (67) were also rated above the global average.
However, Japan was rated with the weakest score among the 17 countries studied with a travel confidence score of just 40. Only slightly ahead was the Philippines (43), while Hong Kong (50) also performed below the global average. Canada (54), New Zealand (55), Sweden (58), the United Kingdom (55) and the United States of America (51) also performed below the world average.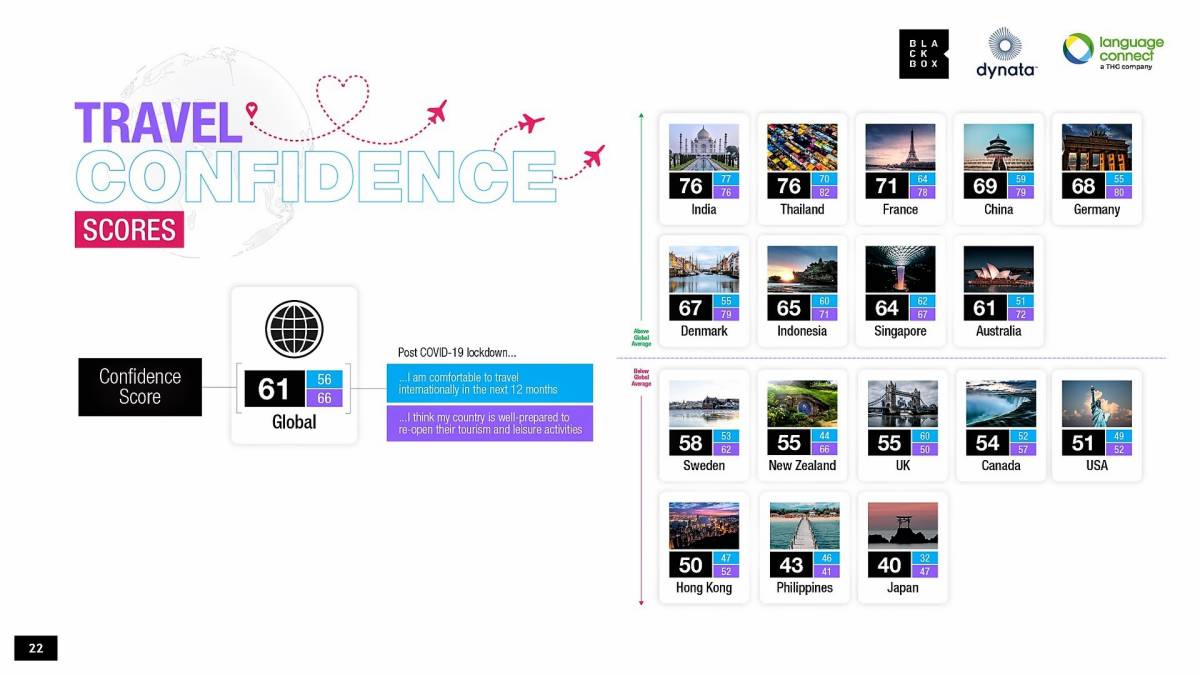 Blackbox Research COO, Saurabh Sardana believes that previous exposure to similar – but obviously less severe – epidemics in nations across Asia may be the principal reason why they appear in general more optimistic. "The scores revealed that a number of countries have had their confidence towards travelling severely battered, which can be attributed to the negative reporting on Covid-19 cases. For them, sustained control in Covid-19 numbers domestically and globally is needed before they begin revisiting international travel as a lifestyle priority," he explained.
The research reinforces what we have already learnt regarding domestic and international demand with almost half of all respondents (44%) still keen to avoid international travel. Respondents from Japan (32%), the Philippines (42%), New Zealand (43%) and Australia (52%) were shown to be the most reserved about flying long-haul.
However, it did identify some travel trends within regions with Australia and Japan the two most popular destinations for Asian travellers, while Spain is on the top of the list for European travellers. The latter was understandable when the survey was completed in Jun-2020 and Spain was seeing a downward trend in infections, but that has subsequently changed as Covid-19 cases have spiked and highlights how fluid the current situation remains.
It also highlighted the importance of keeping travellers informed and above all safe and that technology and the adoption of contactless travel could help stimulate the recovery. The study suggests that travellers are willing to pay a premium for safety assurances – four in five (80%) when it comes to accommodation – while almost three quarters (74%) would pay a higher premium for travel insurance in exchange for protection against pandemics.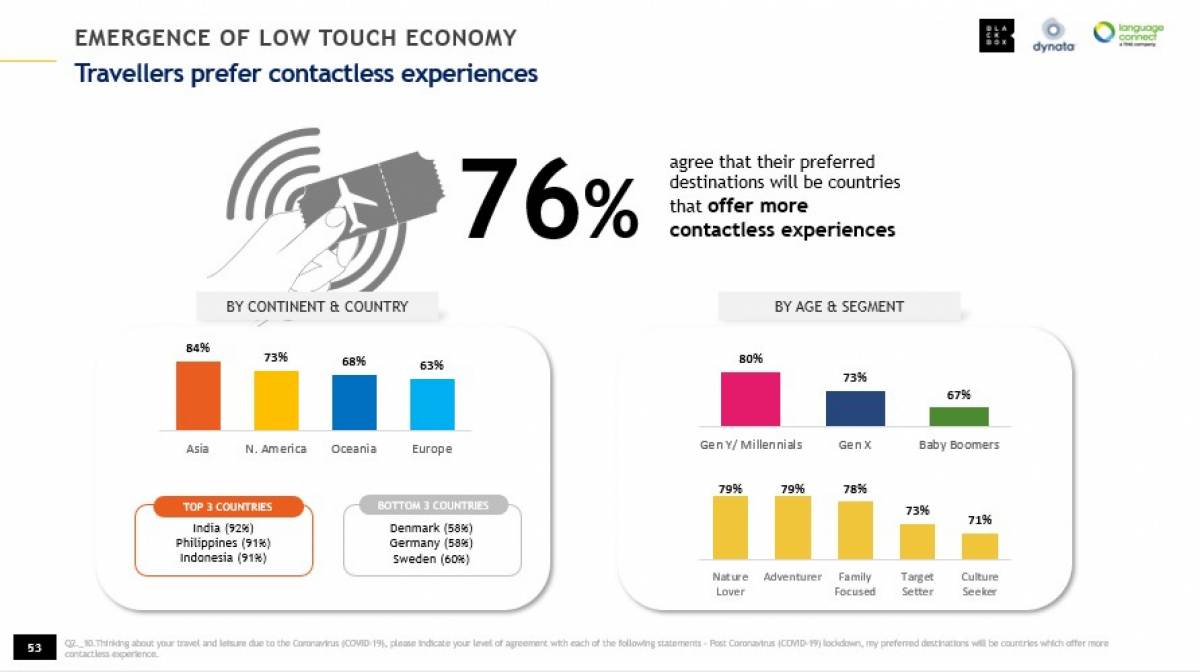 A similar number (76%) indicated that their preferred travel destinations would be countries that offer more reliable contactless experiences. Almost half (44%) called for e-boarding passes and touchless lavatories (43%), with more than a third seeking contactless journeys from airports to hotels (40%), empty middle seats (36%), and digital health passports (35%).
And it is not just about the main part of the journey. Travellers are also looking to minimise contact during transfers with two thirds (66%) preferring to travel in their own vehicles for road trips between cities or countries, compared to travelling on a plane (less than one in five: 18%), rented or private-hire car or taxi (just 9%), or buses and trains (7%).
concluded: "What the study has shown us is that the pandemic has unequivocally shifted how we see travel," says Mr Sardana. In order for travel industry players to stay relevant, they need to change the way they approach every aspect and touchpoint in the traveller experience, emphasising safety and rebuilding trust.