---
Summary:
ACI World's preliminary airport rankings show Atlanta's Hartsfield-Jackson International has consolidated its position as #1 airport in the world;
Beijing's capital International passed 100 mppa, becoming only the second airport to do so;
Dubai International is stalling for several reasons, casting doubt on the Al Maktoum project.
---
Passenger traffic is estimated at 8.8 billion in 2018, growing by an estimated 6% compared to the previous year. The increase is above the 4.3% compound annual growth rate for passenger traffic from 2007 to 2017. The air cargo market however did not fare as well, with a year-end growth figure of 3.2%. This is in contrast to a much stronger year of growth in 2017 but comes against a backdrop of global trade tension between the U.S. and several of its closest trade partners.
These remarks are in line with a previous ACI statement, highlighted earlier this year in the following The Blue Swan Daily report.
https://corporatetravelcommunity.com/its-all-in-the-economics-passenger-traffic-is-strong-globally-but-freight-volumes-declining/
Looking more specifically at individual regions, countries and cities, ACI reports that India has become the world's third largest aviation market for passenger traffic as it has been threatening to do for some time. According to ACI, India's move towards a more liberalised aviation market and the nation's strengthening economic fundamentals have helped it become one of the fastest-growing markets.
Passenger traffic at the world's 20 busiest airports – which represent 17% of all global passenger traffic – grew by 4.7% in 2018 as more than 1.5 billion passengers used these airports. ACI's global medium-term forecasts reveal growth in demand for air services between 2018 and 2023 will be by almost 30%.
Atlanta-Hartsfield-Jackson International airport kept the top place and handled over 107 million passengers. There was a period when it looked like it might be overtaken by airports in Asia and the Middle East and passenger numbers declined by 0.2% in 2017, but a sudden resurgence in 2018 (+3.3%) helped it to widen the gap again on its two main rivals - Beijing Capital International and Dubai International airports.
CHART - Last year Atlanta Hartsfield-Jackson International reported its fastest rate of annual growth since 2015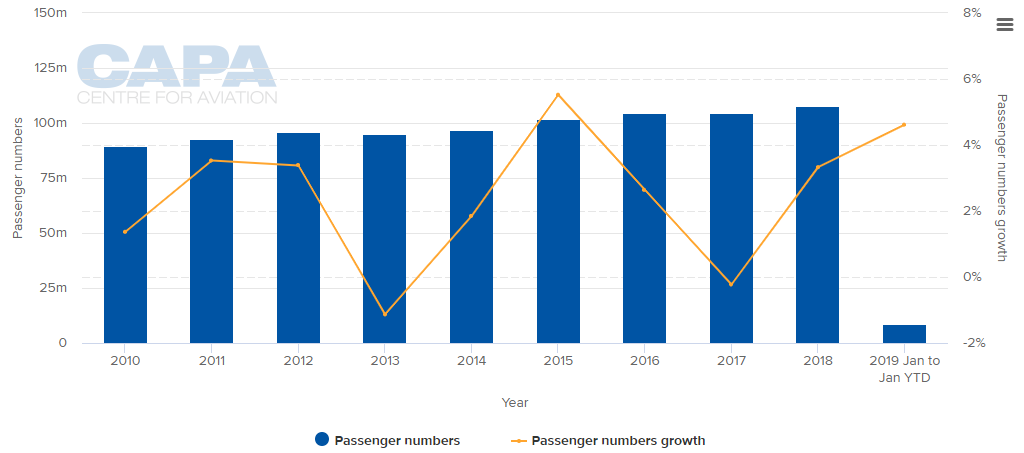 Source: CAPA - Centre for Aviation and Atlanta Hartsfield-Jackson International airport reports
Beijing Capital International did surpass the 100 million passengers mark in 2018, only the second one ever to do so, growing by 5.4% and holding onto second spot. (Beijing Daxing is scheduled to open this year and could influence the 2019 rankings). Beijing's growth has been steady but hardly spectacular in recent years and it dipped down to 1.5% in 2017 on a poor macroeconomic performance by Chinese standards. Strangely, it does not appear to have been as badly impacted by the aforementioned "global trade tension" in 2018 or 2019 to date as one might have expected.
CHART - In 2018, Beijing Capital International reported its fastest rate of annual growth since 2011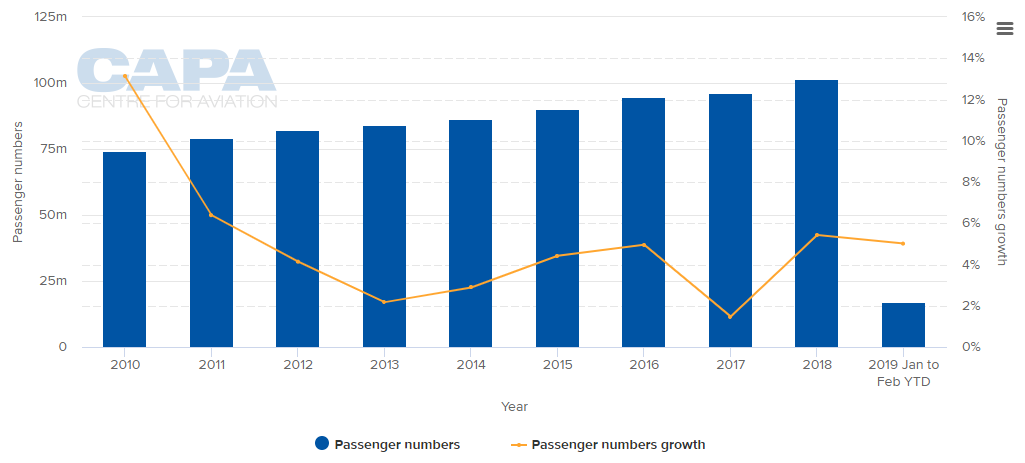 Source: CAPA - Centre for Aviation and Beijing Capital International airport reports
Dubai International remained in third position (and is still the busiest international airport) as, after years of double-digit percentage traffic growth, it grew by just 1%. There are several factors involved, including Dubai's economic slowdown, airspace issues and increasing competition for the hub/transit traffic it excels at.
Another runway closure for maintenance this year won't help and such sluggish growth brings into question the long-term future of the partially-opened Al Maktoum (Dubai World Central) Airport, further expansion of which is on hold. This is an airport that was envisaged to handle no less than 260 million passengers a year, eventually. In 2018 there were 900,000 (-0.5%). Quite a contrast to Beijing.
CHART - Dubai International saw its traffic growth stall in 2018 to its lowest annual level this decade and continues a downward trend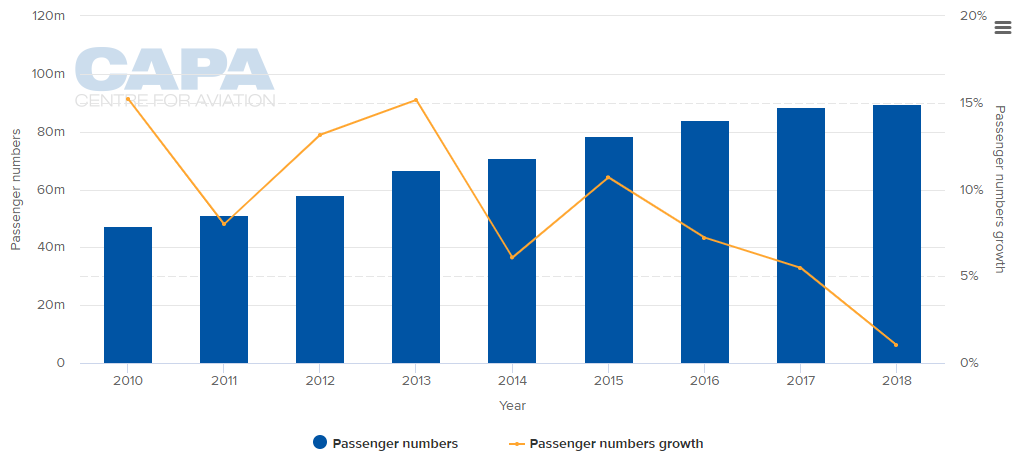 Source: CAPA - Centre for Aviation and Dubai International airport reports
Briefly, looking at provisional figures for other airports in the top 25, notable achievements include:
Los Angeles International, up by 3.5% and one place to fourth, only 1.6 million passengers behind Dubai. It could possibly overtake Dubai in 2019;
Delhi Indira Gandhi International up by 10.1% (the biggest increase in the top 25 by 0.1 percentage points over Seoul Incheon Airport) and by four places to #12;
Madrid Barajas up by 8.4% (the third biggest gain overall and the biggest in Europe) and up by one position to #24;
Dallas – Fort Worth up by 3% but falls three places in the table to #15 (the biggest fall in the top 25) due to superior growth at major airports in Guangzhou, Delhi and Frankfurt.
The top 20 airports for aircraft movements grew by 2.4% in 2018. Chicago O'Hare Airport surpassed Atlanta to become the busiest airport in the world for aircraft movements. Both airports experienced slight declines in 2017 but have since recorded growth of 4.2% and 1.8% respectively.
On the freight side, total air cargo volume at the 20 busiest airports – representing 42% of all global air cargo volumes – grew by a modest 1.3% as they handled a combined 51 million metric tonnes of cargo. This comes after a year when global cargo volumes rose markedly, by 7.7% in 2017.
Hong Kong International remains the largest air cargo centre, handling more than five million metric tonnes of cargo (+1.4%), Memphis International was in second place with growth of 3.1%, while Shanghai Pudong was third, with a decline in cargo volumes in 2018 of -1.5% (it grew by 11.2% in 2017 but this decline shows that demand has softened).
Despite signs of weakness in the cargo market, a number of airports stand out with Doha's Hamad International, Qatar Airways' main hub, continuing to be one of the fastest-growing airports in the world for air cargo throughput and is also among the busiest. It moved from 16th to 11th in the rankings.