CAPA – Centre for Aviation's Route Capacity Analyser tool examines airline capacity shares in every city and country pair worldwide, providing unique insights on what is a fair market share, against which you can benchmark your program's own performance. How do we do it? CAPA retains a global aircraft fleet database, complete with aircraft configuration data by class, which we then mesh with airline schedules data to create the capacity analytics graphics we'll be presenting in this series in the BlueSwan. The data is live and constantly updated online at the CAPA Website (premium subscription area) and has many years of historic data – and projections 6 months into the future, based on the schedules filed by the airlines.
As an example, the CAPA Route Capacity Analyser allows you to identify which airlines have the most capacity on any point to point route. Choose from any specific airport, city, country or region.
In the graph below, we have selected the popular Sydney-United States market.
It is easy to determine where supplier negotiations should be undertaken based on capacity share. Qantas Airways dominates the market with 42%, however recent route launches have meant United Airlines' share has increased by more than 7 percentage points. This level of detailed information allows Travel Managers to make informed decisions in preparation for supplier negotiations.
Sydney to United States of America one way seats per week viewed by capacity share: Weeks from 19-Sep-2011 to 02-Jul-2018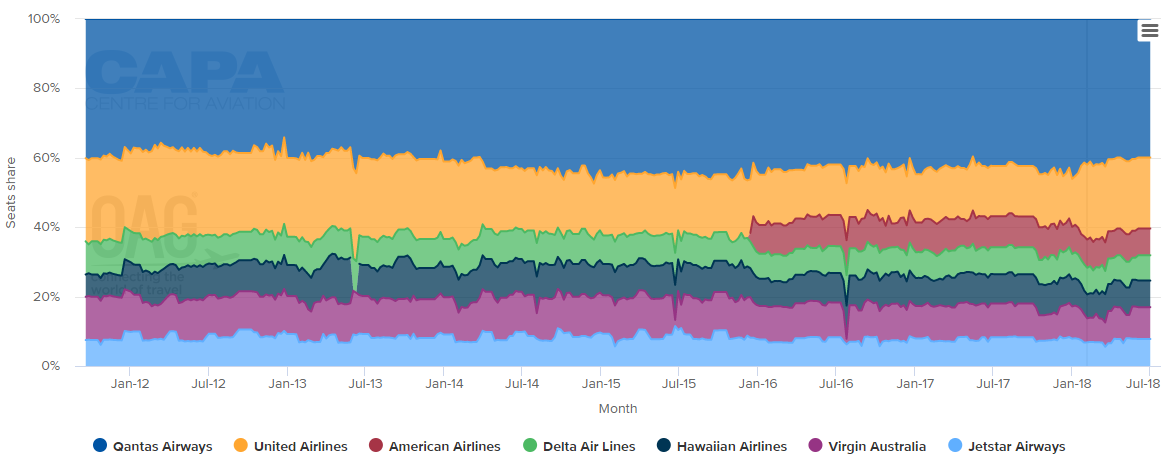 Source: CAPA – Centre for Aviation and OAG

Source: CAPA – Centre for Aviation and OAG
This is just one of many unique features within the CAPA database which could assist Travel Managers throughout the supplier contract process.
To learn more, email [email protected] or visit CAPA – Centre for Aviation to start your free trial.