The parties have agreed to open capacity between the major airports in their respective countries. Australian airlines are now able to operate unlimited services between Australia and India's six major metropolitan airports, including Bangalore, Chennai, Hyderabad, Kolkata, Mumbai and New Delhi. Similarly, India-based carriers have been granted the rights to be able to operate unlimited services between India and the six major airports in Australia.
India is currently Australia's seventh most valuable international tourism market, with 302,200 visitors contributing AUD1.43 billion (USD1.1 billion) to the Australian economy in 2017. This valuable market continues to grow, particularly in the State of New South Wales, where India emerged as the overseas tourism market growing fastest, with visitor numbers more than doubling over the past five years.
According to Australia's Minister for Trade, Tourism and Investment Steven Ciobo, it is estimated that by 2026-27 Australia will welcome more than 640,000 Indian nationals per annum. "This new aviation agreement ensures we have capacity to facilitate this outstanding growth", he said.
Currently, Air India is the sole airline operating between the two countries, offering 2048 weekly seats with five times weekly New Delhi-Sydney and three times weekly Delhi-Melbourne services.
Qantas and Virgin only serve India via codeshare, reflective of the carriers taking advantage of the previous 2013 air service agreement, which enabled unlimited codeshare rights between Australia and India.
Australia to India seats per week: 19-Sep-2011 to 10-Dec-2018

Source: CAPA - Centre for Aviation and OAG
Two-way trade between Australia and India already sits at AUD27.4 billion (USD20.1 billion) worth of goods and services, making India the fifth largest trading partner for Australia.
With India's aviation market poised to grow both passenger and freight operations exponentially for the foreseeable future, the agreement is considered to have boosted the Australian economy to a strong position for reaping the ensuing financial benefits.
While India's share is growing, 50% of Australian tourism in 2017 originated from New Zealand, China, the US or UK
India's strong visitor growth to Australia is largely an indirect benefit of the exploding Indian middle class.
According to World Bank, the Indian economy grew at a rate of 8.8% per annum from 2004 to 2008 and is expected to increase 6.7% this financial year. The country's population totalled 1.324 billion in 2016, but only close to 300 million can actually afford air travel. According to HSBC, this figure is expected to inflate to 550 million by 2025.
India's GDP per capita has also flourished fourfold – from USD440 in 2000 to USD1700 in 2018, further indicative of a growing middle class and a ballooning of air travel demand.
However, the Indian tourism arrival market for Australia, though growing, still accounts for a very low percentage overall: approximately 50% of Australian tourism originates from New Zealand, China, the US or UK. Nevertheless, given the growth rate in tourism, India is likely to surpass South Korea as the 7th largest tourism market in the foreseeable future.
Australian visitor arrivals by market for 2017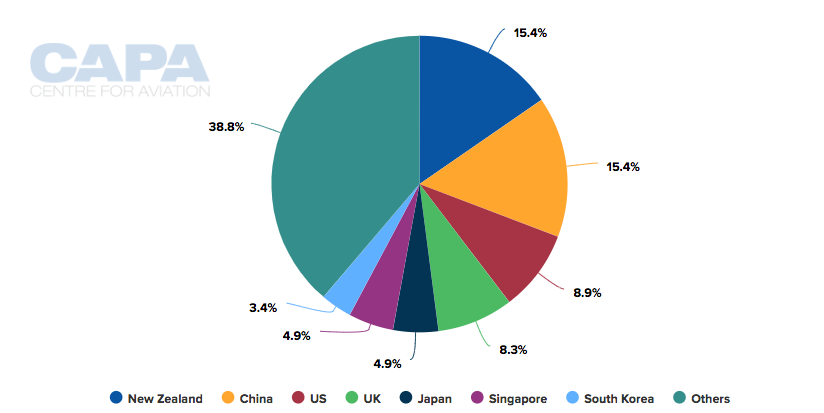 Source: CAPA - Centre for Aviation and Tourism Australia
The air service agreement will promote even wider aviation cooperation
India's Minister for Civil Aviation Suresh Prabhu recently convened with representatives of 20 Australian superannuation and pension funds in order to discuss investment opportunities in India. The discussions also comprised airport investment opportunities, according to Mr Prabhu.
The Indian Government has been reported to be exploring plans to privatise eight airports: Ahmedabad, Chennai, Guwahati, Jaipur, Kolkata, Lucknow and Pune. Delhi's Indira Gandhi International airport and Mumbai's Chhatrapati Shivaji Maharaj Airport, which both have private sector involvement, have reported strong traffic growth over the recent years.
With the Australia-based investment banking and financial services group Macquarie seeking to sell its stake in Brussels Airport, after also selling its Copenhagen Airport share, the investment group along with other Australian companies may be considering joining the privatisation effort of Indian airports.