---
Highlights
Qantas is launching four weekly flights from Sydney to Nadi in late Mar-2019;
Qantas will become the fourth airline competing in the Sydney-Nadi market along with Jetstar, Fiji Airways and Virgin Australia;
Qantas already codeshares with Fiji Airways and will start codesharing on the Sydney-Nadi route with Jetstar next month.
---
Qantas announced the 31-Mar-2019 launch of four weekly flights from Sydney to Nadi using 174-seat 737-800s. Qantas has not served Fiji in nearly 20 years but believes there is now room in the market alongside partner Fiji Airways and LCC subsidiary Jetstar, citing "growing demand from customers wanting a premium travel option to the islands".
Qantas will account for approximately a 10% share of seat capacity on the Sydney-Nadi route in Apr-2019, compared to 55% for market leader Fiji Airways, 20% for Virgin Australia and 15% for Jetstar. Qantas codeshares with Fiji Airways and owns a 46% stake in the airline. Qantas will start codesharing on Jetstar's Sydney-Nadi service from 1-Feb-2019, giving its customers more flight options when holidaying in Fiji.
Qantas would not have been able to resume services to Fiji if it were not for the Oct-2018 signing of a new air services agreement between Australia and Fiji, which increased the number of weekly seats for each side by 20% (from 6,500 to 7,800). Qantas is using slightly over half of the newly available capacity.
The last available seats for Australian carriers in the prior bilateral were awarded to Jetstar and Virgin Australia in early 2018. Jetstar has used its additional allocation to increase Sydney-Nadi during peak periods. Jetstar added two seasonal frequencies on the Sydney-Nadi route in Dec-2018, resulting in six weekly flights during peak periods in the current southern summer season. Jetstar will also offer six frequencies during peak periods in the upcoming winter season including Apr-2019 and Jul-2019.
Virgin Australia has not yet used its additional allocation. In the current summer schedule Virgin Australia is operating up to nine weekly flights from Sydney to Nadi, up to eight flights from Brisbane to Nadi and up to four flights from Melbourne to Nadi.
Virgin Australia has slightly reduced capacity to Fiji over the last couple of years. It operated 24 weekly flights from Australia to Fiji during peak periods in summer 2015/2016 and summer 2016/2017, reducing to 22 flights last summer and 21 flights this summer.
Jetstar has increased capacity this summer but its Australia-Fiji schedule is still less than summer 2016/2017, when it operated seven weekly flights. At the time Jetstar offered three weekly flights from Gold Coast to Nadi, a route it suspended in late Mar-2017.
Under the old bilateral, Fiji Airways was also using the entire Fiji allocation during peak periods. While Fiji Airways may not add flights to Australia, the 20% increase enables it to up-gauge existing flights. For example, Fiji Airways has been looking at up-gauging its early morning Sydney departure from 737s to A330s (the early afternoon departure is already mainly operated with A330s). Fiji Airways this summer is also starting to replace 737-800s with 737 MAX 8s, resulting in a 4% increase in seat capacity on existing narrowbody flights.
See related report: Fiji Airways improves medium haul product as 737 MAX 8s are delivered
Fiji Airways has been expanding in Australia over the last several years, growing its peak schedule from 23 to 38 frequencies. It currently operates up 21 weekly flights from Sydney, up to eight weekly flights from Brisbane and Melbourne and up to two weekly flights from Adelaide. Two of its Sydney frequencies are from Suva while all its other Australia flights are from Nadi. The Adelaide flights are not counted in the bilateral, which only limits capacity at the four main gateways of Brisbane, Melbourne, Sydney and Perth (there are currently no nonstop flights between Perth and Fiji).
While Qantas cited growing premium demand, Australian visitor numbers to Fiji have only grown marginally since 2011 (less than 8%) and sixth freedom traffic has supported most of Fiji Airways' expansion.
CHART – Fiji Airways has expanded in the Australia-Fiji market more rapidly than its Australian competitors (weekly frequencies from Australia to Fiji by airline: Sep-2011 to Mar-2019)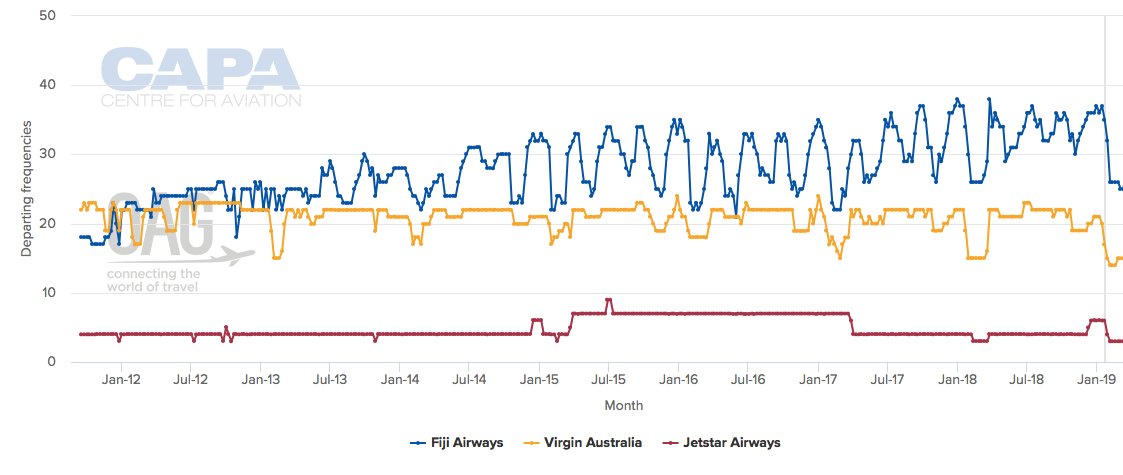 Source: CAPA – Centre for Aviation and OAG