Inbound tourism to NZ from Australia was up by 6% y-o-y for the 12 months to Sep-2016, while New Zealand inbound to Australia grew only 3% to Oct-2016.
The Australian airline market is unsurprisingly very important to New Zealand, with nearly 60% of all its international capacity directed across the Tasman, while it constitutes less than a quarter of total Australian international seats.
Annual peak season trans-Tasman capacity (seats) Jan-2014/2017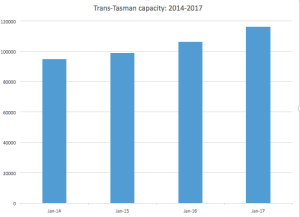 This year, illustrating the growing importance of Asia's long haul LCCs in the ANZ market, much of the additional is accounted for by the addition of AirAsia X into Auckland, with an added 2,700 extra seats/week.
AirAsia X started serving Auckland from Gold Coast Airport in Mar-2016 and now has a 4.2% share of the total Tasman market.
Trans-Tasman market shares 2013 - 2017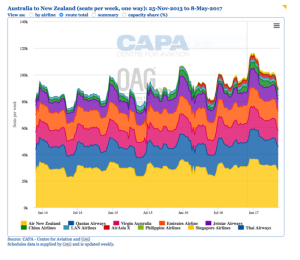 Another addition to the market since 2016 is the Canberra-Wellington service added by Singapore Airlines, adding another 1,140 seats a week.
The effect of these new services is slightly to reduce the reliance on the key route of Sydney-Auckland, where capacity will only rise 6% against Jan-2016. This is a typical effect as markets open up and new airlines enter the market.