In the three months to the end of Jun-2017, the number of smartphones sold in the world's largest market for the devices was unchanged from 12 months previously. OK, it was still a decent 110 million sales, but the key point was there was no growth.
Meanwhile, Australia achieved one of the fastest growth rates of any developed market, 9% higher than the first quarter of 2016. In this region only Japan, of the developed countries, led Australia's growth.
According to a report by GfK, reporting on "Developed Asia" which includes Australia, Hong Kong, Japan,
 New Zealand, Singapore, South Korea and Taiwan, "Overall smartphone demand totalled 16.1 million units in 2Q17, down three percent year-on-year. Declining demand in South Korea, which saw impressive growth last year, offset the increased demand in both Japan (up 12 percent year-on-year) and Australia… (but) GfK expects the region to experience a slight improvement in demand in the second half of 2017, finishing the full year down one percent."
But "emerging Asia" is still going strong
Emerging Asia however is powering forward. Off a combined base of about half that of China, the smaller economic powers (India, Indonesia< Cambodia, Malaysia, Philippines, Thailand and Vietnam grew 13% year-on-year. According to GfK, "Bangladesh and Malaysia powered most of this growth. In Bangladesh, smartphone demand grew by a strong 40 percent year-on-year. Malaysia is maintaining a steady recovery from its 2015 slump, and here demand in 2Q17 grew by 31 percent year-on-year." India was a relative laggard, up only 14% on the year. There is some concern that the recently introduced GST in that country might dampen growth further, although GfK expects it "will have no impact on smartphone demand.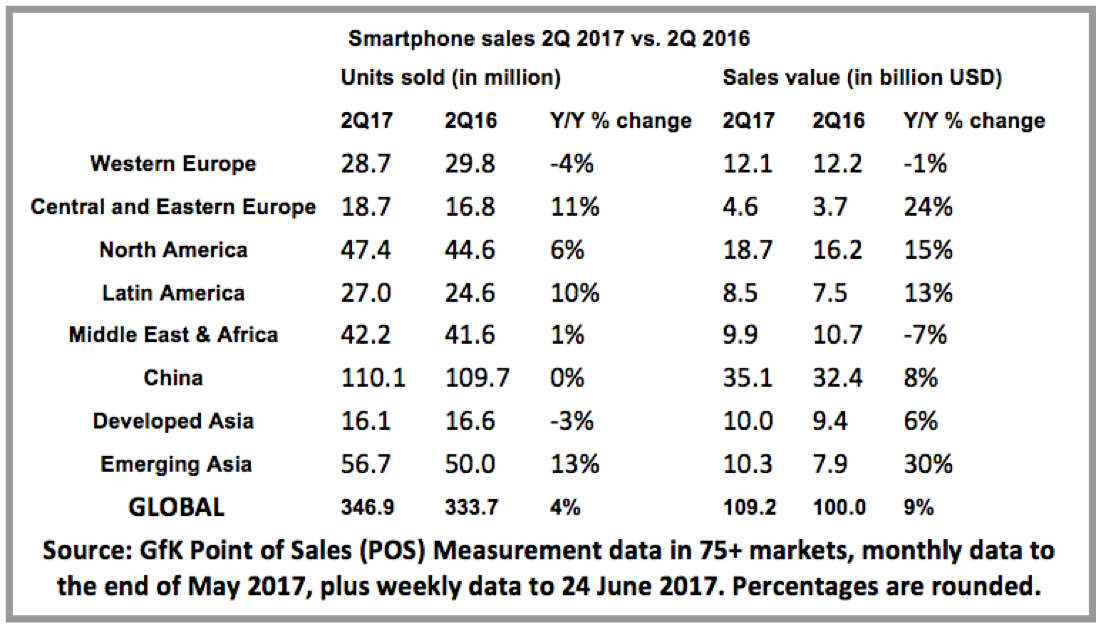 One causal factor may be that prices are going up – there is a marked increase in value of phones sold. For example in China, where growth was flat, the value of phones sold was up 8%.
It could also be the simple fact that some markets are nearing saturation. Selling 450 million smartphones each year in China may be near the top of the cycle! That certainly seems to be the case in the developed markets of Western Europe (zero growth) and North America (a 2% increase).
Australia is holding up against this trend, even though usage is already high. China still has relatively low internet penetration though, according to InternetWorldStats.com; China's 53% (or 731 million people) internet usage compares with Australia's much higher 86% and New Zealand's 89%. In the Asian region, Japan tops the list at 94% penetration (118 million), followed by South Korea, 89% (compared with North Korea's 0.1%) and Singapore at 81%.
But in all cases the unit value of smartphone sales was significantly higher than the growth in numbers of units.
As Arndt Polifke, global director of telecom research at GfK, says "Manufacturers are maximising all their creativity to ensure their latest devices are irresistible – and to increase ASP as a result."
As more complex functionality is added, the devices' utility will increase. Smartphones have already become the cornerstone of travel accessibility and, while sales growth is stabilising in most advanced countries, that should not stop the expansion in their use for searching and purchasing.