IATA's data shows that domestic RPKs in Australia shrank by 0.7% in Mar-2017, and by 2.1% in Apr-2017. While some of this can be traced to seasonal and one off events – including the timing of Easter holiday period and the arrival of Cyclone Debbie on the Queensland cost over late Mar-2017/early Apr-2017 - there is evidence that Australia's domestic market is slowing down after a relatively strong 12 to 14 months of growth.
Australian domestic passenger traffic (Jan-2015 to Apr-2017)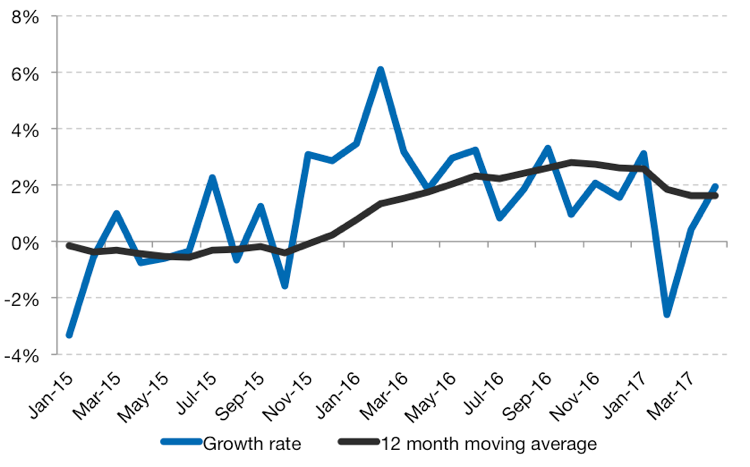 Source: CAPA – Centre for Aviation and BITRE
Information from Australia's Bureau of Infrastructure, Transport and Regional Economics (BITRE) backs up some, of not all, of IATA's conclusions. BITRE data shows domestic capacity (ASKs) for the 12 months to Apr-2017 fell by 0.8% and aircraft movements have fallen by 0.5%.
However, according to BITRE, Australian carriers did manage to increase overall domestic RPKs, up by 1.3% over the past 12 months, while total domestic passengers climbed by 1.7%. This was mostly achieved by flying fuller aircraft. Load factors have recovered over the 12 months, up 1.6 ppts to 78.4%, although they remain well down from peaks in 2009 through 2012.
Domestic travel growth at Australia's four largest airports - Sydney, Melbourne, Brisbane, and Perth - has been anaemic, consistently lagging when compared to domestic travel as a whole.
Australian domestic traffic growth: All airports and large airports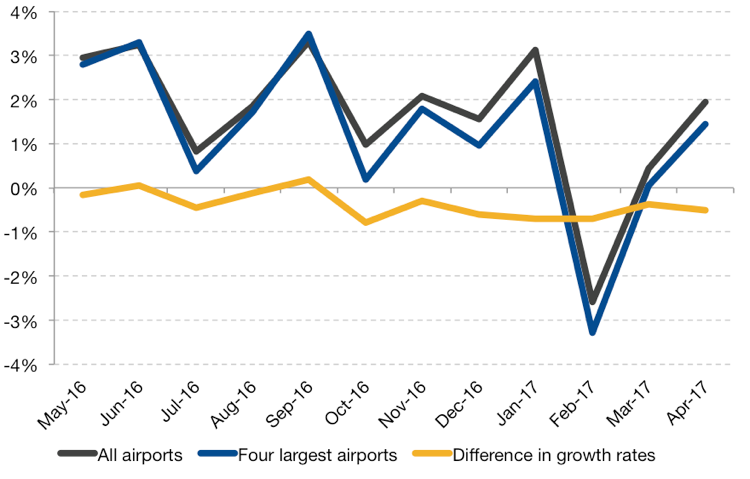 Source: CAPA – Centre for Aviation and BITRE
However, the most noticeable drops in 2017 have been on the long-suffering regional routes into Northern Queensland and Perth, victims of the continued slowdown in Australia's mining economy. According to the BITRE, the heaviest falls in domestic traffic for the year to Apr-2017 have been to Karratha (-16.8%), Mackay (-9.6%) and Rockhampton (-5.5%).
Karratha, Mackay, Rockhampton and Perth domestic traffic growth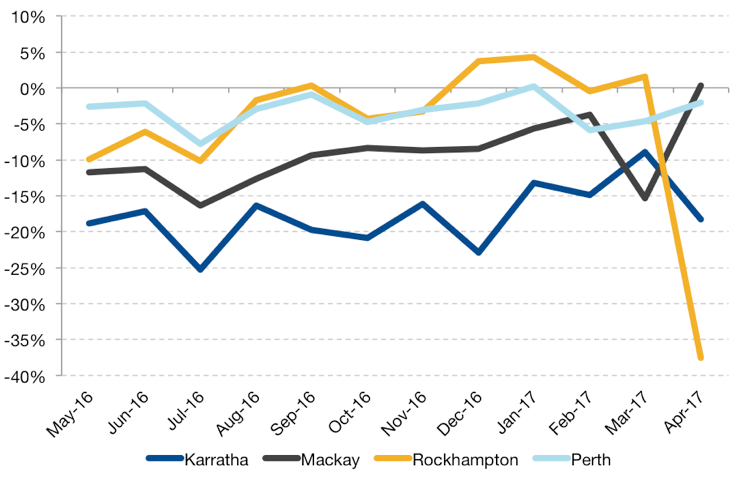 Source: CAPA – Centre for Aviation and BITRE
Perth Airport, a major hub for FIFO and minerals sector focused regional flights, has also seen domestic traffic fall. Traffic for the 12 months to Apr-2017 was down 3.3%, following on from a 3.2% domestic decline in FY2016.
Brisbane and Gold Coast Airport have also suffered from the downturn in charter and mining traffic, but the two airports are more tourism and leisure based than Perth, allowing them to avoid the worst of the downturn. Gold Coast Airport particularly is showing the strongest domestic traffic recovery, led by its leisure market. According to the Griffith Institute for Tourism Insights, visitor numbers to the Gold Coast have been increasing, although at the same time international tourists are staying shorter and are spending less. Domestic tourism represent 78% of arrivals at the Gold Coast.
Brisbane and Gold Coast airport domestic traffic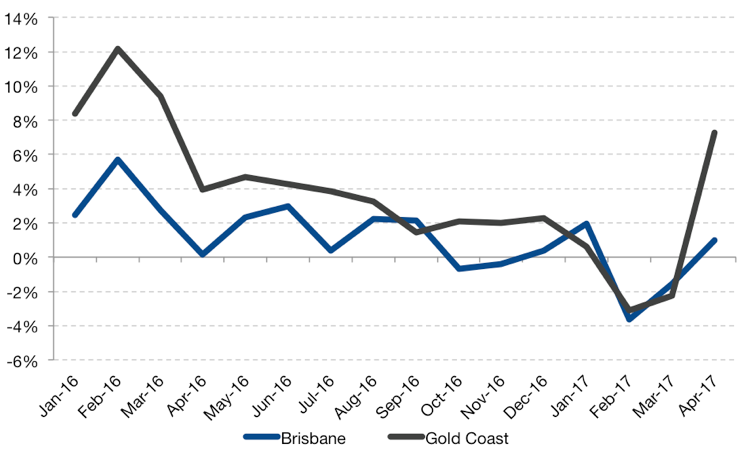 Source: CAPA - Centre for Aviation and BITRE
Falling traffic would normally see attempts to stimulate demand through lower airfares, but Australian fare indexes have primarily been on a gentle upward trend. According to BITRE's domestic air fare data 'Real Best Discount' fares were the only index to see a decline over 1H2017, falling nearly 15%. 'Real Business Class'and the 'Real Restricted Economy' index have trended virtually flat over the same period.
Australian domestic fare indexes 13 month moving average (2003 = 100)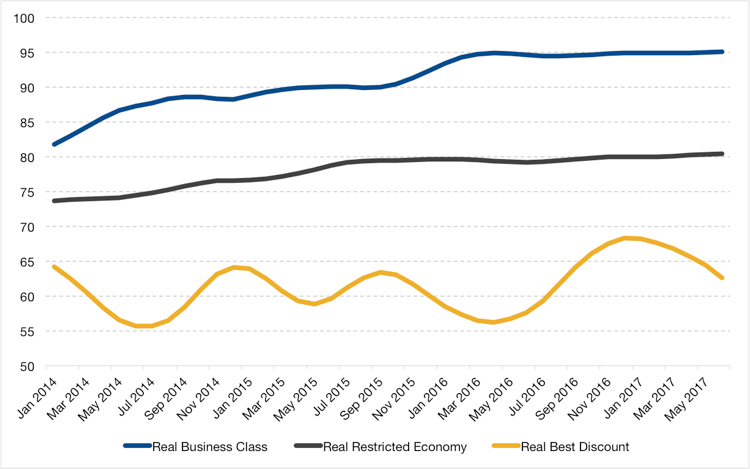 Source: CAPA – Centre for Aviation and BITRE
Australia's major domestic carriers are feeling the effects of the downturn. Virgin Australia, in its 18-May-2017 trading update, emphasised "subdued domestic industry trading conditions". Qantas Group, in its FY3Q2017 investor update, also confirmed group domestic capacity decreased 3.7% for the period. The group's capacity in the resource sector specifically saw a 19% reduction for the quarter.
Regional Express (Rex), which serves the domestic market exclusively, has been among the most affected by the receding presence of mining flights to regional Australia. Rex saw passengers carried and RPKs both fall 5% in Apr-2017, while ASKs declined 7%.
However, there are signs that things are improving in the regional market, bringing some growth back. In its full year guidance Rex revised its profit outlook upwards for full year 2017, on the back of "a steady improvement in trading conditions". With Rex's unique market position, the forecast could be appropriated as an indication of the carrier expecting the domestic market to be slated for recovery.