Before we try to scratch the surface of this carrier's ambitious plans for the future, it is important that we take a peek at its past. Prior to its resurrection in Mar-2010, Avatar Airlines was formerly Family Airlines: a proposed family friendly LCC introduced in the early 1990s, which planned to offer ultra low cost services across the US from Las Vegas McCarran International airport.
When the carrier first applied to the US FAA for authorisation in 1993, the agency said it would not process the application and CEO Barry Michaels and his wife were afterwards found guilty of fraudulently offering unregistered stock for the airline.
That was not its only start-up hurdle. The carrier once more sought authorisation from the US DoT in 2008, but ran into a brick wall as the agency found it had "failed sufficiently to meet its burden of demonstrating its fitness".
From thereon, the carrier submitted no further applications and seemed to wend its way into the history books as an unsuccessful start-up. But then, Avatar Airlines was introduced to the world nine years ago and welcomed Barry Michaels as its CEO in 2016, following a unanimous vote by staff members.
The carrier's first few years were as little promising as Family Airlines', as the DoT dismissed its application for a certificate of public convenience and necessity in 2017, due to insufficient information. But, determined as ever, it has recently reapplied to the DoT, requesting permission to operate scheduled interstate passenger and cargo services. This time it seems to have learnt its lesson and provided ample information… in the form of a 446 page filing.
This provides a detailed insight into the start-up's plans which includes a proposed IPO within three to five years after launching operations with up to 14 Boeing 747-400s, which would in turn allow it to purchase 30 new 747-8s. It is apparently currently in talks with Boeing regarding this matter.
There are a number of 747-400s arriving in the second-hand market to support the initial proposal, and the airline does offer a modern approach to meet changing passenger trends. It says the "days of passenger loyalty are gone, particularly, for budget-conscious travellers. For them, price is usually the single greatest factor that determines which airline they choose to fly. Passengers today are sophisticated. Thanks to the internet and the devices passengers own, the latest ticket price, availability and booking can all be had in real-time."
While we have the seen the airline model stripped back to simply offering a seat from A to B, Avatar plans to not charge passengers for amenities such as seat selection and baggage, and thus will present itself as a "clear choice for comfort, convenience and value".
The start-up intends to initially launch operations between Los Angeles, Las Vegas, New York JFK and Miami with two 747s and anticipates carrying more than five million passengers by the end of its first year. By launching operations between such "densely populated cities", Avatar is of the belief it can achieve 100% load capacity – a feat many established airlines would dream to achieve.
"More seats mean lower fares with all economy seat starting at USD19 and no fare over USD99 when purchased 30 days or more in advance," it says.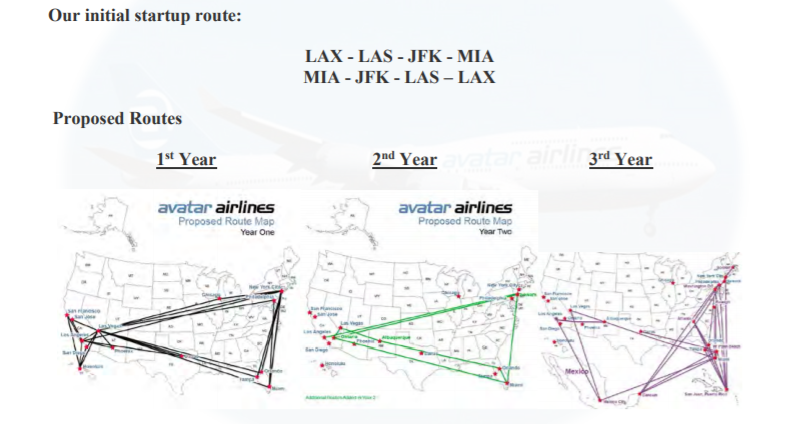 The next stage will see the fleet grow to 14 aircraft offering daily frequencies to/from Los Angeles, Las Vegas, Orlando, Dallas, New York, Chicago, Philadelphia, Tampa, Dallas, San Francisco and Phoenix during its first year. Ambitious to say the least!
The filing also provides some further insights into Avatar's business plan, including a proposal to make nearly all areas on its aircraft available for advertising, including the overhead bins, seat backs, tray tables, wings and tail. The 581 passengers on its Boeing aircraft will constitute a "captive audience", with interested advertising parties to become a "large and consistent source of revenue," it explains.
The carrier has no intention on being quiet or subtle in such advertising, stating that "tempered only by FCC safety regulations and requirements, nothing will be sacred", before adding that "anything that you see or touch will be available for purchase".
For instance, passengers would be able to earn "free" tickets by entering into sponsored surveys, with Avatar to be paid fees for each participant that will "far exceed the cost of the ticket".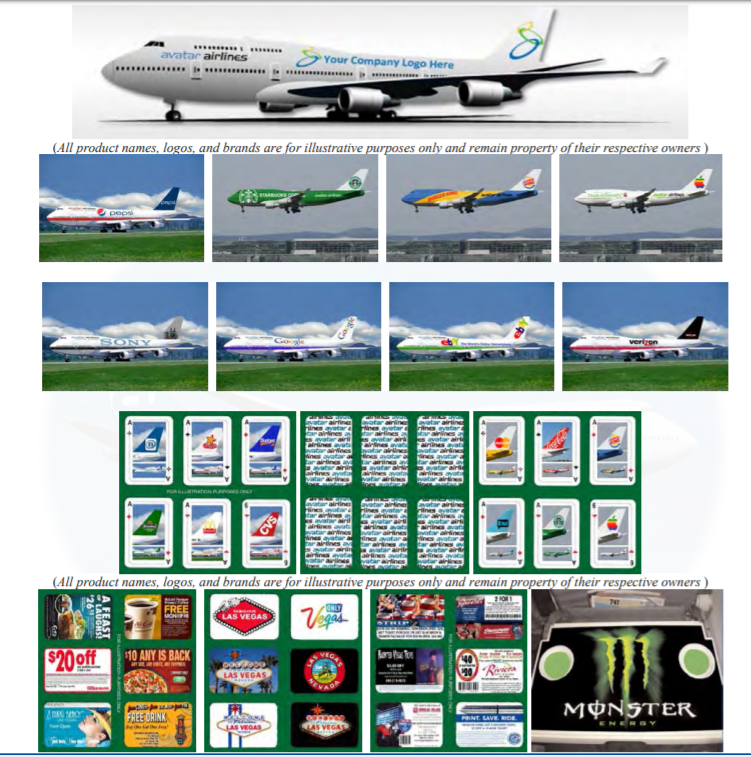 Other propositions for its business include offering catering and ticket cancellation insurance, inflight meals, a "Fly Free" Club for members who pay certain fees and taxes, and also the lease of its cargo hold to TSA known and approved shippers, in addition to interline cargo agreements with foreign carriers.
It anticipates building corporate headquarters in the future, a training centre, an MRO 145 repair station with dual 747 hangars and also airport terminals capable of accommodating more than 1200 passengers. Quite the feat!
Avatar says it expects it can become a "Goliath", a company upon whose shoulders other services and industries may stand to find growth and sustainability. Now under new leadership, this proposed LCC has a hard path ahead of it. There can be little doubt in its persistence, but its long start-up journey perhaps says a lot more about the reality.