Norway, with a population of 5.2 million in a land mass of 385,000 sq km (149,000 square miles) – i.e. just 35 people per square mile - is one of Europe's least populated countries, with a third of the population in and around the capital, Oslo, which has a metropolitan population of 1.7 million.
The northwest area stretches from Ålesund and Bodø in the south up to Tromsø, a distance of almost 1,500 km and at the northern extremes of which there is almost total darkness for three months of the year. Thereafter Norway's coastline becomes part of the Barents Sea.
MAP - The northwest area stretches from Ålesund and Bodø in the south up to Tromsø, a distance of almost 1,500 km
Source: Google Maps
Avinor has 44 airports in total. Apart for Oslo's Gardermoen Airport the other principal ones are Stavanger, Bergen and Trondheim, which are regarded as a separate profit centre in their own right, also Kristiansand in the south, and three in the northwest area apart from Trondheim: Ålesund, Bodø and Tromsø.
Air connections are extremely important. Norway is not as capital-centric as some other countries and important industries such as oil and gas and the infrastructure that goes with them have multiple locations along the coast. Long distance travel by road can be difficult, involving numerous ferry crossings, and extremely time-consuming.
Trondheim is the country's third largest city and is an important academic and cultural centre and home to the Norwegian University of Science and Technology while Ålesund has important shipyards and Tromsø was Norway's candidate for the 2018 Winter Olympic Games. Most importantly, fishing remains a key industry the entire length of the coast. Norway is the world's second largest exporter of fish, after China.
Much of Avinor's work in the area has been concentrated on the more northerly part of the coast. Its strategy has included the construction of the New Bodø Airport, just inside the Arctic Circle, which was approved by the local Kommune in Jun-2017 and which will replace the existing airport, being located 900 m to the south. That airport handled 1.8 million passengers in 2016, +3.9%.
The existing airport, for which Avinor only acquired the rights to operate and manage from Norway's Ministries of Transport and Defence in Aug-2016, may become a military one, thus reversing the trend of military-to civilian airport conversions that were popular throughout Europe in the 2000s. In this instance, the Norwegian Armed Forces Joint Operational Headquarters is already located in the region.
It will have a 2600 m runway and ATC services will be operated remotely (Norway is a world leader in this field). The cost will up to USD720 million and Avinor's contribution will be NOK1.5 billion (USD260 million) with the government the largest financial contributor. The cost estimate does not include remediation of environmental contamination and if anything will hold up the project it will be environmental issues. At present, construction should be completed in 2025.
CHART - SAS is the main carrier at the existing Bodø Airport, with local carriers Widerøe and Norwegian also having a notable presence based on schedules for the week commencing 16-Oct-2017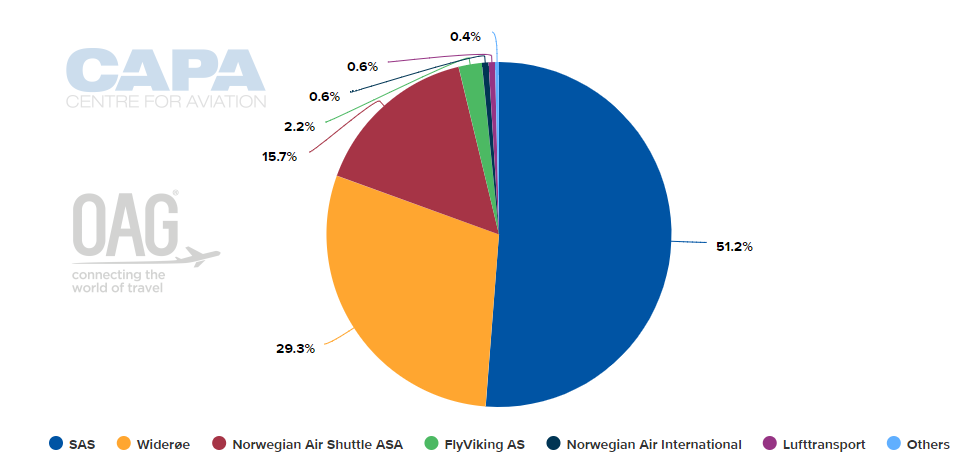 Source: CAPA - Centre for Aviation and OAG
This airport falls within the remit of the National Transport Plan 2018-2029. The new airport will be able to handle Boeing 787 size equipment, and to operate services to the US west coast. Whether that sort of demand exists remains to be seen but it is most certainly a case of optimistic forward thinking. Bodø is not a ski resort as such – most of those are in the interior and further south, but has an attractive offer for visitors interested in nature and adventure tourism.
The new airport at Bodø is tied up with the proposal for another new one at Mo i Rana, around 100 km to the south of Bodø, in the municipality of Rana in the Helgeland region, which is favoured by the Norwegian Prime Minister Erna Solberg. In Feb-2014 the Transport Minister requested Avinor to commence detailed planning and to develop a license application for a new airport at Mo i Rana.
This proposed new facility is also referred to as Helgeland Airport and Arctic Circle Airport. A new airport here would replace the existing one, Røssvoll, which handled 127,000 passengers in 2016 (+6.5%, all on Widerøe) as well as impacting on very small airports at Brønnøy, Mosjoen Kjaerstad and Sandnessjoen Stokka. It would be constructed several kilometres south of Røssvoll.
New Mo i Rana Airport has CAA and local government approval for a 2200 m runway, again so it can handle B737-size aircraft, and with the intention it is completed in 2021. However, SAS has not been supportive, stating that it does not see strong demand for routes to Helgeland and thus raising concerns that the Government's EUR200 million commitment to construct the airport will be in vain along with that of the municipality and the private sector, who were both expected to contribute to the tune of EUR65 million. Norwegian Air Shuttle added fuel to the fire when it commented, "we are concerned that a development like this will lead to raised costs" for airlines and passengers.
If it does go ahead the project will incorporate a new terminal building, airport control tower, service buildings and various associated buildings and structures. Any new facility would require the closure of not only the existing one but also Mosjøen Airport Kjærstad. Furthermore, Avinor has also recommended for several years the construction of a new airport in Lofoten, provided that Svolvaer Airport and Leknes Airport shut down.
Avinor is an entirely state managed entity which has never embraced privatisation although it has considered investing in other airports outside of Norway. One of the reasons privatisation was rejected was that investors would not be interested in airports like these and that they would remain underfunded, irrespective of how much was raised by selling or the bigger ones.
Such state organisations are sometimes accused of being slow to react to the need for new aviation infrastructure. That is not the case with Avinor, which is to be applauded for investing in areas with the potential to attract new traffic as the country's tourism industry evolves, and even if that demand is as yet unproven.