It is clear that we have seen a shift in how Boomers travel over the current decade, and that transition is increasing as we close in on the 2020s. New research of US travellers from AARP, a non-profit, non-partisan organisation that empowers people to choose how they live as they age, may be focused on US trends, but provides an insight that impacts the whole world.
AARP Travel's '2019 Boomer Travel Trends' suggests Boomers will continue to be avid travellers, planning to take a total of 4-5 leisure trips in 2019 on which they will spend over USD6,600. A small portion will only travel internationally while the rest are fairly evenly split between travelling only domestically and travelling both domestically and internationally.
INFOGRAPHIC…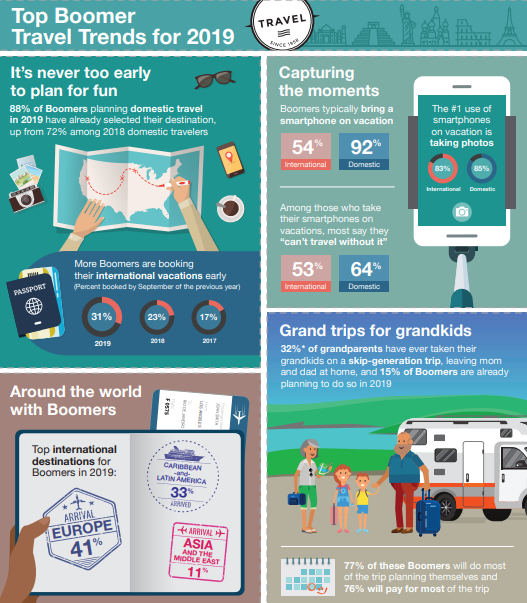 Top Boomer Travel Trends
The survey also shows that travel planning is taking place earlier as compared to years past with more Boomers already having booked international trips and more of those in the domestic trip planning phase having already chosen a destination. Of those in the planning phase of their domestic travel, 88% have already selected a destination, an increase from 72% in 2018.
Top international destinations include Europe (41%), the Caribbean (20%), and Asia and the Middle East (11%). The most common kinds of domestic trips expected are summer vacations, weekend getaways, and multi-generational trips. The most population destinations for Americans are unchanged from last year, with the top-mentioned locations once again being Florida (17%), California (11%), New York (5%), Texas (5%), and Las Vegas (5%).
For travellers, the responses show that connecting with locals for an authentic experience on vacation is of interest to Boomers, especially over meals and on tours on international trips. And while the majority tend to travel with a smartphone on domestic trips, about half will also bring them on international trips
Among those who do travel with their smartphone, most say they "can't travel without it." The top use for these phones while on vacation is to take photos. As for the need to stay electronically connected when travelling in the US, it is unsurprising to learn millennial travellers are more likely than Boomers to say they can't travel without their phone (71% versus 64%).
While Boomers do not anticipate using all of their holiday days, when they do get away, they are likely to unplug, as the majority (57%) do not think it is important to stay connected to work while away. In fact, if they do anticipate bringing any work with them, the majority will not let it consume more than 10% of their time off. Similarly, Boomers continue to show little interest in mixing business with pleasure as only 26% have extended a business trip to add vacation time in the same location in the past two years and just 17% have plans for doing so in 2019.
But what is the big motivation for international travel? Boomers are more likely to say they are checking things off a Bucket List, while GenXers and Millennials are taking summer vacations or multi-generational trips, the survey shows. While travelling internationally, about half of all Boomers report interest in authentic/local experiences, specifically eating or touring with locals. Local experiences are less of a focus for domestic travel. AARP finds Millennials are the most adventurous, with 75% indicating a desire to "live like a local," (e.g., eating and staying with locals) while travelling.