Citing data from OneTravel, online travel agency Cheapoair concluded that while traditional spots for individuals over the age 60 including Orlando and Cancun remain popular, booking data show up-and-coming destinations including Thailand, Vietnam, Costa Rica and Peru are gaining in popularity.
The top five international destinations for Baby Boomers this spring are Cancun, Tel Aviv, Bangkok, Barcelona and London.
Seven cities made it into OneTravel's top 20 international destinations for spring 2018. "Select European gateways have seen significant price decreases year over year which may be contributing to their increase in popularity," Cheapoair concluded.
OneTravel's data show flights to Paris are 19% cheaper and Rome's fares have fallen 12%. Fare prices to Dublin are down 14% year-on-year.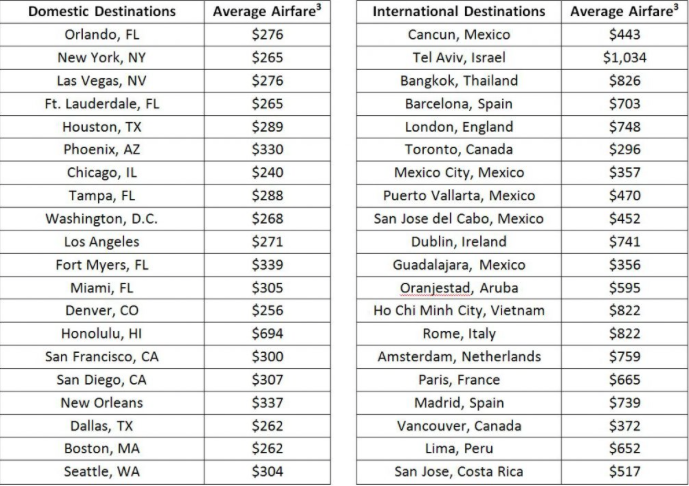 Domestically, the top five travel destinations for Baby Boomers this spring are Orlando, New York, Las Vegas, Fort Lauderdale and Houston.
Although Millennial travel preferences seem to garner the most attention from the travel industry, Boomers remain a relevant travelling segment. Research released by AARP in late 2016 showed most Baby Boomers (99%) would take at least one leisure trip in 2107, with an average of five or more trips expected throughout the year. Spring and Summer were anticipated to be busiest times for Boomers to travel internationally.
AARP concluded Boomers are more likely to be enrolled in an airline loyalty programme (82%) than Millennials (71%) and GenXers (74%); however all ages book through the programme at the same frequency. Millennials are least likely to enroll in a hotel loyalty program than are older generations (62% vs 77% GenX and 73% Boomer).