---
Summary:
Bahrain International, an often overlooked airport since Gulf Air's influence waned, wants to attract more transit passengers
It will do so by offering "the fastest connections in the region"
A new terminal and a fleet upgrade by Gulf Air will help but it has already fallen behind not only the "Big 3" airports but also some of the smaller regional ones, too
---
Compare that with the almost 150 million passengers hosted jointly by Dubai International, Doha Hamad and Abu Dhabi International airports in 2017 and it is evident that these smaller airports have a difficult job asserting their identity.
When pitted against these three monolithic competitors and when origin and destination traffic is limited, the question is, what do you do to differentiate your airport?
Fujairah, at the industrial end of the UAE, focused on MRO operations and its large free-trade port before developing – only recently – a tourism strategy, though even then that tourism may come mainly from domestic sources while the international demand might be fed through other airports.
Oman, which has a decent tourist business already, went the other way, seeking to challenge the big hubs in passenger transit activities in tandem with the opening of its new terminal/airport at Muscat, which is hardly differentiation.
Now Bahrain is looking at what it can do to attract attention and has chosen to try to position itself as "as the fastest connecting airport in the region." The airport is developing its network to build a sustainable base for ultra long haul operations.
Bahrain suffered of course from the demise of Gulf Air, once the region's leading airline and a multinational owned by Bahrain, the UAE, Qatar and Oman, but which fell into the shadow of its new rivals. Founded in 1950, Gulf Air is still the national carrier of the Kingdom of Bahrain. Despite fragmentation from its halcyon days it remains one of the larger airlines in the Middle East region, serving over 40 destinations across Africa, Asia and Europe from its main base at Bahrain International Airport.
Gulf Air's network currently consists of over 40 markets and extends to include destinations across Africa, Asia and Europe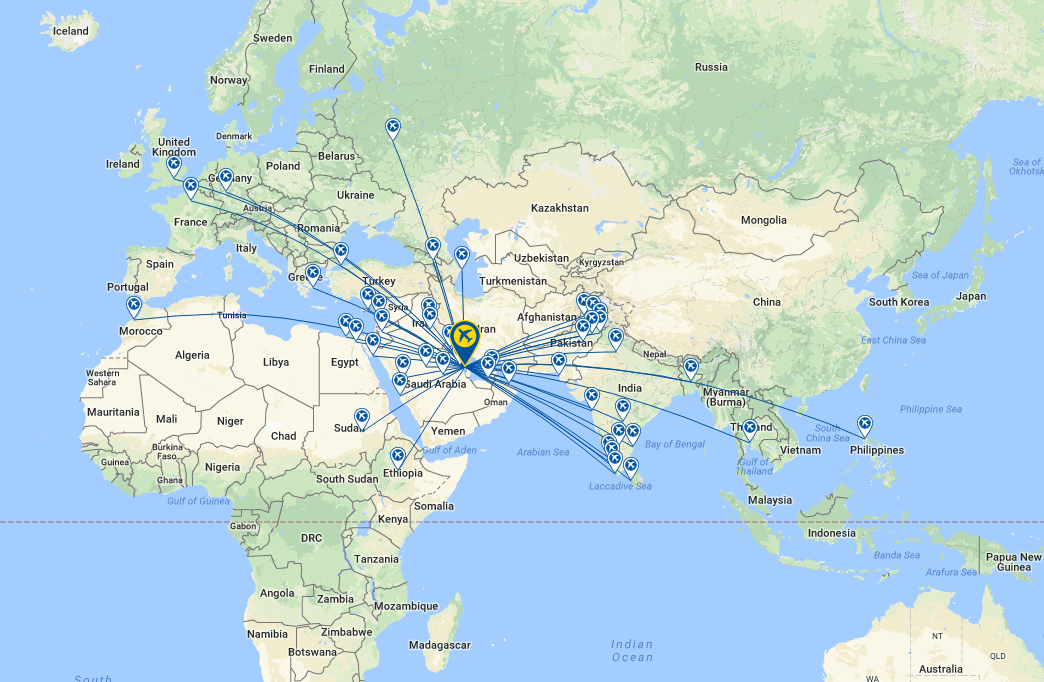 Source: CAPA - Centre for Aviation and OAG
However, it is having severe problems adjusting to the new highly competitive environment, based in a small O&D market, and it continues to incur large annual losses. While CAPA - Centre for Aviation only has access to financial data from 2012 to 2015 it shows huge operating losses varying from BHD183 million (USD 345 million) to BHD24 million (USD63.8 million).
Furthermore Gulf Air dominates Bahrain International Airport. It has two-thirds of all seat capacity. The second largest airline is Emirates Airline, with 7.7% and Emirates is all too happy to channel Bahrainis and those Saudis that use the King Fahd Causeway into Bahrain, on to its extensive range of services out of Dubai.
What Gulf Air, and hence Bahrain International Airport, do not do very well is evident in the route map above, i.e. to offer services from sub-primary airports to its west, to complement the fairly strong network it has to the east, to the Indian subcontinent, and as far as Bangkok and Manila. Services to and from the west are limited to major hubs (London, Paris, Frankfurt, Istanbul) and Athens, where there are usually many direct flights with which to compete.
Oman Air, in contrast to Gulf Air, has a small but growing network of destinations in Europe apart from the major gateways, including Milan, Munich, Zurich, Manchester and Belgrade.
The other difficulty Gulf Air faces is that its current fleet is unsuitable for the "ultra long haul operations" it seeks, being based around six A330-200s. However, a total of 29 A320-200neos and A321-200neos and 15 Boeing 787-9s are on order, as per the schedule below
INSIGHT: Gulf Air projected delivery dates for aircraft on order purchased from OEMs and leased from lessors new aircraft order pipelines
Source: CAPA - Centre for Aviation Fleet Database (data: w/c 11-Jun-2018)
These smaller but long-range aircraft will be a 'game' changer for the airline and airport – depending on how they are deployed - enabling flight schedules that cater to the existing O&D traffic to be co-planned with short, medium and long haul transfers as a valuable part of the mix, as some of the airport's peers already do very well. Right now the majority of seats at Bahrain are on flights lasting from 30 minutes to two hours. Beyond six hours there is very little.
The other aspect is the airport itself and how terminals are allocated. Gulf Air is unaligned, which partly explains why over 90% of seats at Bahrain Airport are on unaligned carriers. There are no strong alliances at Bahrain. There is no curfew (the airport is on an island) but there is not the sort of correlation between arriving and departing seats that one might expect to see at a hub.
CHART: With the exception of a 'pocket' between 14:00 and 19:00 there is currently very little correlation between arriving and departing passenger connectivity at Bahrain International Airport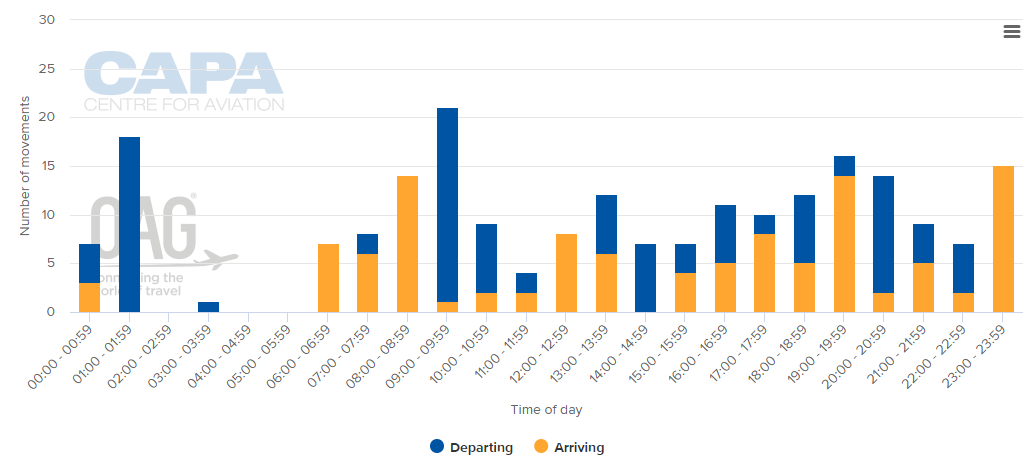 Source: CAPA - Centre for Aviation and OAG
There is only one terminal at present but according to the CAPA Airport Construction Database, a new terminal capable of handling up to 14 million ppa (effectively a new airport) is under construction along with an airside hotel at a cost of over USD4 billion and with an opening date of mid-2019. Furthermore, operational readiness, activation and transition services (ORAT) are being provided by Fraport, which knows a thing or two about administering transfer flights.
Assuming the new terminal has been designed with transfer in mind it could offer the same sort of advantage to Bahrain Airport as the new Muscat terminal ("airport") has done in Oman, offering transit smoothly and quicker than at its larger rivals.
The question is, is Bahrain too late for this? Are the big three airports ingrained in the public psyche like behemoths in other industries such as Apple, Facebook and Amazon? Or could it perhaps benefit from operational issues at other airports in the future, such as the closure of runways (Dubai) or the presence of military air corridors?