Every year the government "reaffirms its commitment" to the proposed public-private-partnership with foreign investors potentially funding 49% of the project and this year it appears is no different. But, the big question remains… does Bali need it?
The two-runway North Bali International airport, (NBIA), costed at an estimated IDR25 trillion (USD1.67 billion), would be located at Kubutambahan, in the Kabupaten of Buleleng. It is intended that a rail service would link the two airports. But while gaining provincial government each year, it is a project where the parameters appear to be changing.
MAP - Kubutambahan is a district in the regency of Buleleng Timur in northern Bali, Indonesia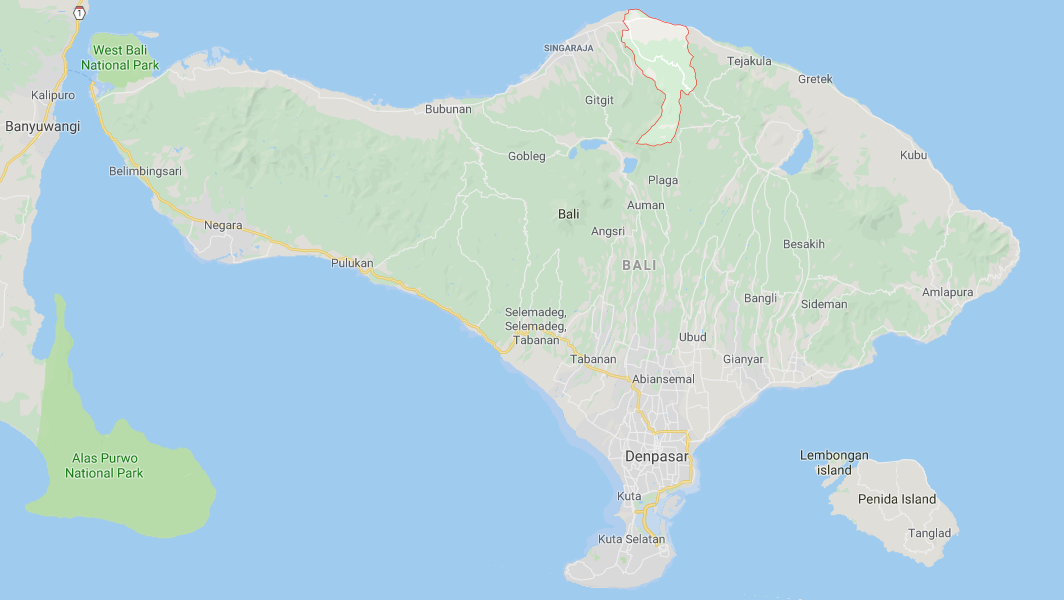 Source: Google Maps
The original proposal was for a facility with a capacity of 32 million passengers per annum, which would make it Indonesia's second largest airport after Soekarno-Hatta in the capital, Jakarta. The existing Denpasar Ngurah Rai airport in the southern, heavily tourist-populated part of the island handled 23.6 million passengers in 2018, a year-on-year increase of +12.5% and is the second-busiest momentarily.
It should be acknowledged there are capacity issues at Ngurah Rai, but so too are there plans to boost aircraft movements from 30 to 32 per hour to accommodate demand.
But these infrastructure issues are only part of the story. The government is keen to boost tourism in the relatively undeveloped northern region of the island. It appears the presumption is that to do that, LCCs should be encouraged to fly to the closer new airport, moving away from Ngurah Rai.
This misses the important observation that price-sensitive budget passengers typically don't mind how far they have to travel either to their point of origin airport, or to their destination from the arrival airport.
This mobility could ultimately see arrivals take advantage of LCC flights to land in the north but still bypass any new tourism infrastructure and journey to the popular southern beaches by taxi or rental car, a journey of about one and a half hours from Kubutambahan (but up to five hours by bus!).
Tourism is an essential component of the Indonesian economy and a significant source of its foreign exchange revenues. Indonesia was ranked #20 among the world tourist industry in 2017, the ninth-fastest growing in the sector globally, the third-fastest growing in Asia and the fastest-growing in Southeast Asia. Leisure visitors outnumber business visitors by almost two to one.
Indonesia wants to achieve 8% of its GDP from the tourism sector and has targeted 20 million visitors by this year. However, a sharp drop-off in tourism growth in the last two years, from +21.9% in 2017 to +2.8% in 1H2019, means it will miss that target by a large margin, probably finishing 2019 on around 16.5 million visitors.
CHART - Indonesia's international visitor arrivals grew at an increasing rate over much of this decade, but has slowed since 2017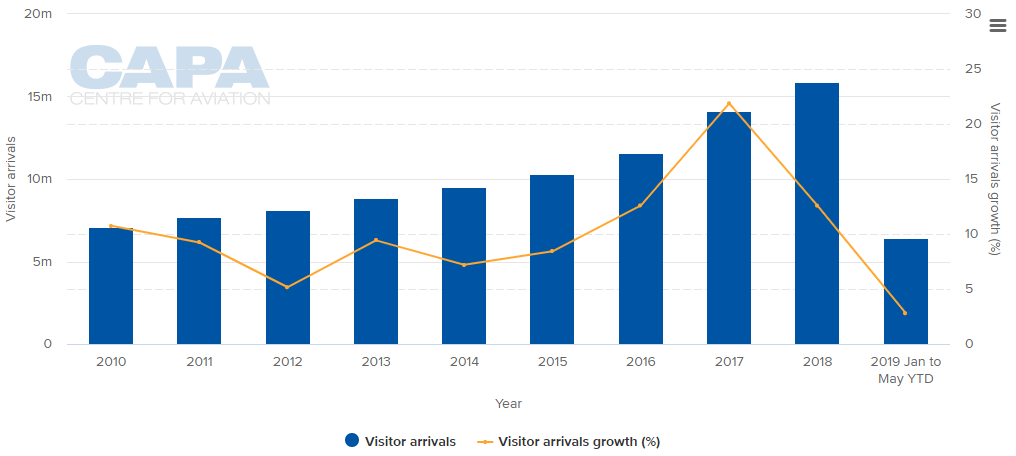 Source: CAPA - Centre for Aviation and BPS-Statistics Indonesia
According to the Central Statistics Agency, Bali, which offers culture by way of its many festivals apart from its allure as a beach resort, is the premier tourist destination in the country for foreign visitors. But this is not just about international arrivals and domestic tourism should not be overlooked of course. There is a lot of it, much of it by air owing to the country's topography.
The local Indonesian population would certainly welcome more low-cost options to visit Bali. Indonesia is well served by LCCs with almost 40% of international seats and 54% of domestic seats being on budget carriers, according to CAPA - Centre for Aviation analysis of OAG schedules. At Ngurah Rai, the full service/low-cost split is roughly 50:50.
CHART – At Bali Denpasar Ngurah Rai airport the split between full-service and LCC capacity is roughly 50/50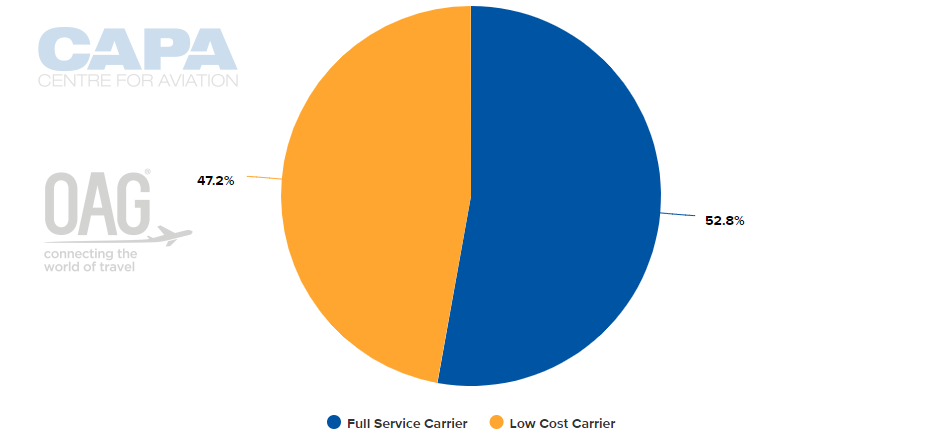 Source: CAPA - Centre for Aviation and OAG (data: w/c 29-Jul-2019)
It was decided early on that the new airport would be built entirely at sea on concrete piles, but right now the preferred location is between Kubutambahan and the village of Sani. This project still has some way to go and with the Transport Minister promising capacity increases at Ngurah Rai, together with the inertia that is often generated by stagnating passenger growth rates, it could be put on the back burner forever.
Ultimately, it is likely to be decided by the willingness or otherwise of foreign investors to participate. Some European and other western investors still tend to be wary of opportunities in this part of the world, where the business culture is quite different and messages about prospects and the procedures to handle sales, concession and PPPs tend to be mixed.