---
Summary:
Bangalore's Kempegowda International airport has raised most of what it needs for a second terminal building and runway;
The city's wealth is based around IT industries and this expansion is required to keep up with competitors globally;
But it remains thin on long haul routes connecting it to these cities, especially in North America.
---
Kempegowda International is currently the third busiest airport by passenger numbers in India after the Delhi and Mumbai airport hubs. It is well behind both of them in terms of size, however its growth rate is higher than both of them and is the fifth highest of the top 10 Indian airports.
The airport is owned and operated by BIAL, a public limited company which is a public–private venture involving Airports Authority of India and various Indian and foreign companies. It serves an important and growing market in India as the propensity to travel continues to rise across the nation.
Earlier this month, The Blue Swan Daily reported on a new green field airport for Chennai, at the other end of an important industrial corridor running between Chennai and Bangalore.
SEE RELATED REPORT: New greenfield airport for Chennai would serve more than just the city's rising demand, but act as a key hub for planned Chennai – Bangalore industrial corridor
Bangalore is the capital city of the Indian state of Karnataka. It has a population of over ten million, making it the third most populous city and fifth most populous urban agglomeration in India.
Recent estimates of the economy of Bangalore's metropolitan area have ranged from USD45 to USD83 billion per person GDP, and have ranked it either fourth- or fifth-most productive metropolitan area of India.
With an economic growth of 10%, Bangalore is the second fastest-growing major metropolis in India. The city is the third largest hub for high-net-worth individuals and is home to over 10,000 dollar millionaires.
Much of that wealth has arisen out of the IT industries. Bangalore is known as the Silicon Valley of India because of the large number of information technology companies located in the city which contribute 33% or more of India's IT exports annually.
CHART – Traffic growth at Bangalore Kempegowda International airport has been consistently in double digits since 2014, hitting a high of 29.1% in 2018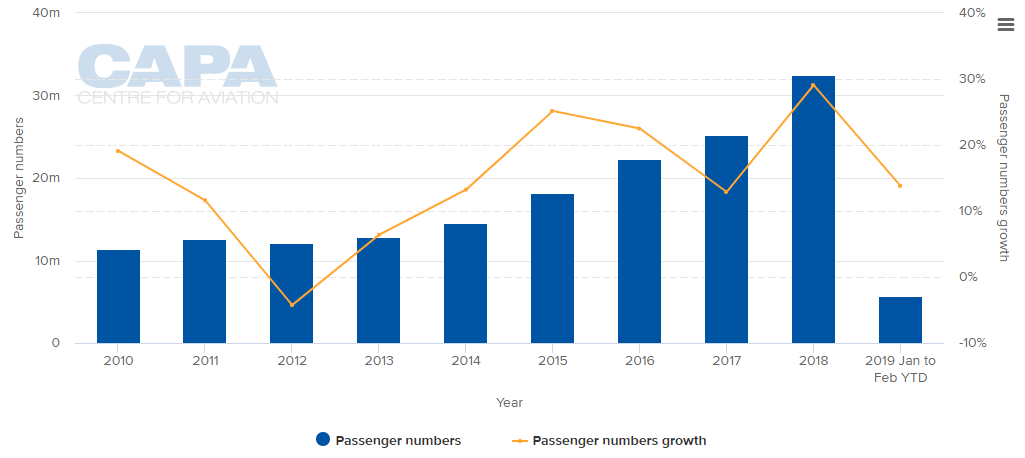 Source: CAPA - Centre for Aviation and Airports Authority of India
The growth of IT and biotechnology has presented the city with ideological challenges. Clashes sometimes occur between the city's IT moguls, who demand an improvement in the city's infrastructure, and the state government, whose electoral base is primarily the people in rural Karnataka.
The encouragement of high-tech industry in Bangalore has not always favoured local employment development. The state has also resisted the huge investment required to reverse the rapid decline in city transport which has already begun to drive new and expanding businesses to other centres across India.
CHART – Low Cost Carrier IndiGo dominates the Bangalore market with more than half the seat capacity. No other airline has more than a 11.0% share of seats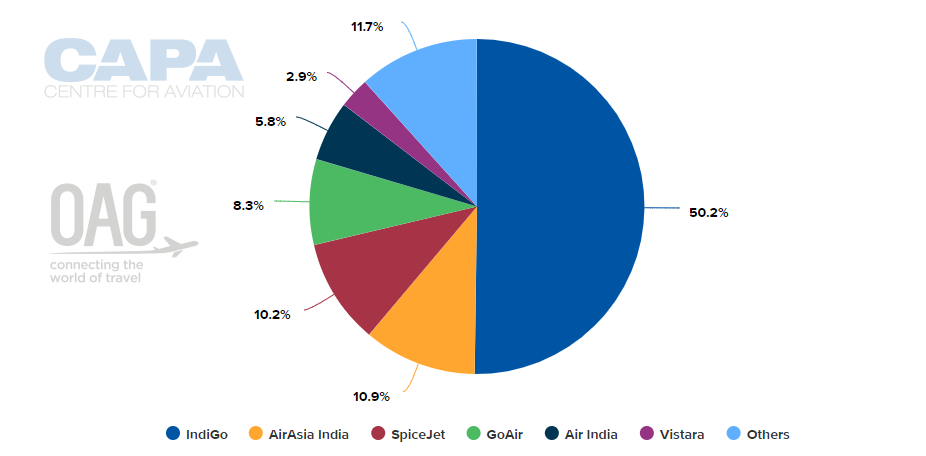 Source: CAPA - Centre for Aviation and OAG (data: w/c 22-Apr-2019)
While it is the case that not all the world's leading IT cities have direct access to a 'global' level airport supporting them (the original Silicon Valley is served by the mid-ranking San José Mineta Airport for example with only 14 million ppa and 6% of capacity on international routes) the majority of them do.
They include Shanghai, London, Stockholm, Amsterdam, Berlin, Singapore, Hong Kong, Kuala Lumpur and, coming up on the outside, Tel Aviv. And Silicon Valley has, of course, two alternative air access points in San Francisco and Oakland airports.
So the infrastructure that will be provided at Kempegowda International, which is in addition to an express parcels facility and other works, is crucial not only to the success of the airport but also the city.
MAP – Bangalore Kempegowda International airport is currently linked to 51 domestic and 23 international destinations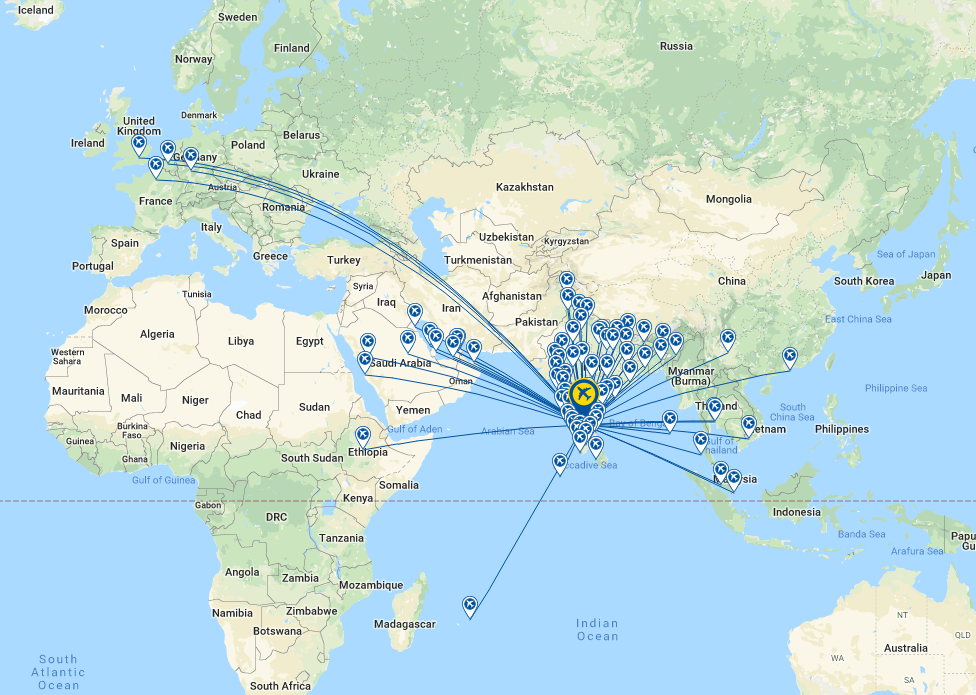 Source: CAPA – Centre for Aviation and OAG (data: w/c 22-Apr-2019)
Kempegowda International has good connections domestically, to the Middle East, to the big four so-called FLAP airports in Europe (Frankfurt, London Heathrow, Amsterdam and Paris CDG), and to their equivalent in Southeast Asia (Singapore, Bangkok, Kuala Lumpur, plus also to Hong Kong), albeit some of these routes will be affected by the suspension of Jet Airways services.
North American connections, though, are very limited. The single exception is San Francisco (for Silicon Valley), though that route is not operating currently. The airport might also want to attract new routes that connect it directly to cities such as New York, Seattle, Boston and Los Angeles, and possibly Canadian cities such as Toronto, all of which have a major IT industry impact. But, it isn't clear who could do that as it could be a risky venture for Indian and US airlines alike.